Clinton allies staff up 'Trump War Room'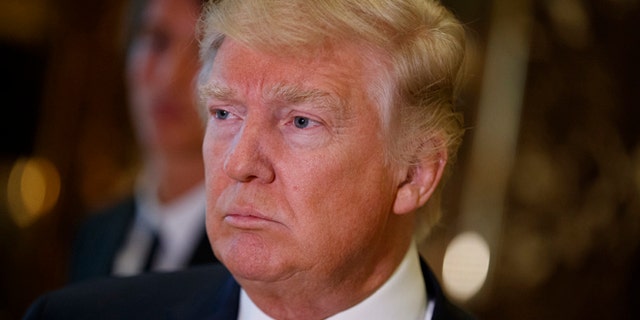 NEWYou can now listen to Fox News articles!
Hillary Clinton's allies aren't done campaigning against Donald Trump.
Liberal PAC American Bridge, launched by Clinton ally David Brock, on Wednesday announced the leadership team for a new anti-Trump project called the "Trump War Room." The group tapped Shripal Shah, a former Clinton campaign staffer and alumnus of the Democratic National Committee, to run the outfit.
"The Trump War Room is set to be the research and communications powerhouse that will fight Trump at every turn," American Bridge said in a statement.
"The Trump War Room will continue to put a spotlight on all the different ways that Trump's decisions are driven not by the national interests of the American people, but by Trump's own personal self-interests that could put our national security in jeopardy."
The project also has added former Clinton campaign official Emily Aden, who will be the Trump War Room's director of rapid response, the announcement said. Aden was deputy research director for the Clinton campaigns in 2008 and 2016.
Brock announced in December he was going to launch the project, saying in a press release that "while Trump may be president-elect, he definitively does not have a mandate."
Trump supporters for weeks have accused Clinton backers and the Democratic National Committee of being sore losers, amid new efforts aimed at opposing the incoming administration.
Dawn Le, spokesperson for American Bridge, told FoxNews.com the project would consist of research on Trump's statements and policies, as well as video tracking and a rapid-response operation.
"There's a lot of concern about the Trump administration and what it will mean for our civil rights, civil liberties, and whether he will be using his presidency for profit for himself, his family and his business," Le said.
Asked if the project aims to undermine Trump, and not accept that he was elected, Le said American Bridge "understands that he's been elected president."
"When the inauguration begins, he will take office, there's no denying that," she said, adding: "It not a secret that people who work at American Bridge wanted Hillary Clinton to be president."
The move follows the hiring by California's Democratic lawmakers of Eric Holder, the former attorney general under President Obama, to help the state fight the GOP-led Congress and the Trump administration.