Changes of Command Loom at Defense Department, CIA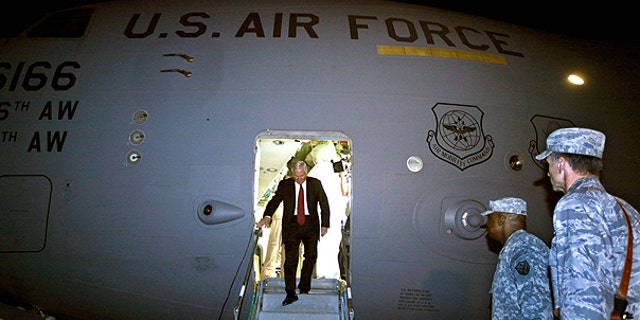 NEWYou can now listen to Fox News articles!
It's turning into a long farewell. Defense Secretary Robert Gates indicated last week that his trip to visit troops in Iraq would likely be his last, and he repeatedly has said that he plans to leave his position as defense secretary by the end of the year.
Aides say his calendar is filled with travel plans through June, leading to speculation that the secretary plans to step aside sometime in July. A spokesman for Secretary Gates adds that discussions between the defense secretary and the White House are ongoing and have been taking place for months.
Gates' likely departure comes at a time when President Obama is facing an unprecedented number of departures from his national security team. With five of his top advisers slated to leave their current positions, Gates' exit is setting off a daisy chain of musical chairs among the nation's top national security advisers.
Admiral Mike Mullen's term as chairman of the Joint Chiefs of Staff ends Oct. 31. He has served two terms, and administration officials have made no secret that the White House does not plan to ask him to stay on.
Gen. James Cartwright, seen as the leading contender to replace Mullen, served as the vice chairman of the Joint Chiefs and was described as having "most favored general status," by Bob Woodward in his book "Obama's Wars" because Cartwright was not uniformly in favor of a surge of troops into Afghanistan during the last Afghan review. He broke ranks with the military while siding with Vice President Joe Biden on ways to look at a more counterterrorism-style approachs to the war effort in Afghanistan and Pakistan.
So who takes over for Gates?
Aides say Gates, the first defense secretary to serve both Republican and Democratic commanders-in-chief, is concerned that whoever takes over for him should have experience with running a large bureaucracy. The Defense Department's procurement and budget processes are viewed by Gates as being unwieldy, and the next secretary of defense will have his or her work cut out in terms of keeping it from running out of control. This comes on top of running multiple wars.
The leading candidate being considered to take Gates' job is Leon Panetta, the current head of the CIA, who has served as the head of the Office of Management and Budget and as a White House chief of staff to President Bill Clinton.
But Panetta is 72 years old, and the defense secretary's job is extremely physically demanding, with the amount of foreign travel to war zones.
Gen. David Petraeus is widely rumored to be the leading candidate to replace Panetta at the CIA, according to several administration officials. When asked about the speculation at a recent news conference in Kabul, Petraeus refused to comment but added that it certainly appeared to be an idea being floated by someone in Washington.
"Well, again, it's probably not appropriate for me to comment on whatever might be considered down the road. I've had discussions, but again, it wouldn't be appropriate to comment," Petreaus told reporters in the Afghan capital.
A senior U.S. defense official tells Fox News that assigning Petraeus to the CIA chief's job would address a longtime concern of Gates' about the apparent disconnect between the consumers of intelligence, operators in the field, and the intelligence community.
"This is a guy who has been a consumer of intelligence for years in the field," said a senior defense official. "He's been taking intelligence and applying it to real world situations for years."
The Department of Defense receives about 80 percent of the budgeted money for intelligence collection and analysis, and yet historically there has been tension between the CIA and the Pentagon, according to analysts.
Former top CIA analyst Philip Mudd, who helped piece together the new government in Afghanistan after 9/11 and then served as deputy director of the CIA from 2003 to 2005, says that his contacts at the agency all seem to think that Petraeus is being actively considered for the post.
Army Chief Gen. George Casey stepped down as head of the U.S. Army on Monday, a post he held since 2007. Gen. Martin Dempsey, who until recently served as the head of the Army's trading and doctrine, is taking over command. Casey, who served as the top U.S. commander in Iraq under President George W. Bush, will retire on June 1.