Changes in Senate Bill Give Democrats Little Wiggle Room for House Compromises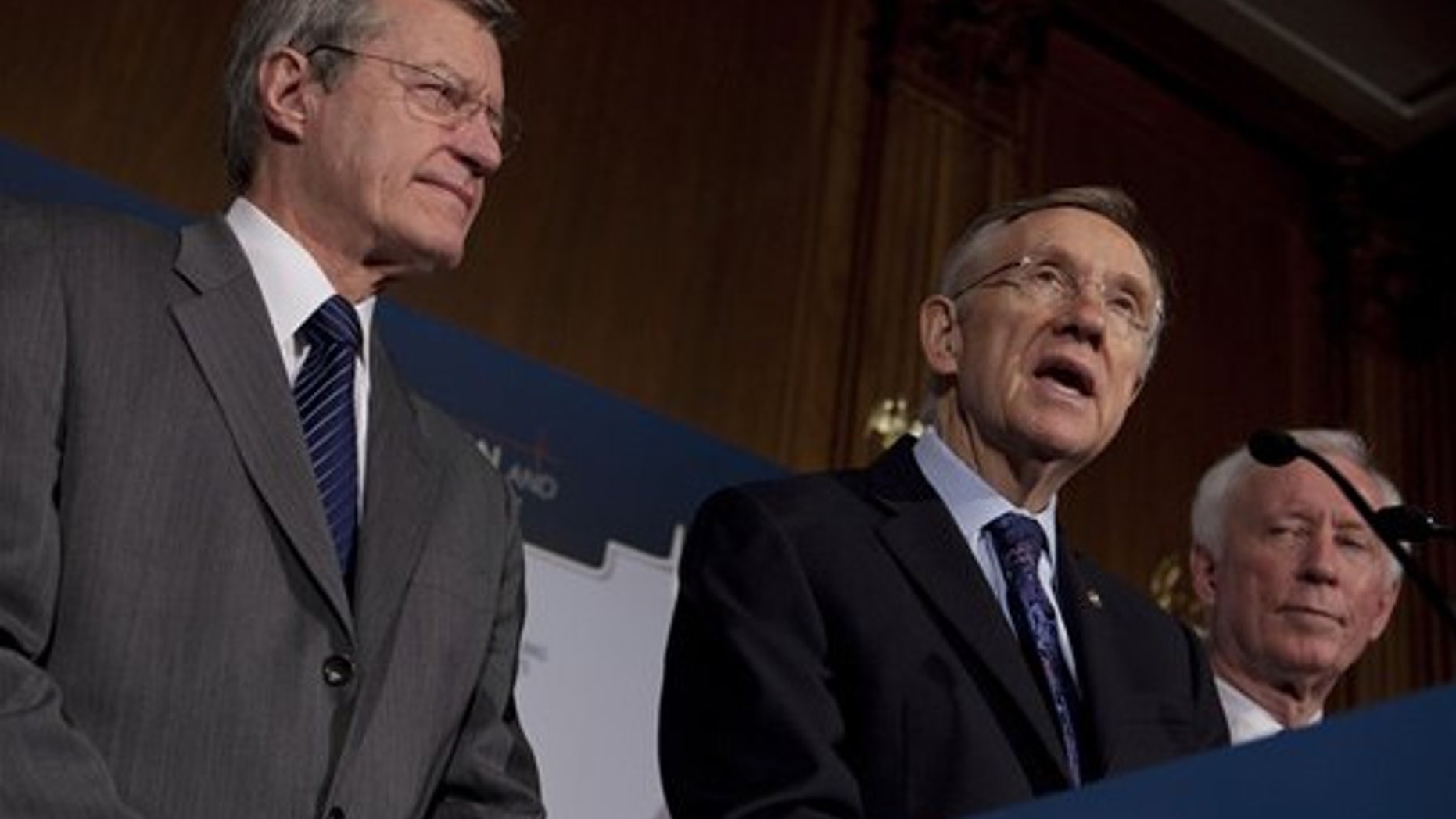 The Senate is preparing for another key vote early Tuesday morning on Democratic health insurance reform, putting it one step closer to a final vote on Christmas eve and leaving fewer opportunities for alterations before it reaches President Obama's desk.
Finalizing the bill also comes much to the chagrin of Republicans who say President Obama broke campaign pledges by accepting the package.
"The president made a number of promises, now he's changed all his promises," said Sen. John Barrasso, R-Wyo. "He promised that people wouldn't see their taxes go up, they will. The promised that we'd see health care premiums go down, oh, they're going to go up. He said he'd protect Medicare, they're going to cut $500 million from Medicare. He said if you like the coverage that you have you can keep it. That's not true."
The final deal made changes Obama had not hoped for, though on Monday he praised the Senate bill in a letter to his campaign arm in the Democratic Party, Organizing for America.
"As with any legislation, compromise is part of the process. But I'm pleased that recently added provisions have made this landmark bill even stronger," Obama wrote.
To get all 58 Democrats and two independents to vote to end debate and move toward passage of a massive health care bill, Senator Majority Leader Harry Reid, among other things, had to drop a government-run insurance option and a Medicare buy-in and had to increase taxes by $25 billion more than planned, bringing the total tax increases to $518 billion.
"Our bill will bring needed relief to millions and millions of Americans (who) wake up every day without health insurance, or waking up every day afraid they're going to lose their health insurance," Reid said.
No Republicans voted in favor of the $871 billion legislation, not even moderates like Sen. Olympia Snowe of Maine who'd been courted heavily by the White House.
"It's bad news for the American people that this bill which would cut Medicare by a half trillion dollars, raise a half trillion dollars in taxes and create higher insurance premiums for everybody else seems like it might be on the way to clearing the Senate," Senate Minority Leader Mitch McConnell said.
Reid did win the embrace of the American Medical Association Monday, which represents about one-third of all doctors.
"America has the best health care in the world if you can get it, but for far too many people access to care is out of reach because they lack insurance," said Dr. Cecil B. Wilson, the association's president-elect.
But the AMA insisted on several changes before giving its support. It vigorously opposed the Medicare buy-in because doctors get paid far less under Medicare.
Wilson didn't mention that, but pointed to other changes Reid made -- the elimination of the "bo-tax," a charge on physician services for cosmetic surgery and the proposed physician enrollment fee for Medicare.
Reid dropped the tax on cosmetic surgery and replaced it with a tax on tanning salons. Lewis Shender, president and CEO of Hollywood Tans, said the tan tax "came out of the blue" and no one in his industry had a chance to discuss it with anyone in Congress.
"You know, obviously we do not have near the resources and we do not make near the donations of the plastic and cosmetic surgery industries. And I think that put us at a disadvantage in this debate," Shender told Fox News.

That wasn't the only change. The Senate bill would insure 30 million uninsured people but 15 million of them would be pushed into Medicaid, health care for the poor, part of which has to be paid for by the states.
To win his 60th vote -- that of Sen. Ben Nelson if Nebraska -- Reid agreed that Nelson's state was exempted -- forever -- from paying its share of Medicaid, a sweetheart deal that brought ridicule from Republicans.
"The fact is a year after the debate started few people would have imagined that this is how it would end. With a couple of cheap deals, a couple of cheap deals and a rushed vote at 1 o'clock in the morning," McConnell said.
Republican Sen. Lindsey Graham said he's going to request South Carolina Attorney General Henry McMaster take a closer look at the so-called "cornhusker kickback." Graham said if McMaster finds the deal is not on the up and up, and he could file a lawsuit on behalf of South Carolina seeking equal rights under the Constitution.
The Congressional Budget Office has estimated that the new bill would reduce the deficit by $132 billion over the next 10 years but that does not count the so-called "doctor fix," a yearly repeal of planned cuts in doctor reimbursements under Medicare, which was dropped from the bill. That would have cost $240 billion over 10 years, erasing the savings currently in the bill. The CBO also wrote downward the expected deficit savings in the next 10 years of the program.
Once the Senate passes its plan, it'll have to negotiate with the House, which passed a very different bill. But Democrats warned this weekend about changes.
"It is very clear that the bill, the final bill, to pass in the United States Senate is going to have to be very close to the bill that has been negotiated here. Otherwise you will not get 60 votes in the United States Senate," Sen. Kent Conrad, D-N.D., chairman of the Senate Budget Committee, told "Fox News Sunday."
"I hope there will be no attempt to reinsert a so-called public option in any form in the conference report. That would mean that I would not be able to support the report, and I want to support it. I believe I'm not alone in that opinion among the 60 who supported the bill last night," said Sen. Joe Lieberman, I-Conn., a holdout on the Medicare buy-in.
Barrasso predicted that the Senate legislation will end up on Obama's desk as is because no Democrat wants to risk a defection after a House-Senate conference.
"I think there's not going to be a conference committee. I think (House Speaker) Nancy Pelosi is going to try to put down her foot and force this bill through the House the way it came out of the Senate," he said.
With an overwhelming majority in the Senate, few doubt the outcome of the bill, though plenty of questions remain about the political impact since nearly every national poll shows considerable public opposition to the legislation. Reid declined to talk about that Monday.
Fox News' Jim Angle contributed to this report.