Capitol Hill staffer recalls vacation with best friend, reporter Alison Parker days before her murder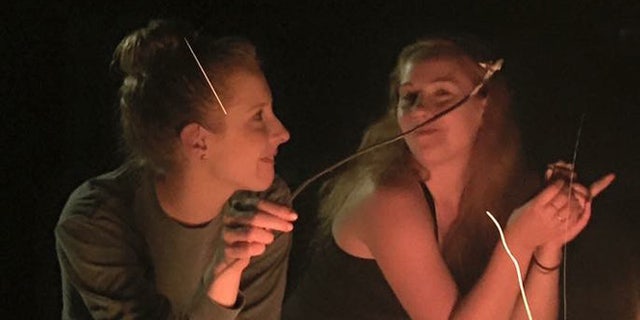 NEWYou can now listen to Fox News articles!
This is a story about two friends.
Two best friends.
Alison and Katy.
And as part of a last-gasp-of-summer getaway, the besties rented a cabin in the North Carolina woods near Asheville late last week alongside Alison's parents and her boyfriend Chris. They lounged in the cabin's hot tub, quaffing white wine and Diet Dr Pepper. After dark, they squatted on a log by an old-fashioned campfire, roasting S'mores on the ends of tree sprigs. They waded barefoot in a stream.
It was a weekend of "goofing off." They drank and cooked. Alison's mother, Barbara, chastised them to put away their phones.
"It took a while for all of us to untether," Katy said.
Alison and Katy also rode the rapids of the Nantahala River by kayak and raft. And on Sunday they had no sooner plopped their kayak in the water when Katy spilled out and Alison came to her rescue. Alison jerked Katy back up into the cockpit by the shoulder straps of her life preserver -- all while the boat washed downstream -- and without dropping their paddles.
"She was going to pull me in or leave me behind," said Katy of her friend. "We were both worried. But we were able to keep calm. She wasn't a panicky person. She always knew what she was doing."
Alison certainly knew what she was doing on the water. Katy described her as "a really good kayaker who could navigate Class III or IV rapids."
It was a memorable trip. The perfect exclamation point with which to end the summer.
Vacation was over on Monday morning. Before parting ways, they sipped coffee at Mill Mountain Coffee in Roanoke, Va.
"We talked about our careers and the things girls in their mid-twenties talk about," said Katy. "It was so normal it almost seems fake."
By Wednesday, Katy Summerlin was back at work on Capitol Hill as communications director for Rep. Doug Collins, R-Ga. And Alison Parker, morning reporter for WDBJ7 TV, was dead.
A macabre murder. Gunned down on live television.
Photographer Adam Ward also died. The woman Parker and Ward interviewed, Vicki Gardner, from the local chamber of commerce, was wounded but is expected to survive.
"It freaks me out," said Summerlin of the assassination. "(Alison) saw him and ran from him and she was scared. It breaks my heart thinking about my best friend running from a psychopath who did this selfish thing."
Alison Parker and Summerlin met in 2009 at James Madison University as members of the Alpha Phi sorority. They bonded through their common major, students at the School of Media Arts and Design. Alison danced ballet. Katy plays Celtic music on a fiddle and sings. Their love for performance strengthened their friendship.
"We had each grown up in households which put a premium on performance arts education," Summerlin said. "We got really close."
A couple years later, Summerlin was president of Alpha Phi, and Parker served as one of her vice presidents, in charge of marketing for the sorority. Parker engineered Alpha Phi's Red Dress Gala, which helped raise money for the American Heart Association.
"She was outgoing and full of ideas," Summerlin said.
Parker later became co-editor of James Madison's student-run newspaper, The Breeze, with a third friend, Georgina Buckley -- now a family law attorney in San Antonio, Texas.
The trio became inseparable.
"We just all became friends and got even closer after college," Summerlin said. "We have a text thread that's been going on since school. We were all going through the same things early in life. We would commiserate about work and guys."
They forged a special friendship as they morphed from students to young professionals.
"Alison, Georgina and I were going to take over the world," Summerlin proffered with a chuckle. "We have law, media and politics covered."
All successful. All moving up in the world. Summerlin says that one of Parker's greatest attributes was her "dry, sarcastic sense of humor which totally complimented her sweetness."
Summerlin says that facet served her reporter friend well. Summerlin says when Parker went out on stories, some might underestimate her friend's reporting skills because of her charm.
"It's a little bit of a disguise," Summerlin said wryly. "She's sweet. But she's not afraid to show you she has teeth."
And that's why Summerlin was confident her friend had such a great career and life in front of her.
"I imagined her obituary: 'Pulitzer Prize winner dies peacefully at age 97 in her sleep,'" Summerlin said, wishing as though that outcome was still possible in some alternate timeline. "She had a lot of plans for her life."
It wasn't to be.
A text message from a sorority sister woke Summerlin on Wednesday morning.
"Have you heard from Alison? I'm really worried about her," screamed the digital missive.
Barely rousted from sleep, Summerlin determined this could wait a few minutes. What could possibly be wrong? She had just enjoyed breakfast with Parker on Monday morning. Summerlin rolled out of bed and brushed her teeth.
A friend of the sorority sister had been watching TV and saw the whole thing go down. Summerlin called Parker's cell phone. She then texted Parker's boyfriend, Chris Hurst, the evening anchor at WDBJ, with whom she had just vacationed in North Carolina
"What happened? Are ya'll okay?" Summerlin wrote.
Hurst phoned 30 seconds later.
"I hate to be the one to tell you this, but Alison died," Hurst told Summerlin.
In her morning fog, Summerlin thought Hurst was joking. She wanted to tell Hurst he must be joking. But she didn't.
"I was sort of speechless," Summerlin said. "Then I saw very quickly he was not joking. I don't recall the rest of the conversation."
Summerlin's roommate and parents warned her not to turn on the TV.
She didn't.
Summerlin texted Collins's chief of staff, Brendan Belair, telling him she wouldn't come to the Capitol and needed a personal day.
The dimension of the horror soon consumed Summerlin. She gleaned some information on Facebook from friends but deliberately shied away from reading any of the articles.
Summerlin says the office staff has been supportive, as has Congressman Collins, a chaplain in the Air Force Reserves.
"I've been slowly coming to terms with it," she says. "It's been kind of a blur. I find myself pacing around without any objective. Fidgeting a lot. I've been trying to go to work."
One thing gnaws in particular at Summerlin. She worries how people will remember Alison. She's known Alison for years. But all most people know of her friend is captured in a few frames of the dual, grisly, now-viral videos.
Videos Summerlin hasn't watched.
On the day of the executions, Summerlin posted a picture of both of them from last weekend, navigating the rapids in a raft. That's the Alison whom Summerlin wants to recall.
"We want her to be remembered as our shiny, goofy Alison rather than the girl who got murdered on live TV," Summerlin said. "We just want the whole world to know what a treasure she was."
And Summerlin lost not just a friend in this tragedy. She lost a certain proximity with her friend.
"She's not mine anymore," Summerlin sighed. "She's no longer just my friend. She's out in the universe. And her name will be linked with this psychopath. Her name will re ignite the gun debate. She's going to be a talking point. I mean Hillary Clinton tweeted about her. She was just my friend. She's now a national news story."
In the coming days, Parker's family will honor their daughter with a "celebration of life," not a funeral. Summerlin says Parker would want her friends to keep pursuing their dreams.
"She had a lot of ambition and she would expect that of us," Summerlin said. "The best way we can honor her is channel her ambition. She would like to see her friends succeed."
Strangely, Summerlin says she may have culled a nugget of advice on pulling through the emotional tumult from their kayaking adventures this weekend. Summerlin says Parker's father, Andy, kept reminding them of a prominent dictum in the sport.
"You have to keep padding through the rapids. Paddle through. Paddle through," Summerlin said.
Which is what Summerlin and other friends of Alison Parker are now doing. Summerlin's clinging to the memories of the river. The hot tub. The S'mores. Good times back at James Madison. The never-ending text message thread.
"My friend from college died," Summerlin said. "I'm so glad that God gave us that weekend."