Candidate's 'World of Warcraft' hobby causing political problems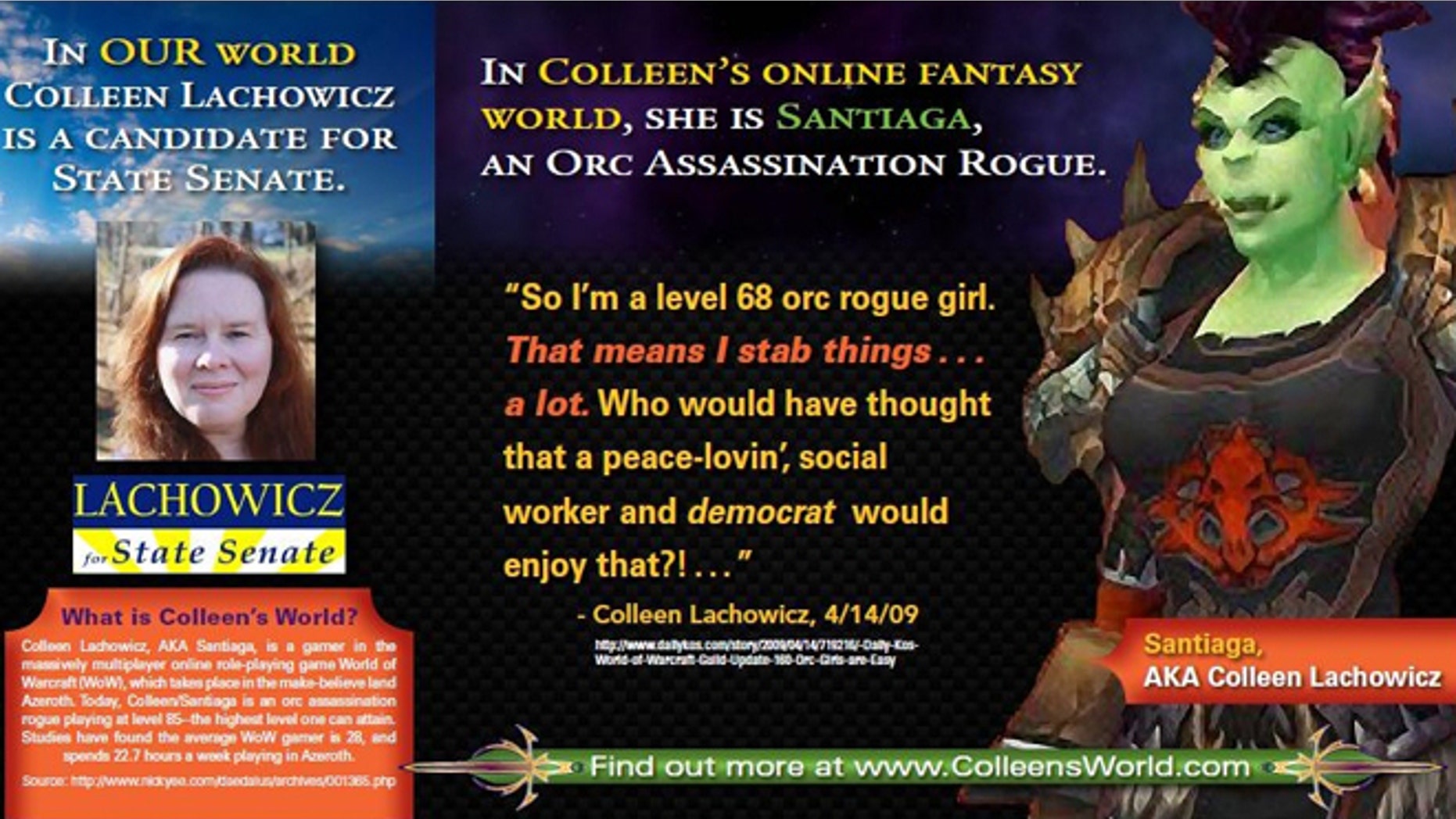 Colleen Lachowicz is the Democratic candidate for state Senate seat in Maine. She also leads a "time-consuming double life" as a powerful orc in the online fantasy role-playing game World of Warcraft, says the Maine Republican Party, which is using the hobby against her.
"Colleen is playing at level 85 -- the highest level one can attain," says a recent press release by the state party. "Studies have found that the average World of Warcraft gamer is 28 and spends 22.7 hours per week playing."
Lachowicz's character in the game is named "Santiaga," an Orc Assassin Rogue. And the comments she makes on her blog at the liberal website Daily Kos are raising eyebrows.
"I stab things  … a lot," she wrote. "Who would have thought that a peace-lovin', social worker and democrat would enjoy that?!" Yes, I am seriously slacking off at work today. And I called my congresswoman's office today. And told them I would probably be calling every day."
The state party has paid for and authorized a blog dedicated to exposing Lachowicz's alternate reality, named Colleen's World.
"Maine needs a state Senator that lives in the real world, not in Colleen's fantasy world," the site states.
Lachowicz told FoxNews.com on Saturday she busy all day knocking on doors and talking to voters and referred to statements she made earlier this week.
"I think it's weird that I'm being targeted for playing online games," she said in statements Thursday. "Apparently I'm in good company since there are 183 million other Americans who also enjoy online games. What's next? Will I be ostracized for playing Angry Birds or Words with Friends? If so, guilty as charged."
A thread on the World of Warcraft forums pokes fun at both sides in the debate -- Republicans for raising this as a campaign issue and Lachowicz for her passionate love of the online fantasy world.
"I actually think being an Orc Assassination Rogue is great preparation for diving into American politics," wrote one user.
"I think I would prefer it if politicians spend their time doing other things. Call me old fashioned I guess," another wrote.
Lachowicz also said in the statement: "What's really weird is that the Republicans are going after my hobbies instead of talking about their record while they've been running Augusta for the last two years. Instead of talking about what they're doing for Maine people, they're making fun of me for playing video games. Did you know that more people over the age of 50 play video games than under the age of 18? As a gamer, I'm in good company with folks Jodie Foster, Vin Diesel, Mike Myers, and Robin Williams. Maybe it's the Republican Party that is out of touch."