California's Smallest City Fights to Stay Alive Despite Rampant Corruption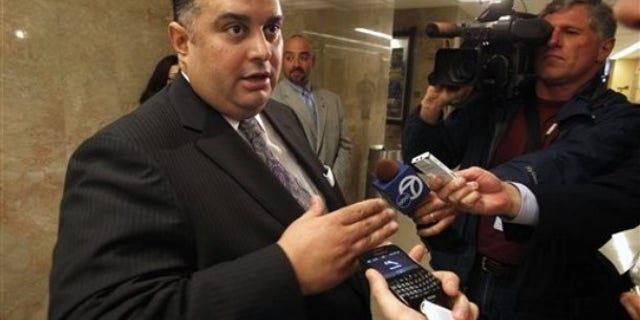 NEWYou can now listen to Fox News articles!
A small Los Angeles suburb is fighting for its cityhood after the California Assembly voted last month to dissolve it amid allegations of rampant corruption.
Vernon is the smallest city in California, with a population of 96 covering 5.2 square miles, but it is home to 1,800 businesses providing 55,000 local jobs,
The city, though, has become a black eye to the state along with other several small Los Angeles suburbs, such as Bell and Temple City, where top officials have been accused of using their positions to line their own pockets. On Thursday, Vernon's former city manager pleaded guilty to a corruption charge.
Assembly Speaker John Perez, who authored the bill to revoke incorporation from cities with fewer than 150 residents, argues that dissolving Vernon is the only way to eliminate the corruption.
The measure now goes to the state Senate, where it is expected to be taken up sometime in the summer. If it becomes law, Los Angeles County would absorb Vernon.
The city's chamber of commerce says that the bill would have dire economic consequences, including the immediate elimination of 11,000 jobs. Utility rates for local businesses would increase by up to 40 percent, the chamber said, business taxes would soar possibly as much as 2,000 percent and California would lose $420 million a year in wages and $42 million in revenue.
But Vernon isn't going down without a fight.
On Thursday, the City Council unanimously passed a reform package that slashes the salaries of council members from $70,000 to $25,000 a year beginning at the end of their current terms, city spokesman Fred MacFarlane said.
Other officials, including the police chief, also will see salary cuts.
Department heads will now earn up to $267,000. In the past, some reportedly made more than $1 million to govern the town of warehouses and packing plants southeast of downtown Los Angeles.
The council also authorized benefit reductions for officials, established a city housing commission and voted to place a proposal on the city ballot that would change the city charter and limit council members to two, five-year terms.
The city owns nearly all residential housing in town and there have been concerns that its officials are de facto landlords of the voters.
"The reforms take the city of Vernon a lot further toward a more open, transparent and inclusive governance structure," MacFarlane said. "The business community will have a role to play, as will representatives of labor, and those are two key constituencies."
The city reforms are partly a response to the bill and were designed "to preclude the Legislature from imposing reforms from outside the city," MacFarlane said.
On the same day, Vernon's former city administrator pleaded guilty to misappropriation of public funds and was ordered to repay nearly $60,000.
Bruce Malkenhorst, 76, also was fined $10,000. Under his plea agreement, a second count of misappropriating public funds was dismissed.
Prosecutors said that from 2000 to 2005, Malkenhorst was illegally reimbursed for personal expenses that included golfing, massages, a personal trainer and a home security system.
Last year, a former mayor was ordered to pay more than $500,000 after being found guilty of defrauding the city. Prosecutors said he claimed to live in the city but actually had a home in the wealthy Hancock Park area of Los Angeles.
Leonis Malburg and his wife, Dominica, were convicted of voter fraud and other charges.
Another former city administrator, Donal O'Callaghan, has been accused of corruption for his role in obtaining city jobs for his wife. He has pleaded not guilty to two felony counts of conflict of interest involving contracts and one of public officer crime.
The Associated Press contributed to this report.