California's Big Labor pushes measures against anti-union activists amid looming hit on their finances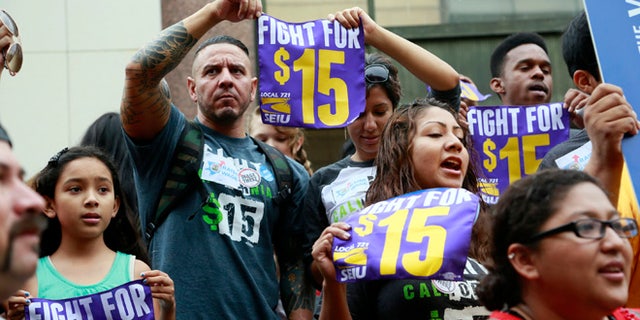 California's public labor unions are campaigning for measures that would help them retain members and create obstacles for anti-union activists amid a looming Supreme Court decision.
Two of the union-backed bills would give unions time to approach workers considering leaving the union and the chance to try and convince them otherwise, The Sacramento Bee reported.
One bill, would force local governments to give time off to union shop stewards, though the unions would have to reimburse government agencies for the time off.
Another measure, Assembly Bill 2970, would ban government agencies from publicly disclosing information such as the date about new workers' orientations.
Democratic Assemblyman Jim Cooper, the bill's author, claimed the bill is intended to prevent workplace violence, but critics say it's a veiled attempt to create obstacles for anti-union advocates to contact employees, the report said.
"It just seems like a bill targeted at squelching political speech and doing so without any good justification."
"It just seems like a bill targeted at squelching political speech and doing so without any good justification," David Snyder, executive director of the First Amendment Coalition, told the Bee.
The bill was approved by the Assembly in an overwhelming vote and is currently awaiting a hearing in the Senate.
The unions' support for the bills comes amid the upcoming Supreme Court decision this summer on whether public employee unions can collect the so-called "fair share fee" from workers who are represented but aren't actual members.
It is largely expected that the Supreme Court will rule against the unions, prompting a massive hit to the finances of the unions.
The "fair share" fees for non-union employees are often equal to the full dues paid by members of a union. Employees who don't want to belong to unions could potentially save hundreds of dollars every year if they would become free from paying the fees, according to the newspaper.
California's Legislature has already begun preparing for the exodus of union members, adopting a measure last year that requires public agencies to give unions a 10-day notice before new employee orientation events in a bid to sign them up for the union.
But anti-union activists are also stepping up their attempts to help workers quit their unions.
The Freedom Foundation, which encourages West Coast government employees to leave the unions, said it recently sent out messages to 50,000 California teachers with instructions how to leave the California Teachers Association.
The group also criticized the bills supported by the union. "If we're not allowed to know where they are, we don't know who's working," Sam Han, its California director, told the Bee.