California suing Trump over border wall, escalating battle with White House
California Attorney General Xavier Becerra announced Wednesday that the state will sue the Trump administration over one of President Trump's paramount campaign promises—the border wall.
Becerra's lawsuit, which targets planned projects in San Diego and Imperial counties, marks the latest shot in California's legal and legislative war against Trump.
The state essentially has emerged as the heart of the Trump "resistance," pumping out lawsuits against his immigration policies and even passing a resolution Friday in the Assembly censuring Trump for his comments on the violence stemming from white nationalist protests in Charlottesville, Va.
Becerra's latest lawsuit charged that the Trump administration "violated the U.S. Constitution, failed to comply with federal and state environmental laws, and relied on a federal statute that does not authorize the proposed projects."
"The Trump administration has once again ignored laws it doesn't like in order to resuscitate a campaign talking point to build a wall on our southern border," Becerra said in a statement Wednesday. "President Trump has yet to pivot from candidate Trump to leader of a nation built on the rule of law. That's dangerous."
The lawsuit comes as Trump works with Congress to try and secure funding for a border wall -- though the specifics of the project itself remain unclear.
The president issued an executive order in January calling for securing the "southern border of the United States through the immediate construction of a physical wall on the southern border, monitored and supported by adequate personnel so as to prevent illegal immigration, drug and human trafficking and acts of terrorism."
SESSIONS BLASTS CALIF. FOR SANCTUARY STATE BILL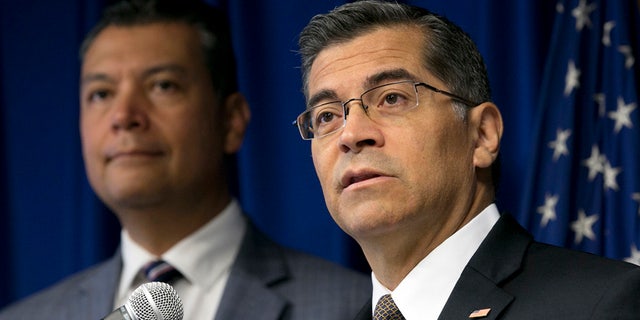 Last month, the administration awarded contracts to four companies to begin construction.
The president tweeted last week that "the WALL, which is already under construction in the form of new renovation of old and existing fences and walls, will continue to be built."
White House Press Secretary Sarah Sanders underscored the president's commitment to the border wall earlier this month.
"I don't think the president has been shy about the fact that he wants a wall," Sanders said. "It's certainly something he feels is an important part of a responsible immigration package."
This isn't Becerra's first lawsuit against the Trump administration. Just last week, Becerra joined state attorneys general from Minnesota, Maryland and Maine in filing suit against the administration over its decision to end the Deferred Action for Childhood Arrivals program, arguing that the White House violated the Constitution and federal laws by rescinding the Obama-era program.
But Trump has put the onus on Congress to draft legislation that would protect 'Dreamers,' even meeting with Democratic congressional leadership last week to discuss a path forward.
California has been firmly against most Trump administration immigration policies. The state's legislature also passed a sanctuary state measure over the weekend and is awaiting approval by Democratic California Gov. Jerry Brown that would bolster protections for illegal immigrants in the state—a move Attorney General Jeff Sessions called "unconscionable" on Tuesday.
"The bill risks the safety of good law enforcement officers and the safety of the neighborhoods that need their protection the most," Sessions said during a speech in Portland, Ore., on Tuesday. "There are lives and livelihoods at stake."
Sessions urged Brown not to sign the law that would halt local police from cooperating with federal authorities to deport illegal immigrants.
The Trump administration has faced significant roadblocks in efforts to crack down on jurisdictions that do not cooperate with federal immigration agents. Last week, a federal judge in Chicago ruled that Sessions could not withhold public grant money from sanctuary cities for refusing to follow federal immigration law—an option the attorney general has used to threaten states and localities who call themselves 'sanctuaries.'
"We strive to help state and local law enforcement," Sessions said. "But we cannot continue giving such federal grants to cities that actively undermine the safety of federal law officers and actively frustrate efforts to reduce crime."
Fox News' Alex Pappas and the Associated Press contributed to this report.