California DMV revs up for undocumented migrants applying for licenses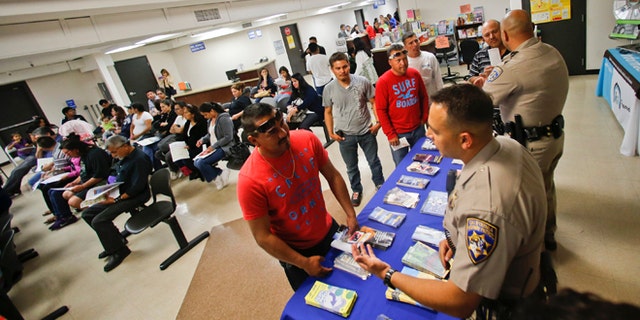 NEWYou can now listen to Fox News articles!
California's Department of Motor Vehicles has opened four new offices and hired more than 900 additional staff in an effort to prepare for the law that will allow undocumented immigrants to apply for a driver's license.
The applications, which require individuals to verify their identities and show proof of California residency, will be accepted beginning Jan. 2. The department expects to process approximately 1.4 million new driver's license applications in the next three years.
DMV opened new offices in Granada Hills, Stanton, Lompoc and San Jose to process new driver's license applications, including those of undocumented immigrants after the law goes into effect.
In January, the DMV will extend its Saturday hours at up to 60 offices for new license applicants with appointments.
Individuals have been able to make appointments for a new license since Nov. 12. Officials say they aren't sure if there will be an initial surge of applications, but the number of people making license appointments more than doubled to 379,000 during the first two weeks immigrants were allowed to sign up.
Alliance San Diego, a social justice non-profit, has participated in more than 30 community forums to promote the law and help immigrants prepare to apply for a license. Special projects organizer Daniel Alfaro told Fox News Latino that most immigrants have said they would apply for a driver's license.
"For families, I think it will make life much, much easier," he said.
But not all immigrant advocates are as encouraging.
"For the vast majority of people, getting a license is a good decision," Alison Kamhi, a staff attorney at the Immigrant Legal Resource Center told the Associated Press. "At the same time, I think it is important people are aware there is some risk."
Anyone who previously obtained a driver's license under a false name or someone else's Social Security number, for instance, or those with a prior deportation order or criminal record might want to speak first with a lawyer, Kamhi said, pointing out that federal immigration and law enforcement officials can access Department of Motor Vehicles data during an investigation.
The list of documents that will be accepted to verify an applicant's identity includes foreign passports, consular ID cards, and a combination of documents such as birth certificate and income tax returns.
Applicants also will need to provide a thumbprint and pass a vision assessment, as well as a written and behind-the-wheel-driving test. The tests will be available in various languages including Spanish.
Individuals will also be required to pay a new license fee and show proof of insurance if they register a vehicle.
Experts don't foresee major problems with the rollout of the program because the state has had more than a year to prepare and an ample budget — $141 million spanning three years.
In Nevada, about 90 percent of immigrants failed the required written test during the first few weeks a driver authorization card was offered because they were not prepared. In Colorado, the state had no startup funding to issue licenses and couldn't keep pace with demand, leading to monthslong waits.
Jonathan Blazer, advocacy and policy counsel for the American Civil Liberties Union Foundation, told the AP that he expects California to license as many immigrants in the country illegally as the nine other states, Washington D.C., and Puerto Rico combined.
"If California is not able to do this right with the resources it put into this, other states will take notice," Blazer said.
The new IDs will be similar to ordinary California licenses but will include the phrase "federal limits apply" on the front, and a caution on the back that the card can't be used for "official federal purposes."
Pro-immigration groups have argued that the differences could make immigrants more vulnerable to discrimination.
Isidro Ortiz, a professor at San Diego State University whose area of research focuses on immigration policy and reform, said some activists have referred to the licenses as scarlet letters, marking the bearers as being in the country illegally.
"I think that's a serious concern, especially here in the border region," Ortiz said.
He said the apprehension is tied to the number of deportations that have been carried out under President Obama as well as and the stricter border security that's also called for under the immigration plan.
Alfaro said that Alliance San Diego is developing a hotline to allow immigrants to report discrimination they may face from law enforcement or other entities as a result of the new licenses.
Abel Rivera, a 37-year-old forklift driver, took a class to brush up on differences between driving in California and his native Mexico, where he was a truck driver for more than a decade. One thing he hadn't considered was how to drive on icy roads, said Rivera, who has an appointment for a license in mid-January.
"The sooner the better, because it will be safer to drive," he told the AP, adding that he hopes to qualify for better insurance coverage and avoid problems like those faced by his brother when he was pulled over and had his car impounded.