Britain ambassador deflates hype over Trump baby balloon, calls protest 'irrelevant' and out of touch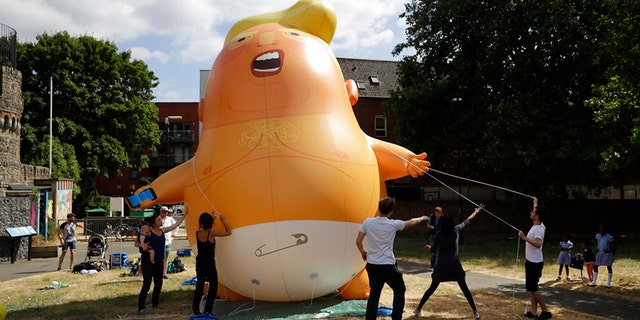 NEWYou can now listen to Fox News articles!
OLDHAM, England – The U.S. ambassador to the U.K. on Wednesday downplayed the hype over a giant balloon depicting a baby President Trump due to float down the streets of London in protest of his visit this week -- saying it doesn't reflect the views of the majority of British people.
Trump will arrive in the U.K. on Thursday for a three-day working visit during which he is scheduled to meet with Prime Minister Theresa May and Queen Elizabeth II.
His visit is expected to be met with a number of protests in various cities including London -- where the 19-foot Trump balloon is expected to fly over Parliament on Friday. The U.S. Embassy put out a travel alert on Tuesday about the demonstrations, warning U.S. travelers to London to "keep a low profile."
But, while the balloon has led to significant media coverage in both the U.K. and the U.S., Ambassador Woody Johnson said in an interview with BBC Radio 4 that he sees the balloon as being out of touch with the broader views of the British public.
"It's really kind of irrelevant to what we're trying to do and I don't think certainly it doesn't express the opinion of the British people I met," he said. "And I've spent the last eight months going all around the country, meeting people and getting their point of view of all kinds of people whether it's politicians or people working in factories...I don't feel that at all."
London Mayor Sadiq Khan, a frequent Trump critic, gave his approval for the balloon to be floated, with a spokesperson saying last week that the mayor "supports the right to peaceful protest and understand that this can take many different forms."
Ambassador Johnson's sentiment has been echoed by a number of residents in the north of England who spoke to Fox News this week. They say that whether they agree with the president or not, he is worthy of respect as America's leader.
"I think that's absolutely disgusting," Eugene Bibby, who runs a domestic appliance repair shop in Tommyfield Market in Oldham, told Fox News about the balloon. "The mayor of London should be ashamed of himself."
LONDON MAYOR SADIQ KHAN BALLOON PLANNED TO COUNTER 'TRUMP BABY' BLIMP IN LONDON
Meanwhile, other activists in London have been quickly raising money to launch their own balloon of Khan, in protest of crime levels in the capital. As of Wednesday, the campaign had raised £45,000 of it's goal of £50,000 (approximately $66,000).
Nona Hurkmans, one of the activists behind the infantile inflatable of Trump, said the balloon was a fair response to Trump's own behavior and downplayed claims that Trump deserved more respect.
"We've had a lot of questions about respect," she told Sky News. "It's a balloon, it's just a balloon."
Fox News' Chris Irvine contributed to this report.