Border Chief Writes Arizona Sheriff Who Claimed Lax Border Patrol Enforcement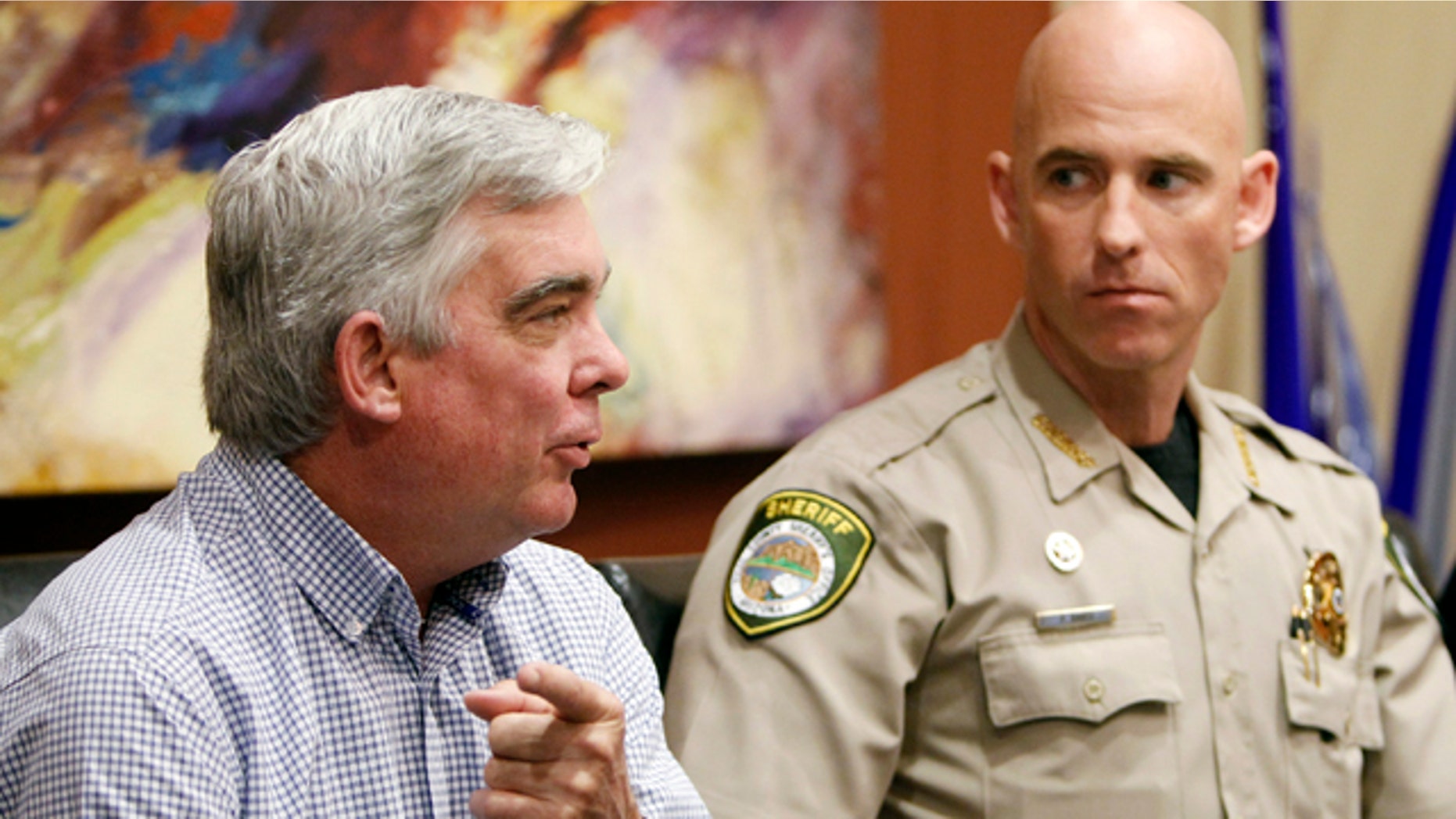 Three days after an Arizona sheriff said Border Patrol agents were ordered to turn back -- rather than arrest -- illegal immigrants trying to cross the Southwest border, the head of the U.S. Border Patrol has asked to meet with the sheriff and offered a "ride-along" with federal agents for a firsthand look at Border Patrol activities.
In a letter sent Monday to Cochise County Sheriff Larry Dever, U.S. Border Patrol chief Michael Fisher wrote that he felt "enormous disappointment and concern" over the "recent allegation."
"That assertion is completely, 100 percent false," Fisher wrote in the letter obtained by Fox News. "That it comes from a fellow law enforcement official makes it especially offensive."
Last week, Dever told FoxNews.com that a Border Patrol supervisor and others recently alerted him that the federal agency's office on Arizona's southern border was under orders to keep apprehension numbers down during specific reporting periods. Those orders included, at times, an all-out halt to arrests of illegal immigrants caught trying to cross the U.S.-Mexican border.
"The senior supervisor agent is telling me about how their mission is now to scare people back," Dever said. "He said, 'I had to go back to my guys and tell them not to catch anybody, that their job is to chase people away. ... They were not to catch anyone, arrest anyone. Their job was to set up posture, to intimidate people, to get them to go back.'"
Click here to read the FoxNews.com story.
Sheriffs in other Arizona counties along the border said they have not heard of any such orders, but two -- both Democrats who generally support the Obama administration's efforts on the border -- said they know Dever well and believe he would not knowingly say something false.
Border Patrol and Homeland Security officials have repeatedly said a 36 percent decrease in border apprehensions over the past two years shows fewer illegal immigrants are trying to cross the border, proving their approach to fighting illegal immigration is working. But some Republicans and other critics have taken issue with that metric, saying fewer apprehensions could just mean fewer illegal immigrants are being caught.
Considered an unusual move by Fisher to weigh in directly on a local sheriff's comments, the Border Patrol chief wrote he was concerned that Dever "may remain unaware of the scope of our enforcement efforts across the Southwest Border, particularly in Arizona."
"Law enforcement and border security decisions made at the operational level require the apprehension and arrest of every illegal border-crosser," Fisher wrote. "Your unwarranted allegation to the contrary ... only serves to encourage those who are planning to enter this country illegally to continue to try to do so with obvious damage to border security."
Fisher then offered for Dever or his deputies to come to a "border security orientation where we will personally describe the current state of our operations and the sequence of our mission priorities. I am also offering to you an opportunity to participate in a ride-along with any of our agents in the field so you may gain a first-hand appreciation of their daily duty and activity."
Since his interview with FoxNews.com, Dever has not responded to e-mails and calls seeking further comment, and did not return a call Tuesday seeking comment for this article. The sheriff's spokeswoman said she had not heard about Fisher's letter. Santa Cruz County Sheriff Tony Estrada said DHS is now actively trying to find the anonymous tipster who gave Dever the information.
Dever vowed last week to discuss what he's heard -- under oath -- during a Senate Homeland Security Committee hearing Thursday titled "Securing the Border: Progress at the Local Level." But soon after his interview with FoxNews.com, Dever turned down the committee's invitation to testify, citing "a scheduling conflict," according to a Senate aide. His spokeswoman said the sheriff is out of town for the rest of the week.