Boeing, NLRB Battle Heading for a Vote in the House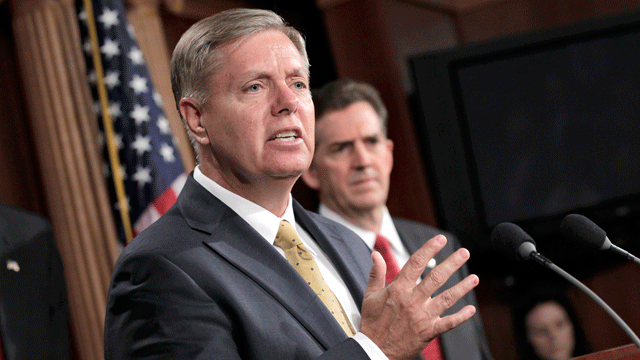 NEWYou can now listen to Fox News articles!
"I'm mad as hell," South Carolina Republican Sen. Lindsey Graham told reporters on Capitol Hill Wednesday.
A day ahead of a House vote on a bill stopping the National Labor Relations Board from blocking Boeing's plan to open a new production facility in South Carolina, a group of Republican senators blasted the NLRB for being a rogue agency.
"This is a frivolous complaint beyond imagination," Graham said. "This is using the law for political purposes, and I really do resent that the idea that we are not going to fight back. Sen. Reid, help us out here."
But Senate Majority Leader Harry Reid has given no indication he intends to take up a companion bill in the Senate.
Republicans predict the aircraft maker will ultimately prevail in court after spending millions of dollars on the legal fight, but they do fear the message this case will send to other companies.
"Businesses are smarter than government," said South Carolina Republican Sen. Jim DeMint. "The next time Boeing has a move, they won't move to South Carolina or a right-to-work state. They'll move to china or somewhere else… that's the signal this administration is sending."
The NLRB claims Boeing has acted unfairly in opening the new production line in South Carolina instead of in Washington State, where the company's main operations are located, because Boeing's South Carolina plant is non-union and South Carolina is a "right to work" state where workers can't be forced to join unions if a majority of their co-workers opt to do so. Labor leaders say Boeing should have expanded its operation in the more union-friendly Washington and didn't as part of bid to punish union workers.
The union fighting Boeing's move, the International Association of Machinists and Aerospace Workers, has sent a letter to House members urging they vote against the measure writing quote: "This bill provides a Congressional pardon in an on-going law enforcement matter."
Many House Democrats agree.
"It's the outsourcers' bill of rights" New Jersey Rep. Rob Andrews told Fox News. "It's also an interference with ongoing piece of litigation, which is a bad idea."
Obama administration officials insist the NLRB is an independent agency, whose members are presidential appointees but not directed by the president, and say the White House does not get involved in these enforcement matters.
When asked about the Boeing issue at a June 29 White House news conference, President Obama chose his words carefully.
"Companies need to have the freedom to relocate. They have to follow the law, but that's part of our system," Obama said. But with many companies choosing to relocate workers overseas, he added, "if they're choosing to relocate here in the United States, that's a good thing."
But Republicans say the NLRB is an unelected bureaucracy – making job creation when there is 9.1% unemployment – more difficult.
"What was just about South Carolina is now about the nation as a whole. we are dumbfounded, we are disappointed and we're gonna fight back in South Carolina," Graham said.
With South Carolina an early presidential primary state, many expect Republican hopefuls to hammer this issue as an example of this administration's policies hampering job creation.