Bin Laden Aide Pleads Guilty in First Terror Conviction Under Obama Commissions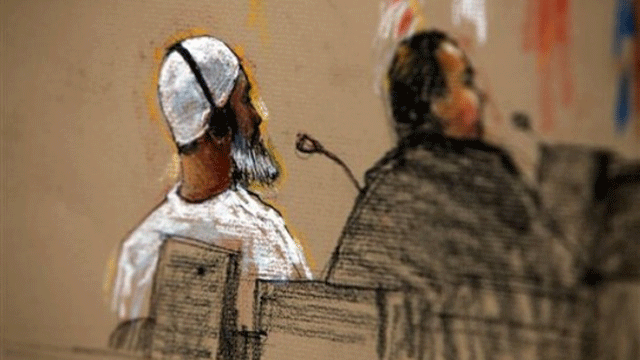 GUANTANAMO BAY -- A longtime associate of Usama bin Laden on Wednesday pleaded guilty at Guantanamo Bay to terror charges of conspiracy and material support, marking the first-ever conviction under the military commission system resurrected by President Obama.
The guilty plea by Ibrahim al Qosi is only the second in the history of the commissions under the Obama and Bush administrations.
Al Qosi was accused of supporting terrorism by serving on a Taliban mortar crew and occasionally as bin Laden's bodyguard. While not a household name, it is alleged that al Qosi, who is Sudanese, knew bin Laden from his days in Sudan in the early '90s and ultimately followed the Al Qaeda leader to Afghanistan.
Court documents claim that he served in a number of roles for his longtime friend -- from driver to accountant to cook in the kitchen at bin Laden's Afghanistan compound before the Sept. 11, 2001, attacks. Perhaps most importantly, he allegedly facilitated bin Laden's escape from Tora Bora in late 2001.
During the course of the hearing Wednesday, al Qosi revealed several interesting details about his former boss.
When asked by the judge, he confirmed that in 1997, bin Laden moved his entire Afghanistan compound from Jalalabad to Kandahar, traveling in an entourage of 15 people in multiple vehicles. The camp was divided into a section for married people with their families and another section for unmarried people -- al Qosi said he served as head cook for the unmarried section. He confirmed that bin Laden kept about eight bodyguards with him at the old compound, but that when he moved to Kandahar he increased that force to 12-14 because of increased security concerns.
The Obama administration, while drawing criticism from some lawmakers for pursuing Sept. 11 cases in civilian court, has pledged to continue to try some cases in the military commissions.
Fox News' Catherine Herridge contributed to this report.