Beleaguered Menendez finding unlikely defenders in GOP ranks, including Ted Cruz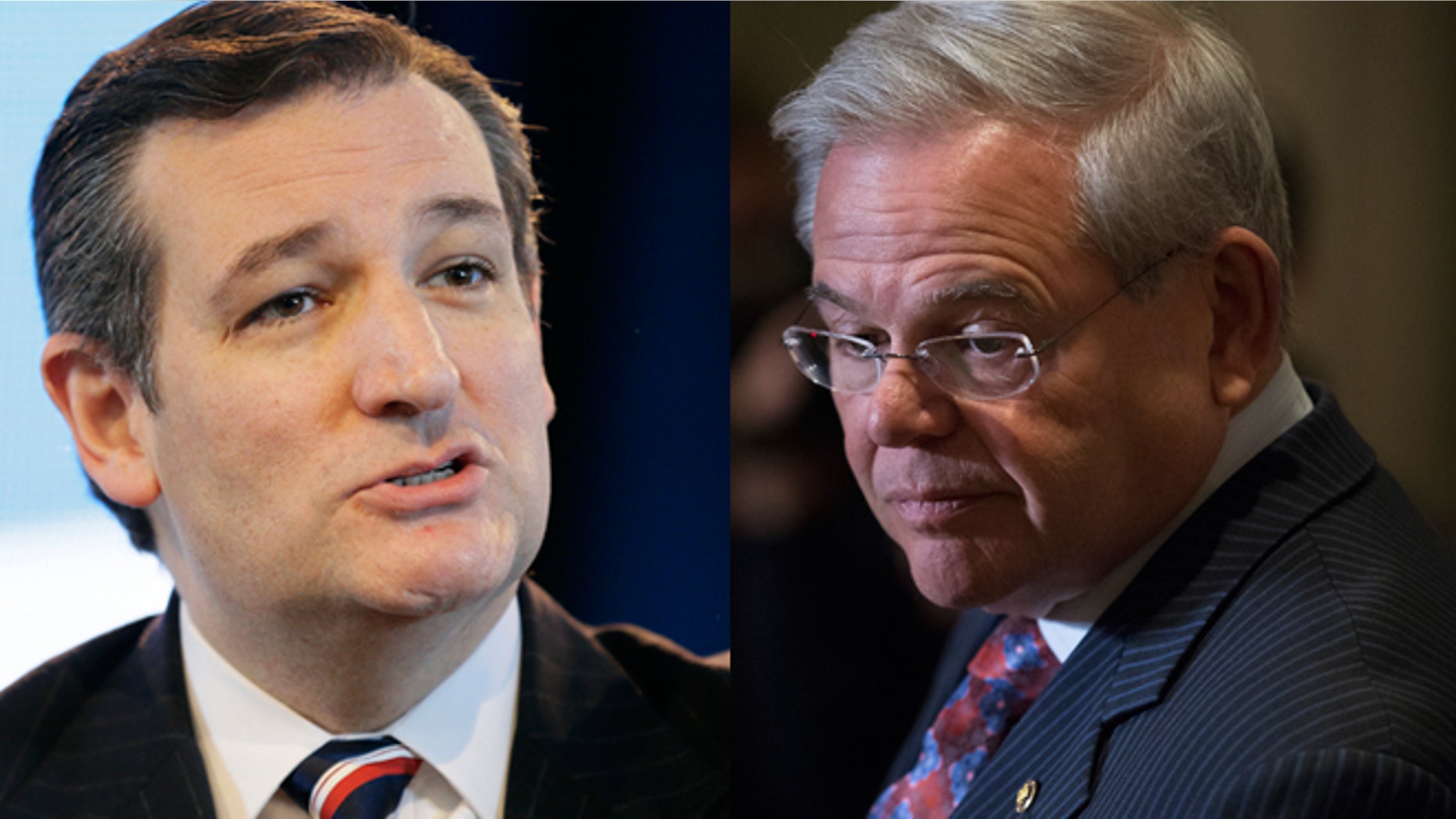 They have faced each other across the Senate aisle – as well as the political spectrum – for years without ever agreeing on much.
But now Bob Menendez (D-N.J.), who reportedly is going to have corruption charges filed against him by the Department of Justice, finds that, while most of his fellow-Democrats are staying mum on the topic, Ted Cruz (R-Tex.) is one of his most vocal defenders.
The reason for that is one of the rare instances in which the two senators of Cuban-American descent have seen eye-to-eye on: The wisdom of pursuing a treaty with Iran over its nuclear program, as the Obama administration is doing.
According to The Hill, Cruz spoke at a tent outside the Iowa Ag Summit in Des Moines on Sunday, and without being prompted to comment about Menendez, said, "The timing seems awfully coincidental that in the week when Israel's Prime Minister Benjamin Netanyahu came to Washington, spoke in Congress about the enormous threat of President Obama's misguided deal with Iran that is opening the door to Iran acquiring nuclear weapons and in the very week, when Bob Menendez showed incredible courage to speak out and call out President Obama for the damage that his policy was doing to our national security—that coincidence is troubling."
In fact, it isn't just Cruz who is linking the Menendez investigation with the president's foreign policy.
Other prominent Republicans, such as another presumed presidential contender for 2016, Lindsey Graham of South Carolina, have voiced their concern about possible retribution.
"[The administration] leaked the fact that he may be charged, is gonna be charged," Graham told Bloomberg News. "He's been a champion on the Iranian nuclear issue. It just doesn't smell right."
And publications like the Drudge Report and the Weekly Standard gave secondary headlines or subheads suggesting a connection to their reports about the Menendez investigation.
The Justice Department has declined to comment officially on its plans concerning Menendez, but sources have confirmed to the Associated Press, CNN and other news outlets that charges are expected to be filed against the senator in the coming weeks.
It has been reported that Attorney General Eric Holder authorized proceeding with criminal charges against the Senator, but Holder refused to comment to reporters on Friday.
For year, Menendez has been dogged by questions about his relationship with a Florida doctor and political donor, Salomon Melgen, an ophthalmologist, and questions about trips Menendez took to the Dominican Republic aboard Melgen's private plane. The senator has acknowledged taking several actions that could have appeared to benefit Melgen, including contacting a Medicare agency to urge changes to a payment policy that had cost Melgen millions of dollars.
Menendez has consistently defended his actions.
"Let me be very clear, I have always conducted myself appropriately and in accordance with the law," he said on Friday. "Every action that I and my office have taken for the last 23 years that I have been privileged to be in the United States Congress has been based on pursuing the best policies for the people of New Jersey and this entire country."
For Cruz, at least, the investigation is clearly political.
"It raises a suggestion to other Democrats," Cruz said on Sunday, "that if you dare part from the Obama White House that criminal prosecutions will be used potentially as a political weapon against you."
Menendez, the ranking Democrat on the Senate Foreign Relations Committee, is a vociferous advocate of stronger sanctions against Iran, and he has expressed grave doubts about U.S. efforts to negotiate a treaty over Tehran's nuclear program, positions that have put him at odds with the president.
He added, "This investigation has been going on for over a year and yet the very week they announce a pending indictment comes within hours after Sen. Menendez showing courage to speak out against President Obama's dangerous foreign policy."
The Associated Press contributed to this report.
Like us on Facebook