Barbour Tells CPAC It's All About the White House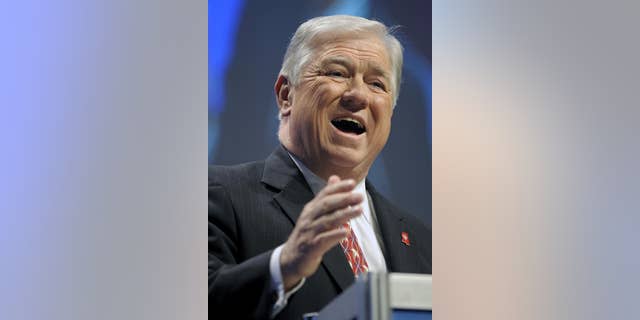 Mississippi Governor Haley Barbour told a crowd of more than a thousand activists at the Conservative Political Action Conference in Washington that the Republican party's gains in the 2010 midterm elections were a "good start," but "we can't put America on the right track until we elect a Republican president next year."
Barbour is testing the presidential waters and people close to him have been making calls to the crucial early states of New Hampshire and Iowa. Fox News has learned that Barbour's inner circle is currently in the planning stages for a trip to one of the early states in the next few weeks.
Most recently, as chairman of the Republican Governors Association, Barbour presided over massive gains by Republicans in state houses across the country during the 2010 midterm elections. Barbour talked with Fox News after his speech and stressed the primacy of governors, "For Washington, DC the definition of a spending cut is the department was supposed to get an 8% increase and they only got a 5% increase, so that's a 3% cut," said Barbour. "In state government, when we cut we really reduce spending from last year... governors do that, it can be done."
Barbour reiterated to us he intends to make a decision about a possible presidential run when Mississippi's legislative session ends in April and not before then, "this requires you to give 10 years of your life to the most consuming job on the face of the earth. That's not an easy decision," said Barbour. "We have the unusual circumstance for Republicans where we don't have a frontrunner, so the more good people that run, the better it is for the country, the better it is for our party."
Barbour is a popular pick in some circles as an outsider candidate but he's actually the consummate Washington insider. The man from Mississippi is quick to remind us he's never lived in Washington but he has worked inside the beltway for decades as a White House political director for Ronald Reagan, Chairman of the Republican National Committee and a successful lobbyist.
In this tea party era of anti-earmark and special interests politics, many candidates might run form their ties to K Street, but not so this plain spoken Southerner, "The day after a president gets inaugurated, he's lobbying, he's having to advocate to the Congress, he's having to advocate to our friends overseas and our adversaries overseas," said Barbour. "That's what presidents do for a living, the fact that I've had some experience doing it I think would make it easier for me to do a good job instead of harder."