At Least $150M in Anthrax Vaccine Funding Goes to Firm With Close Dem Party Ties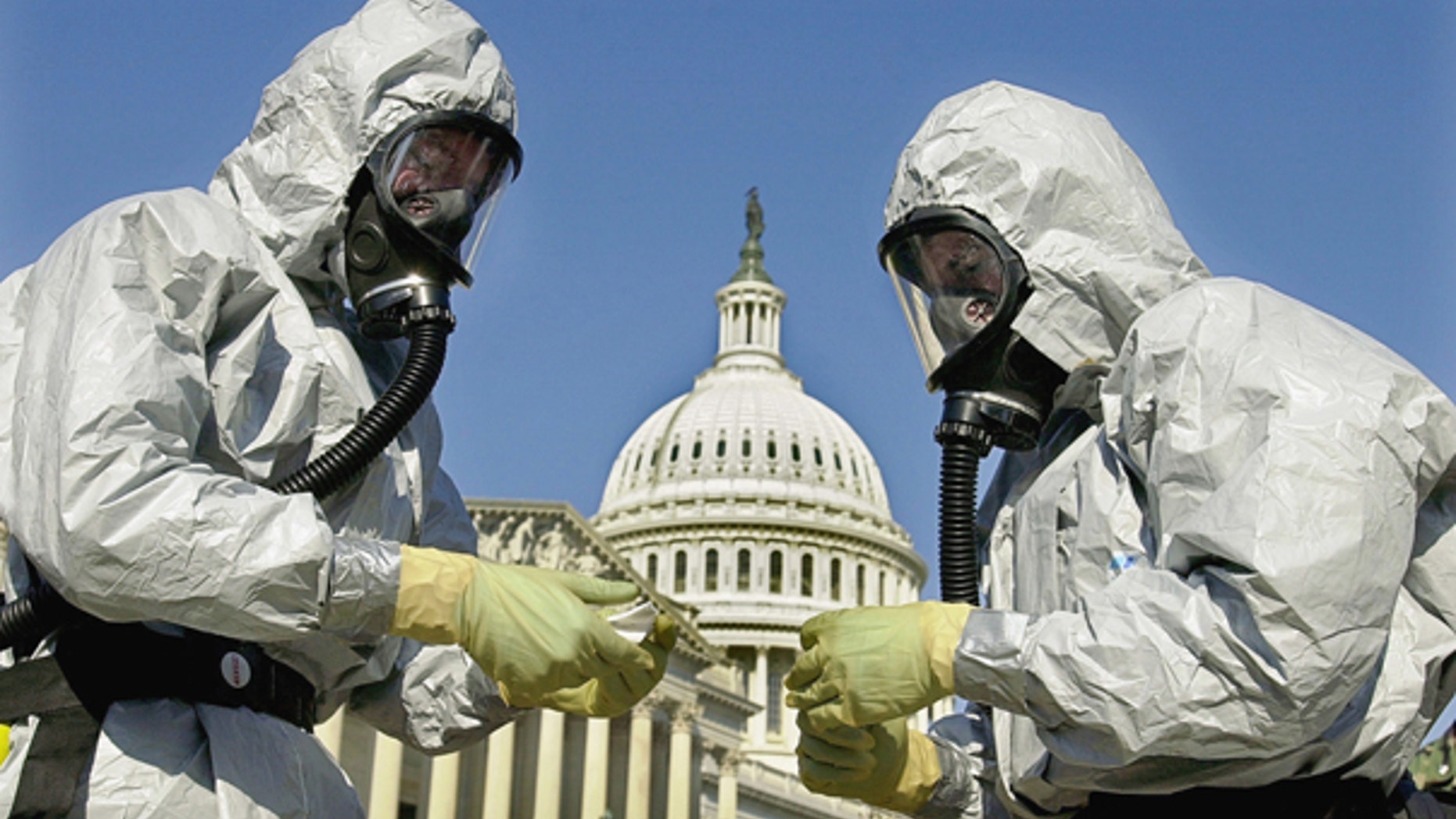 The Obama administration has steered at least $150 million in federal funding for the development and production of an anthrax vaccine to a bio-defense firm with strong Democratic Party ties, Fox News has learned.
The move comes in spite of President Obama's long history of pledges to crack down on the awarding of federal contracts without competitive bidding, and just as a federal commission led by two former U.S. senators has given the Obama administration a failing grade on shoring up the nation's bio-defenses.
Federal records show that executives of the company awarded the contract, as well as its investors and related lobbyists, have long been active contributors to Democratic Party causes and campaigns, including the 2008 presidential campaign of President Obama.
The deal was announced at a time when few Americans were likely to be paying attention: on the evening of Dec. 29, midway between Christmas and New Year's Eve.
A "special notice" posted by the Department of Health and Human Services that day announced that PharmAthene, Inc., a publicly held firm based in Annapolis, Md., was going to receive a "contract modification" that would mark an "expansion" -- without having to face competitive bidding -- of an existing contract the company held with the National Institutes of Health.
As the HHS announcement put it: "PharmAthene Inc. has been under contract with the U.S. government since 2003 to develop an (anthrax) vaccine via Contract N01-AI-30052."
But that was untrue: Contract N01-AI-30052, awarded by NIH's National Institute of Allergy and Infectious Diseases after competitive bidding in September 2003, actually went to a firm called Avecia Ltd., based in Manchester, England.
That contract was worth at least $71.3 million and was designed to support Avecia in the "development and production of a vaccine to protect the general United States population against inhalation anthrax ... (to) evaluate safety, develop the optimal dose and dose regimen and extend the age range and populations for which the vaccine will be indicated."
Not for another four-and-a-half years, in April 2008, did PharmAthene acquire Avecia, at an estimated cost of $40 million. And the "modification" of the old Avecia contract to benefit PharmAthene came only after HHS abruptly canceled still another contract, which was still being bid on by PharmAthene and a competitor, Emergent Biosolutions.
HHS officials said that contract's cancelation, announced Dec. 7, was ordered because both companies exhibited difficulty meeting highly technical licensing requirements.
"There really isn't any good answer as to why this wasn't done appropriately," said Tom Schatz, president of the Washington-based group Citizens Against Government Waste.
"It could be because of the close connections between the company and the administration and the contributions that have come through," he said. "But generally, this happens often without that kind of connection. This particular award stands out because of the connections between the company and the administration."
PharmAthene's director of corporate communications, Stacey Jurchison, told Fox News that HHS made the Dec. 29 announcement in order to keep the anthrax vaccines programs "on track" and "on schedule."
She said characterizing the modification of the old Avecia contract as a no-bid deal is "misleading," because other funding opportunities established under HHS's Biomedical Advance Research and Development Authority (BARDA) enable PharmAthene and competitors like Emergent to compete on an even plane for available bio-defense taxpayer dollars.
"If there is an existing contract for one of our competitors," she said, that, too can be modified, adding: "I don't think (the Dec. 29 announcement) precludes Emergent from staying in the race."
Eric Richman, PharmAthene's senior vice president for business development and strategic planning, said that although PharmAthene has seen the charge that the Dec. 29 announcement represented a no-bid deal "pop up a few times," the charge is "completely false."
Richman noted that the Dec. 29 announcement marked the 18th modification announced on the old Avecia contract, and that "contract modifications are done routinely." During a brief period after Dec. 29 when other bio-defense firms were permitted to provide comment to HHS on the contract modification, Richman said that to his knowledge no other firms did; however industry sources told Fox News that at least one competing firm, Emergent, did provide comment to the department.
Late Thursday, a spokesman for HHS told Fox News the original contract was never fully executed, due to funding problems that have been resolved, thanks to the availability of new research and development money under the department's Biomedical Advanced Research and Development Authority.
The acquisition of Avecia may have strained the finances of PharmAthene. The company's latest publicly filed financial reports, dated Sept. 30, show it posted a net income of -$13.96 million, with cash and cash equivalents on hand of just over $4 million.
Jurchison contested those figures, which are posted online at Google Finance and supplied by the Thomson Reuters financial news agency. Instead, she said PharmAthene ended the third quarter of 2009 holding $11.6 million in cash, cash equivalents, and short-term investments, along with $18.7 million in billed and un-billed government "receivables."
The decision by the Obama administration to "modify" the original Bush-era contract with Avecia, first reported by the Weekly Standard, came at a propitious time for PharmAthene. The company notified the Securities and Exchange Commission last year that if it did not receive a substantial anthrax vaccine award, "we likely will need to curtail our operations significantly and we may be placed at a competitive disadvantage in the biodefense industry."
The HHS announcement on Dec. 29 suggested this was a key factor in its decision. "Enabling the continued work will also maintain a properly balanced sources of suppliers...to achieve industrial mobilization in case of an emergency," the announcement said.
In a press release issued Tuesday, the company announced for the first time the size of the new, expanded contract, noting that it stood to provide PharmAthene with "up to a total of $78.4 million in additional funding," provided the firm meets designated targets and the government exercises future options.
This brings the total value of the contract, including the original amount awarded to Avecia after competitive bidding, to at least $149.7 million. Yet even after the issuance of the press release, PharmAthene's stock in AMEX trading closed Tuesday afternoon at $2.13 per share, down about 40 cents from morning trading and well below the company's twelve-month high of $4.31 per share. On Wednesday, the stock closed at $1.97 per share.
PharmAthene said Tuesday it will use the infusion of taxpayer capital to continue work on SparVax, a patented product which the firm described in its press release as "a second generation recombinant protective antigen anthrax vaccine targeted for future procurement in the U.S. Strategic National Stockpile."
PharmAthene's founder, Joel W. McCleary, who describes himself as "one of the foremost political strategists in the world," has served as an aide in the Carter White House and as treasurer of the Democratic Party. He is now a registered lobbyist and remains on PharmAthene's board of directors.
McCleary and executives at Four Seasons Ventures, LLC, the Georgetown-based private equity and lobbying firm he founded, have collectively given at least $110,000 to various Democratic Party arms and candidates over the last six years. McCleary personally gave $2,300 to then-Sen. Barack Obama's presidential campaign in November 2007.
Federal records maintained online by the Center for Responsive Politics (CRP) also show PharmAthene executives contributed nearly $10,000 to Democratic organizations and candidates over the same time period, including $1,200 to the Obama presidential campaign.
Close scrutiny of CRP's online records reveals that on the same day -- Nov. 6, 2009 -- McCleary contributed $4,800 and two PharmAthene executives gave a combined $1,500 to Sen. Tom Harkin, D-Iowa. Harkin is chairman of the Senate Health, Education, Labor, and Pensions Committee, the panel that oversees HHS and its operations.
PharmAthene's registered lobbyist in Washington, D.C. is Jim Ervin, founder of Ervin Technical Associates (ETA) and also a general partner at Four Seasons Ventures. ETA's lobbying clients include other major government contractors, including General Dynamics, Lockheed Martin, Northrup Grumman, and Raytheon.
A former Air Force colonel and legislative liaison on Capitol Hill, Ervin was a fundraiser for, and contributor to, the late Rep. John Murtha, D-Pa., who in turn championed his home state to be the site of various bio-defense projects. Federal records also show that McCleary personally donated at least $7,800 to Murtha across a four-year span.
All three men and their organizations -- McCleary, Ervin, and Murtha, Four Seasons and ETA -- championed, lobbied for, or maintained some formal affiliation with the University of Pittsburgh Medical Center and its subsidiary unit, the Center for Biosecurity.
The center's director and chief executive officer was formerly Tara O'Toole, who in November became the Obama administration's Under Secretary for Science & Technology at the Department of Homeland Security.
In that capacity, O'Toole plays an integral role in interagency decision-making, often involving DHS and HHS, about the nation's bio-defense program. Bio-defense sources told Fox News that O'Toole played a key role in the "modification" of the old Avecia contract to benefit her longstanding associates at PharmAthene.
DHS spokesman Clark Stevens told Fox News that O'Toole "has no influence in contracts issued by HHS for vaccine research, development or production."
Last month, former Sens. Bob Graham, D-Fla., and Jim Talent, R-Mo., co-chairmen of the federal Commission on the Prevention of Weapons of Mass Destruction Proliferation and Terrorism, gave the Obama administration a "failing" grade for its efforts to bolster the nation's bio-defenses.
The grade came in a "report card" the former lawmakers issued to follow up on the 2008 report of the commission, which was created by an act of Congress.
"While the government has made progress on preventing [biological] attacks, it is simply not paying consistent and urgent attention to the means of responding quickly and effectively so that they no longer constitute a threat of mass destruction," the report card stated. "The failures did not begin with the current group of leaders. Each of the last three administrations has been slow to recognize and respond to the biothreat."
The United States came under anthrax attack in September 2001, one week after terrorists flew hijacked planes into the World Trade Center and the Pentagon. Anthrax spores were discovered in envelopes mailed to the offices of several news media organizations and two U.S. senators.
The episode led to the deaths of five people and injured as many as 68 others. Last week, the FBI formally closed the investigation, concluding that late Army scientist Bruce Ivins acted alone. Ivins insisted he did not have involvement in the case and killed himself in 2008, just as he was expected to be indicted for the attacks.
Fox News' Tim Goldsmith contributed to this report.
Editor's Note: A previous version of this story stated that Four Seasons Ventures LLC was one of PharmaAthene's top investors. In fact, it is Four Seasons founder Joel McCleary who has invested in PharmaAthene, which he also founded.