Arizona Superintendent Apologizes For Racist Posts As Calls For His Resignation Grow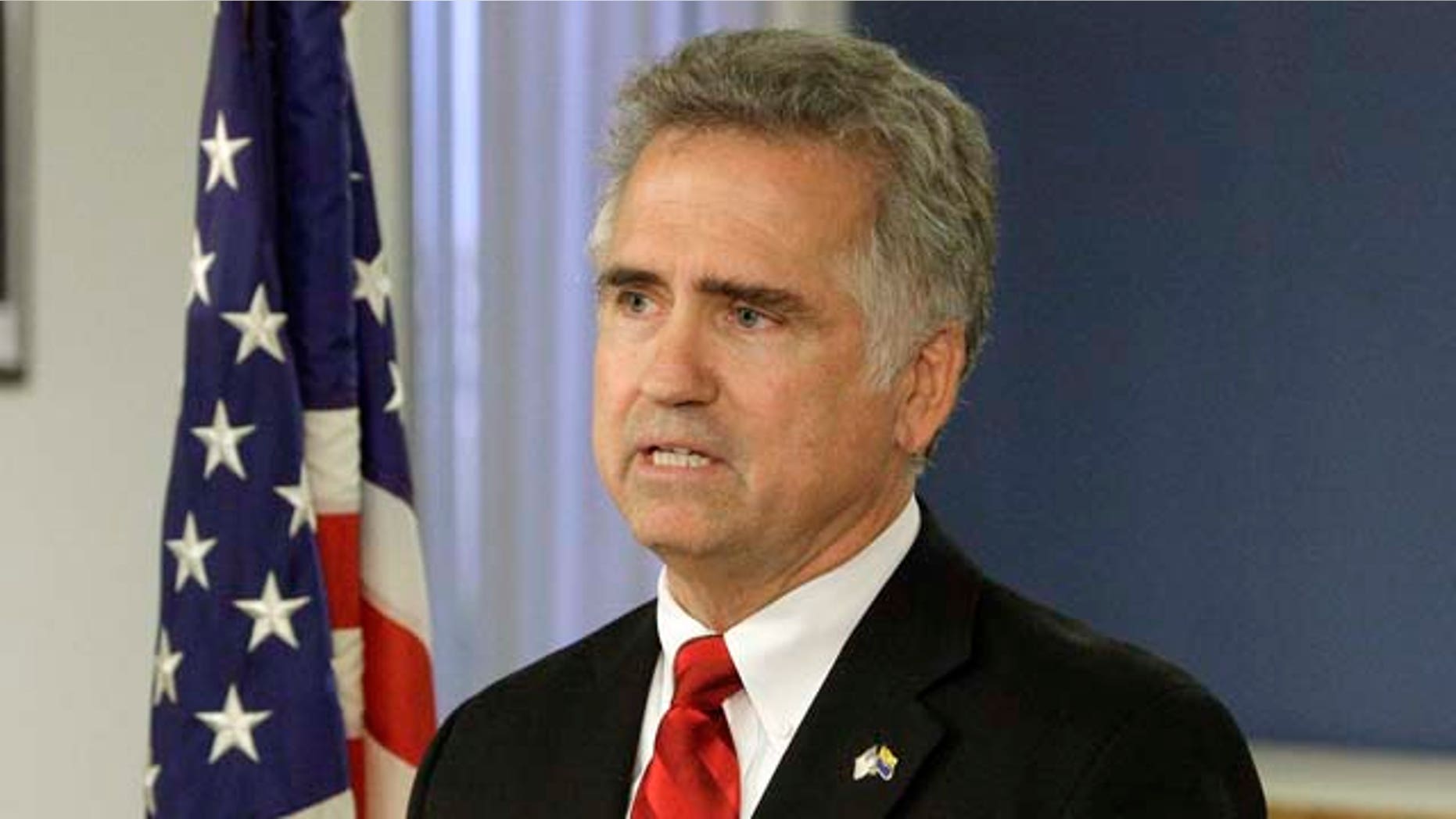 One of Arizona's top school officials broke down in tears Wednesday at a news conference at which he apologized for having written anonymous blog posts that denigrated welfare recipients and calling for a statewide ban on Spanish.
John Huppenthal, the superintendent of public instruction, was barely composed for about half an hour of the conference, before breaking down when he tried to explain how his comments had affected his longtime assistant.
"We can imagine the emotional impact. I have talked to people who have been hurt by the hour," he said. "The person I feel most – to the point of my own tears – is my assistant Merle. She has been with me for…"
Huppenthal then began to cry and left the room.
This came after mounting pressure to step down following his admission that he was the anonymous author of a number of posts on a website that were seen by some as racist.
In one dating from 2011, Huppenthal wrote, "We all need to stomp out balkanization. No Spanish radio stations, no Spanish billboards, no Spanish TV stations, no Spanish newspapers. This is America, speak English."
Huppenthal admitted to writing the posts on the Espresso Pundit blog using the pseudonyms "Falcon9" and "Thucydides" in an interview with The Arizona Republic last week.
"I don't mind them selling Mexican food as long as the menus are mostly in English. And I'm not being humorous or racist," he wrote in another post.
Additional posts surfaced recently in which he likened welfare recipients to "lazy pigs" and blamed the Great Depression and the rise of Hitler on Franklin D. Roosevelt's economic policies.
"I love talking about public policy, and I have a passion for engaging in debate," Huppenthal told The Arizona Republic. "I probably have 300,000 words out on the Internet, and 100 of them are getting me in trouble. When all of your missteps are there all together for people to see, it's not a pretty picture."
A former superintendent of public instruction, Lisa Graham Keegan, was among several community members who called Wednesday for Huppenthal to resign. She said his comments were so damaging that he can't effectively lead the state's school agency.
"The No. 1 issue for the person who holds the job of superintendent of public instruction is deep respect and community with the people that we serve and those that we work with," said Keegan, who served from 1995-2001 as a Republican but now is an independent. "John Huppenthal's comments have violated that sacred bond."
Joining Keegan was the Arizona Chamber of Commerce and Industry, which canceled an awards show honoring the superintendent.
"Due to the recent comments that Superintendent Huppenthal admitted to making, the Arizona Chamber of Commerce and Industry will not be presenting the superintendent with an award at our annual luncheon as we planned," said Glenn Hamer, the chamber's CEO and president. "The comments should not have been made and posted under any circumstance. We regret that this decision was necessary."
Others at the news conference at which Keegan spoke echoed her comments.
"We wouldn't take the comments that John Huppenthal has said from a student body president. We wouldn't take it from a principal at a school," said Lawrence Robinson, a Roosevelt School District board member. "We certainly will not take it from the person responsible for representing all of our public schools and our education."
Huppenthal, however, said he would neither resign his position nor drop out of the Republican primary, in which he faces a challenge from a conservative who is campaigning to get the state to drop new Common Core standards.
This is not the first time that Huppenthal has made headlines for his comments or been accused of discrimination. In 2010, the government nearly filed a civil rights lawsuit against Arizona after the state fired teachers for having accents. He vowed to continue instructing classroom monitors to report teachers with accents.
And as a state senator, Huppenthal led a campaign to ban Tucson's largest school district from teaching its Mexican-American Studies program. He said that the program fostered "racial resentment."
The Associated Press contributed to this report.
Follow us on twitter.com/foxnewslatino
Like us at facebook.com/foxnewslatino