Arizona Immigration Law Opponents Plan March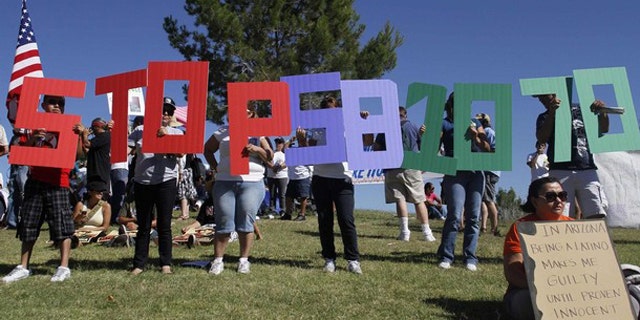 NEWYou can now listen to Fox News articles!
As the U.S. Supreme Court takes up Arizona's controversial immigration enforcement law on April 25, opponents of the measure plan to stage a march in Phoenix that day.
Organizers of the rally say they will protest the state's immigration law and other state and federal policies that they contend erode civil rights.
The U.S. Supreme Court is scheduled to hear arguments in Arizona Gov. Jan Brewer's appeal of a ruling that blocked police from enforcing the law's most controversial elements.
U.S. District Judge Susan Bolton has halted enforcement of a requirement that police, while enforcing other laws, question people's immigration status if officers suspect they are in the country illegally.
Bolton argued that the law usurped federal immigration enforcement authority. Bolton's decision was upheld by the Ninth U.S. Circuit Court of Appeals last year.
Brewer, who signed SB 1070 into law, hopes the Supreme Court will overturn the lower court's ruling.
Brewer, a Republican, and other supporters of SB 1070 argue that federal inaction leaves Arizona with no choice but to take immigration enforcement into its own hands.
Recently, 11 attorneys general and 68 Democrats in the U.S. House of Representatives joined in opposing Arizona's immigration law.
New York Attorney General Eric Schneiderman filed an amicus brief supporting the Justice Department's lawsuit against Arizona, saying the southwestern state's immigration law conflicts with federal policy by enlisting state authorities to police immigration offenses and by undermining the deportation priorities set by the Executive branch.
Day Laborer Rule Blocked in Arizona Immigration Law
The attorneys general from 10 other states, including California, Hawaii and Massachusetts, signed on to the amicus brief.
The filing also says Arizona's disproportionate crackdown on illegal immigration will affect other states.
"Because Arizona cannot compel the federal government to remove undocumented residents, SB 1070's provisions have the primary effect of redirecting undocumented immigrants to other States," the brief says.
Sixty-seven Democratic members of Congress, led by Rep. Raul Grijalva of Arizona, simultaneously announced their opposition to Arizona's SB 2010, filing a similar amicus brief.
"We wouldn't permit Arizona to have its own foreign policy and we can't allow Arizona to have its own immigration laws," Rep. Zoe Lofregren, who sits on the House Subcommittee on Immigration, said in a press conference posted to YouTube.
This story contains material from The Associated Press.
Follow us on twitter.com/foxnewslatino
Like us at facebook.com/foxnewslatino