Arizona Gov. Jan Brewer Announces She Will Not Seek A Third Term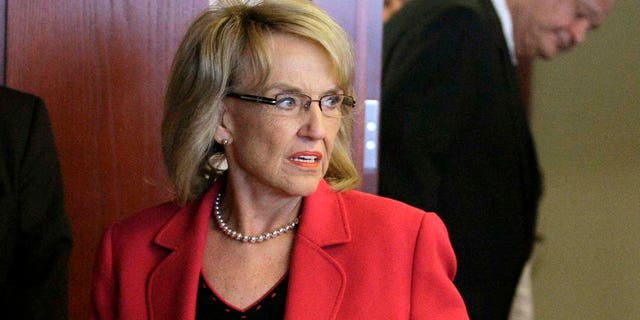 PHOENIX (AP) – Arizona Gov. Jan Brewer ended months of speculation about her political future on Wednesday when she announced that she will not seek a third term in office.
The Arizona Constitution limits governors to two terms, but the Republican governor and her advisers have kept alive a scenario in which she might mount a longshot legal challenge to seek another four years in office.
Brewer completed the term of former Gov. Janet Napolitano when she took a job in the Obama administration in 2009, then won a full term in 2010. Brewer has said in the past that there's "ambiguity" in the constitution because she hasn't served two full terms.
But she put that to rest Wednesday at an announcement at a school where she boasted of her accomplishments on issues such as education and the economy.
Several other Republicans have entered the primary race for governor under the assumption Brewer wouldn't run again. They include Arizona State Treasurer and former Cold Stone Creamery CEO Doug Ducey, Secretary of State Ken Bennett, Mesa Mayor Scott Smith, former GoDaddy legal counsel Christine Jones, state Sen. Al Melvin and former Maricopa County Attorney Andrew Thomas.
Brewer has been in the national spotlight on several occasions in her five years in office.
She signed the immigration crackdown law known as Senate Bill 1070 in 2010 and sparred with the Obama administration over health care. Last month, Brewer vetoed legislation that opponents said would have allowed businesses to discriminate against gays and that the business community rallied against.
Brewer is known for her conservative views but has also riled her more hard-line base. She surprised many by embracing a key part of President Barack Obama's health care overhaul law — an expansion of Medicaid. After a battle with Republicans who control the Legislature, she cobbled together a coalition of Democrats and a handful of Republicans and got the measure adopted. About 300,000 more Arizonans are now eligible to sign up for the free health insurance plan for low-income residents.
Follow us on twitter.com/foxnewslatino
Like us at facebook.com/foxnewslatino