Antonio Villaraigosa, California's best shot at being its first Latino senator, opts not to run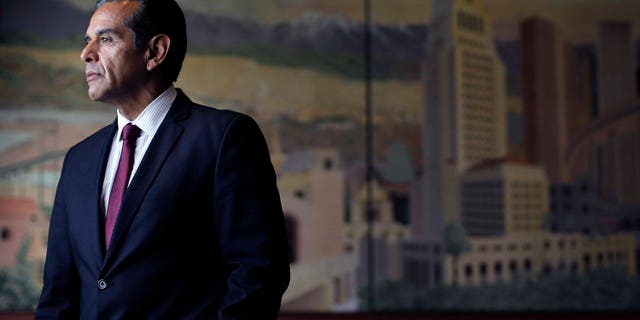 NEWYou can now listen to Fox News articles!
His heart just wasn't in it.
Former Los Angeles Mayor Antonio Villaraigosa announced Tuesday he will not be running for California's open U.S. Senate seat in 2016 — not because he felt he couldn't win, he said, but because it was never really in his plans.
"He never really envisioned himself as a U.S. senator," someone with direct access to Villaraigosa told Fox News Latino, asking to remain anonymous. "He's much well versed on statewide issues, and that's where he wants to focus his career."
Villaraigosa had been weighing a decision to run since Senator Barbara Boxer, a Democrat like him, announced in early January she was going to step down at the end of her fourth term. Villaraigosa is said to be re-focusing on the 2018 Governor's race.
"I think, frankly, if this had been a governor saying I'm resigning or leaving there is no question he would have jumped into this race," the source said.
Villaraigosa alluded to his potential governorship plans on his Facebook page Tuesday.
"I have decided not to run for the U.S. Senate and instead continue my efforts to make California a better place to live, work and raise a family. We have come a long way, but our work is not done, and neither am I," Villaraigosa said.
Similar sentiments were echoed by Sarah Reyes, who served four years with Villaraigosa in the California Assembly and considers him a close ally, in an interview with the Associated Press.
"He recognized his strengths, and his strengths are as an executive," said Reyes. "He's led the city of Los Angeles. He's led the legislative body of the Assembly. And in a governor's position, he would lead the state of California. In a U.S. Senate, he's going to be one of so many senators, and the makeup of the Senate now is one that is very difficult for Democrats."
It's a big decision, with big implications, considering Villaraigosa was seen as the best contender to current front-runner Attorney General Kamala Harris.
Having been the first Latino to become mayor of Los Angeles in more than a century, he was also seen as the best shot at becoming California's first Hispanic senator in history.
Mike Madrid, a political researcher and consultant, with an expertise in Latino and local politics in California, says Villaraigosa's decision puts Rep. Loretta Sanchez and Rep. Xavier Becerra as the next best shot for a Latino candidate to face off against Harris. Though, both potential candidates don't present as big a threat to Harris as Villaraigosa did.
Madrid says the pressure now lies with Latino leaders, who need to figure out a way to get Latino voters out to the polls in the hopes of electing representatives from their communities in statewide elections. According to his analysis of political data over 10 years, of 1,100 political races in the state – there have only been four instances in which Latino voters turned out at least to match the percentage of registered Latino voters in the electorate. In three of those four races, Villaraigosa was the candidate on the ballot.
"This whole process has served as a gut check and people are starting to say "Are we going to continue to allow the Democratic machine to pick our elected officials?" Madrid said. "Are Latinos going to build a political infrastructure to make sure voters show up to elect representatives that reflect the present and future of the state?
Some Latino activists and political insiders had accused the Democratic Party of handpicking Harris as their senator-to-be.
Harris, a former San Francisco prosecutor who entered the race Jan. 13, could mark two firsts for a California senator — the state has never elected a black senator or one of Indian descent. She is the daughter of a black father from Jamaica and an Indian mother.
Reyes said she doesn't believe the early strength of Harris' campaign persuaded Villaraigosa to stay out of the race.
"It's not influenced by Kamala Harris. It's not influenced by other people in the race. It's influenced by what's smart for him," Reyes said.
Madrid agrees, saying Villaraigosa likely understood it was going to be an uphill battle for him to start a campaign.
"You can't plan it over the weekend, it needs to be months, there just wasn't the time, or the interest," Madrid said of Villaraigosa's likely thought process.
Villaraigosa, 62, is the son of a Mexican immigrant and a high-school dropout who shed his life as a barrio tough and eventually became speaker of the California Assembly, city councilman and in 2005, mayor.
The one-time union organizer left City Hall in 2013 after two uneven terms. He can fairly claim a string of wins while running the city of nearly 4 million people, including historically low crime rates, new rail lines and a citywide move away from polluting, coal-fired power. But those gains were tempered by gripes that he started more than he finished and turned his back on potholes and other basics. An affair with a newscaster ended his marriage during his tenure.
With reporting by the Associated Press.
Like us on Facebook
Follow us on Twitter & Instagram