Amid Financial Crisis, Majority of Voters Say Obama Doesn't Deserve Re-Election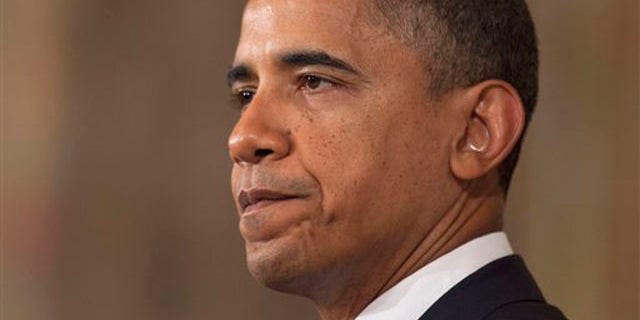 NEWYou can now listen to Fox News articles!
After President Obama arguably had the worst week of his presidency, a majority of voters polled said he doesn't deserve re-election, according to a new USA Today/Gallup poll released Wednesday.
The poll showed 51 percent of voters said Obama should be a one-term president, while 47 percent said he should get another four years. In a somewhat bright spot for the president, he is ahead of the generic Republican presidential candidate by 4 percentage points -- 49 to 45 percent.
The poll surveyed 1,319 adults last week and has a margin of error 4 percentage points.
Obama's biggest vulnerability heading into next year's election is the economy, and with the unemployment rate stuck above 9 percent, a politically gridlocked Congress, and little appetite in Washington for more stimulus measure, he has very few options left to turn things around.
With the nation's credit rating downgraded for the first time, the stock market plunging and a batch of financial reports indicating the sluggish economy isn't going to rebound any time soon, the poll results aren't a shocker. However, Republicans vying to replace Obama are seizing on that reality and hammering him every chance they get.
The same poll found that former Massachusetts Gov. Mitt Romney maintains his lead in the GOP presidential field at 24 percent, but Texas Gov. Rick Perry, who is on the verge of joining the race, is right behind him at 17 percent.
Texas Rep. Ron Paul ranks third at 14 percent, followed by Minnesota Rep. Michele Bachmann at 13 percent.
Other contenders only drew single digits: Former House Speaker Newt Gingrich at 7 percent; businessman Herman Cain at 4 percent; former Minnesota Gov. Tim Pawlenty at 3 percent; former Utah Gov. Jon Huntsman at 2 percent and former Pennsylvania Sen. Rick Santorum at 1 percent.
The poll results also suggest that Congress could be staring at another "wave" election next year. Just 24 percent of respondents said most U.S. lawmakers deserve re-election, the lowest level since Gallup began posing the question 20 years ago. Fifty-six percent said their own representative should get another term, which is comparable to the percentages ahead of the wave elections in 1994, 2006 and 2010 that transferred power in the House or Senate.