Americans released from North Korean captivity back on US soil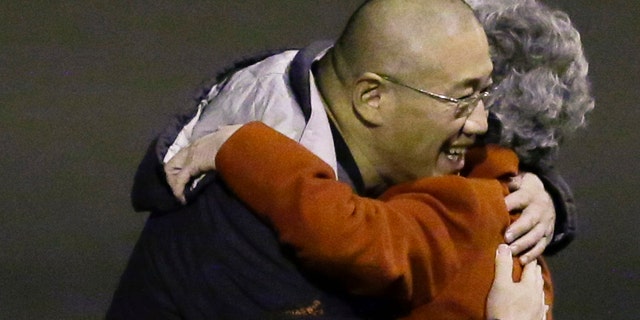 NEWYou can now listen to Fox News articles!
One of two Americans released from North Korean captivity this weekend thanked his family, friends, and other supporters for not forgetting about him while he was held in the Communist state.
"I just want to say thank you all for supporting me and standing by me," Kenneth Bae, of Lynnwood, Wash., said during a press conference at Joint Base Lewis-McChord, south of Seattle. "It's been an amazing two years, I learned a lot, I grew a lot, I lost a lot of weight." Bae also thanked President Barack Obama, as well as the North Korean government for releasing him.
A plane carrying Bae and Matthew Miller, of Bakersfield, Calif., arrived at the base shortly after 9 p.m. local time. Members of Bae's family, who live nearby, met him when he landed. His mother hugged him after he got off the plane. Miller stepped off the U.S. government aircraft a short time later and was also greeted with hugs. Neither Miller nor anyone in his party met the media.
The men's release had been secured following a secret mission by Director of National Intelligence James Clapper, who accompanied Bae and Miller back to the U.S. and was the highest-ranking American official to visit Pyongyang in over a decade.
A senior Obama administration official said the president approved the mission last week and U.S. officials spent the next several days planning the trip. Clapper spent roughly a day on the ground and met with North Korean security officials -- but not with Kim, the official said aboard Air Force One as Obama prepared to head to Beijing.
Clapper went with the sole purpose of bringing home the two detainees, although the U.S. anticipated that other issues of concern to the North would come up during Clapper's discussions on the ground, the official said. "It was not to pursue any other diplomatic opening," said the official, who wasn't authorized to comment by name and demanded anonymity.
The U.S. had considered sending someone from outside government to retrieve the detainees, the official said, but suggested Clapper after the North Koreans indicated in recent weeks that they would release the detainees if the U.S. sent a high-level official from Obama's administration. He said the U.S. settled on Clapper because of his role as a security official, rather than a diplomat.
Bae, a Korean-American missionary, was serving a 15-year sentence for alleged anti-government activities after being arrested in November 2012 while leading a tour group in North Korea and accused of crimes against the state. Bae's family and the State Department have repeatedly called for his release on humanitarian grounds, citing his failing health.
When asked how he was feeling, Bae told reporters, "I'm recovering at this time." His family has said he suffers from diabetes, an enlarged heart, liver problems and back pain,
Miller was serving a six-year jail term on charges of espionage, after he allegedly ripped his tourist visa at Pyongyang's airport in April and demanded asylum. North Korea said he had wanted to experience prison life so that he could secretly investigate North Korea's human rights situation.
It was not immediately clear whether either of the men were debriefed or questioned about their experiences in North Korea while en route to the U.S.
"It's a wonderful day for them and their families," Obama said at the White House following his announcement of his pick for attorney general. "Obviously we are very grateful for their safe return. And I appreciate Director Clapper doing a great job on what was obviously a challenging mission."
Analysts who study North Korea said the decision to free Bae and Miller now from long prison terms probably was a bid by that country to ease pressure in connection with its human rights record. A recent United Nations report documented rape, torture, executions and forced labor in the North's network of prison camps, accusing the government of "widespread, systematic and gross" human rights violations.
North Korea seems worried that Kim could be accused in the international criminal court, said Sue Mi Terry, a former senior intelligence analyst now at Columbia University.
"The North Koreans seem to be obsessed over the human rights issue," she told The Associated Press. "This human rights thing is showing itself to be an unexpected leverage for the U.S."
Bruce Klingner, a former CIA analyst now at the Heritage Foundation, agreed that efforts to shine a spotlight on the country's human rights record "startled the regime and led to frantic attempts to derail the process."
Bae and Miller were the last Americans held by North Korea following the release last month of Jeffrey Fowle. Fowle of Miamisburg, Ohio, was held for nearly six months. He had left a Bible in a nightclub in the hope that it would reach North Korea's underground Christian community.
Fowle said his fellow Americans' release is "an answer to a prayer." He also said he initially thought Bae and Miller had been released with him.
"I didn't realize they weren't released with me until I got on the plane," Fowle said.
The detainee releases do not herald a change in U.S. posture regarding North Korea's disputed nuclear program, the main source of tension between Pyongyang and Washington, said a senior administration official who spoke on condition of anonymity to discuss national security matters.
International aid-for-disarmament talks have been stalled since 2008. The U.S. wants the North to take concrete steps to show it's committed to denuclearization before the talks can resume.
The last concerted U.S. effort to restart those negotiations collapsed in spring 2012. North Korea had agreed to freeze its nuclear and missile programs in exchange for food aid, but then launched a long-range rocket in breach of a U.N. ban on its use of ballistic missile technology.
The Associated Press contributed to this report.