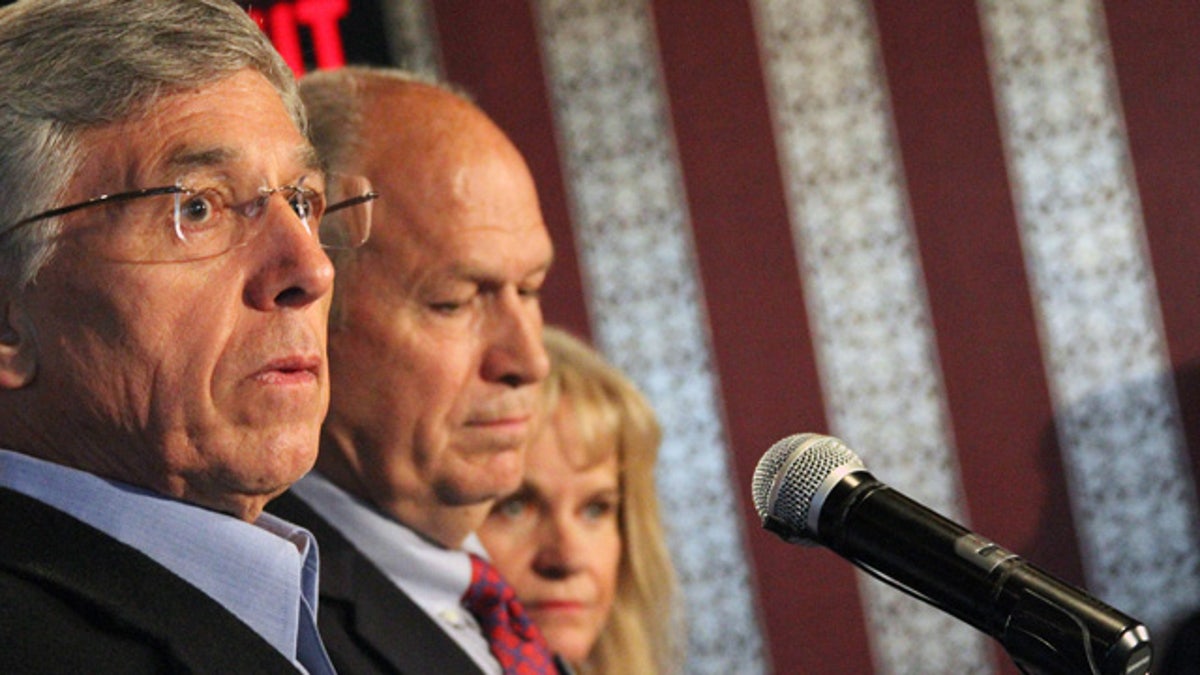 ANCHORAGE, Alaska – The independent and Democratic candidates for Alaska governor said Tuesday that they are merging their campaigns to give them a better shot at unseating Republican incumbent Gov. Sean Parnell.
Independent Bill Walker said Tuesday that he has dropped his membership in the Alaska Republican Party and reregistered as undeclared. It was a move stipulated by the Alaska Democratic Party's central committee when it voted 89-2 Monday to endorse Walker as governor and Democrat Byron Mallott as lieutenant governor.
Walker, 63, has been running as an independent, but he didn't change his official party affiliation until Tuesday. Mallott, 71, won last month's Democratic primary election for governor.
A combined ticket is expected to provide a stronger challenge to Parnell in November.
"What the Democratic Party has done is unprecedented in Alaska, to my knowledge," Walker said at a news conference in Anchorage, adding that his conservative views still stand, but partisanship issues will not play a role. "We'll have a no-partisan administration."
Walker and Mallott joined their campaigns after discussions during the weekend.
"I could not have made the decision I have made if I did not come to know and trust and believe in the integrity of Bill Walker," Mallott said, adding their shared vision for Alaska was a problem in separate campaigns. "They overlapped so much, that there was little differentiation between us."
The current lieutenant governor candidates, independent candidate Craig Fleener and Democrat Hollis French, also dropped out.
Parnell's lieutenant governor, Mead Treadwell, oversees elections in Alaska. Treadwell late Tuesday afternoon approved the new ticket for the ballot. Treadwell didn't seek re-election as lieutenant governor in favor of running for U.S. Senate, and he lost the Republican primary.
Party affiliation and ballot changes had to be made by Tuesday.
French, the state Senate minority leader, did not attend the news conference. French released a written statement he gave to the Democratic Party chair to read to the central committee that begins with his belief that public service is an opportunity to make the world a better place.
"In this election cycle, I had believed that the best way forward for Alaska was with a Mallott-French ticket," French wrote, saying he would resign as the Democratic lieutenant governor nominee. "I have asked for nothing in exchange for my resignation. I believe the overriding imperative is to replace Sean Parnell."
Polls and political observers have pointed to Parnell, 51, winning a three-way race in November. But he would face a more difficult challenge against a single candidate, particularly Walker.
The Walker-Mallott ticket offers a "clear choice for Alaskans who want more of President Obama's policies in Alaska," Parnell said in a statement that also mentioned his lieutenant governor running mate, Anchorage Mayor Dan Sullivan.
"For those who want more freedom, less government, and more economic opportunity, the Parnell-Sullivan ticket is the clear choice," Parnell wrote.
Democratic Party spokesman Zack Fields said the merger has critics, but it follows overwhelming grassroots support that has been developing far longer than the candidates have talked about it.
"Sean Parnell continues to engage in partisan attacks when Bill Walker and Byron Mallott are teaming up to put Alaskans ahead of partisanship," Fields said.
Walker finished second behind Parnell in the 2010 Republican gubernatorial race. He bypassed the primary this time after opting to gather signatures to qualify as an unaffiliated candidate.