Alabama lawmakers threaten to impeach governor over relationship scandal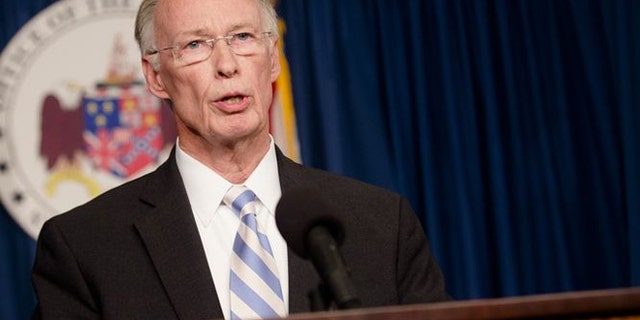 NEWYou can now listen to Fox News articles!
Republicans in the Alabama legislature reportedly are planning to introduce articles of impeachment against Alabama Governor Robert Bentley after he admitted to inappropriate conversations with a former top political aide.
Pressure has mounted around the 73-year-old Republican governor ever since he acknowledged last week that he made inappropriate sexual remarks to his former confidante and adviser, Rebekah Caldwell Mason, but denied having an affair with her.
Recordings obtained by The Associated Press purportedly show the governor, before his divorce, professing love to someone named Rebecca or Rebekah and telling her how much he enjoyed kissing and touching her. Mason resigned from his office Wednesday.
Al.com reported that Democratic Rep. Craig Ford, the Alabama House Minority Leader, confirmed that Republican State Rep. Ed Henry is setting up the initial framework for articles of impeachment.
"If the House impeaches Bentley, it would bring the governor one step closer to being removed from office by the legislature," Al.com said.
Henry said the articles of impeachment must be introduced due to Bentley's "incompetence and moral turpitude," calling into question the governor's ability to govern the state.
Henry is due to start the impeachment process next week when the Alabama state legislature is due to return after its spring break.
Despite the calls for resignation, it is still unclear if Henry would have enough support in the legislature to move forward with the process.
Alabama requires a simple majority in the House to introduce articles of impeachment.
Bentley has remained firm in his plan to continue in the governor's mansion, saying "My intentions are to try to make this state better, to work through the difficulties we're going through."
The impeachment threat further compounds the calls for Bentley's resignation from both prominent Republicans and Republican groups in the state.
Among those calling for his resignation are State Sen. Bill Holtzclaw, State Sen. Shay Shelnut, and Terry Dunn, a member of Alabama's Republican State Executive Committee.
The Montgomery County Republican Party also issued a statement about the scandal swirling around Bentley and Mason, further pushing the threat of an impeachment process .
The statement said, "the Montgomery County Republican Executive Committee hereby calls upon Governor Bentley to resign his office immediately to avoid bringing further embarrassment and disgrace upon himself, the great state of Alabama, and the Republican Party of Alabama which could result from pending investigation by the Attorney General and/or impeachment proceedings."
The College Republican Federation of Alabama issued a statement against Bentley, falling just short of calling for his resignation. "Gov. Bentley has brought shame and embarrassment to the State of Alabama by means of local, state, and national news as well as social media through his own self-admitted devious, immoral, and possibly illegal actions involving his married senior top aide, not only of the sexual nature but regarding her compensation as a non-state employee yet making key decisions in the governing of the state," the statement said.
FoxNews.com's Danny Jativa and The Associated Press contributed to this report.