Ailes chides cable news rivals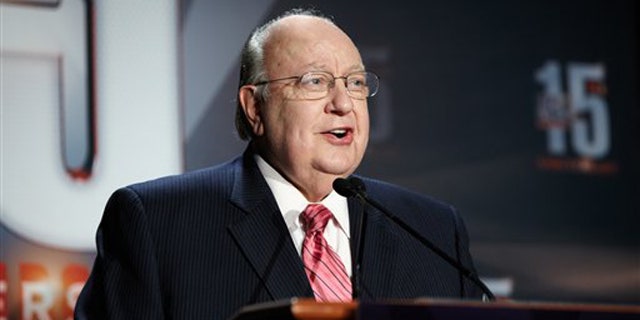 Roger Ailes is making news again.
In an interview with Hollywood Reporter, the Fox News chairman declares victory over his cable competitors, says he "hated" his time as a political consultant and that he brought back Sarah Palin as a contributor "to give her a chance to say her piece and piss off the people that wanted her dead."
Ailes also said that MSNBC "dodged a bullet" by dumping Alec Baldwin over an alleged anti-gay slur that the comedian hurled at a photographer: "They put him in there, and they would've had to fire him for no ratings."
The 73-year-old chairman seemed delighted by CNN President Jeff Zucker's recent comments that "we need more shows and less newscasts."
"I'm actually thrilled. MSNBC has [already] announced they're out of the news business," Ailes said. "They have several different hosts, but it's always the same show: Republicans are no good. The NBC News people won't get caught dead on MSNBC. They could have a traffic accident in front of the window, and they wouldn't cover it. For CNN to also throw in the towel and announce they're out of the news business is quite interesting. That means Fox has won the cable news wars. [Zucker] had a big hit with a whale one night [the documentary Blackfish]. I guess he's going to do whales a lot. If I were Discovery, I'd be worried."
Ailes was also asked about Fox's prime-time shift, with Megyn Kelly joining the lineup at 9 p.m. "I'd been thinking about it for a year," he tells the magazine. "CNN and MSNBC, our primary competitors, are trying to figure out how to beat us. There are some good, smart people at those networks, and even occasionally a blind pig finds an acorn. I never want to get caught with not expecting something. And I believed, in some cases, we needed to freshen up a little bit. Audiences are shifting. Platforms are shifting. Ages are shifting. It's better to be in charge of change than to have to react to change."
The interview comes as Random House is preparing to publish a book about Ailes by New York magazine's Gabriel Sherman, an advance copy of which was obtained by the New York Times for a story today.
Asked about the book by Hollywood Reporter, Ailes said: "Attacking me and Fox News is nothing new – it's a cottage industry. What's new is that Random House refused to fact check the content with me or Fox News -- that tells you everything you need to know about this book and its agenda."