Aftermath of Hurricane Michael could affect midterm voting in Florida
NEWYou can now listen to Fox News articles!
Florida's more than 13 million registered voters are choosing a new governor and voting on a pivotal Senate contest, but the parts of the Florida Panhandle struck last month by Hurricane Michael may decide the race.
The region in the battleground state is still trying to recover from Michael, which pummeled several counties in the Florida Panhandle and was responsible for dozens of deaths. Among the ruins are polling stations in a GOP mainstay, specifically Bay, Calhoun, Franklin, Jackson, Gulf, Liberty, Washington and Gadsden counties.
"The Panhandle is a reliable Republican stronghold. What it lacks in sheer number of voters it partially makes up for with lopsided Republican margins," Mac Stipanovich, a GOP political consultant, told the Naples Daily News.
John Hanlon, Gulf County's elections supervisor, added that the hurricane left people losing their ballots when Michael ruined their homes as well as struggling to order new ballots by mail.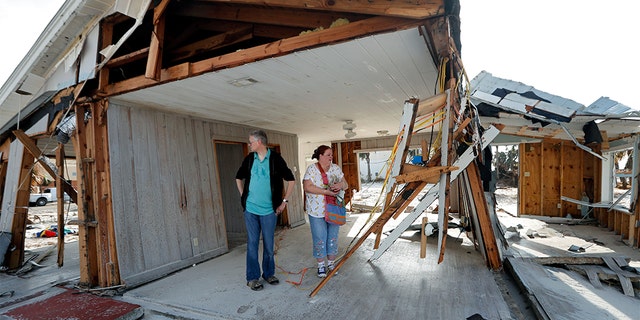 Hanlon said, for instance, Gulf County's biggest polling station has been transformed into a long-term shelter for residents made homeless by Michael.
However, some residents will do whatever it takes to vote in the midterms.
Virginia Carman, Panama City resident, told Fox News that she lost everything to Michael, which hit on Oct. 10, except her family three weeks ago. She lives about five miles from a mega voting site, but said she would have walked to the polls to vote if she had to.
She thinks leadership now act like children, and she's motivated to vote because she is sick of fighting and bickering: "We live in the most wonderful country in the world, and we should be able sit down and talk things out. And agree to disagree."
She said she encouraged her whole family to vote, and offered neighbors, or anyone who needed it, a ride to the polling site.
DESANTIS MAKES CLOSING ARGUMENTS IN GOVERNOR'S RACE
Naples Daily News reported that Bay County, the area including storm-ravaged Panama City with the largest population, and home to Carman, has seen about a 20 percent increase in early and absentee voting, with Republicans casting 64 percent and Democrats 24 percent.
New statistics released Monday by the state Division of Elections show that nearly 2.7 million people have voted early, and nearly 2.4 million people have voted by mail.
Democrats have cast 2.06 million ballots. Republicans have cast 2.04 million. More than 948,000 voters with no party affiliation have also voted.
This year's totals far exceed those of 2014 midterms, but are still short of the 6.6 million who voted ahead of Election Day in 2016.
The state is a national battleground, as usual.
CLICK FOR COMPLETE FOX NEWS 2018 MIDTERMS COVERAGE
Floridians could help determine control of the Senate on Tuesday as they decide whether to keep three-term incumbent Democrat Bill Nelson in office or replace him with Republican Gov. Rick Scott, a multimillionaire businessman who has poured more than $60 million of his own fortune into the contest, and who also spent nearly two weeks off the campaign trail to respond to Michael.
A Nelson loss could make it difficult for Democrats to take back the Senate.
That battle has even been overshadowed by the governor's race, a vitriolic contest between Republican Ron DeSantis and Democrat Andrew Gillum that's been seen as a proxy battle between President Trump and Democrats.
"This may be the biggest turnout we have seen in a midterm election in a while if these numbers keep up," Hanlon told Naples Daily News. "I should have known that our voters are resilient."
The Associated Press contributed to this report.