Act of Congress lifts ban on Capitol Hill sledding, but police still vow to limit activity in interest of safety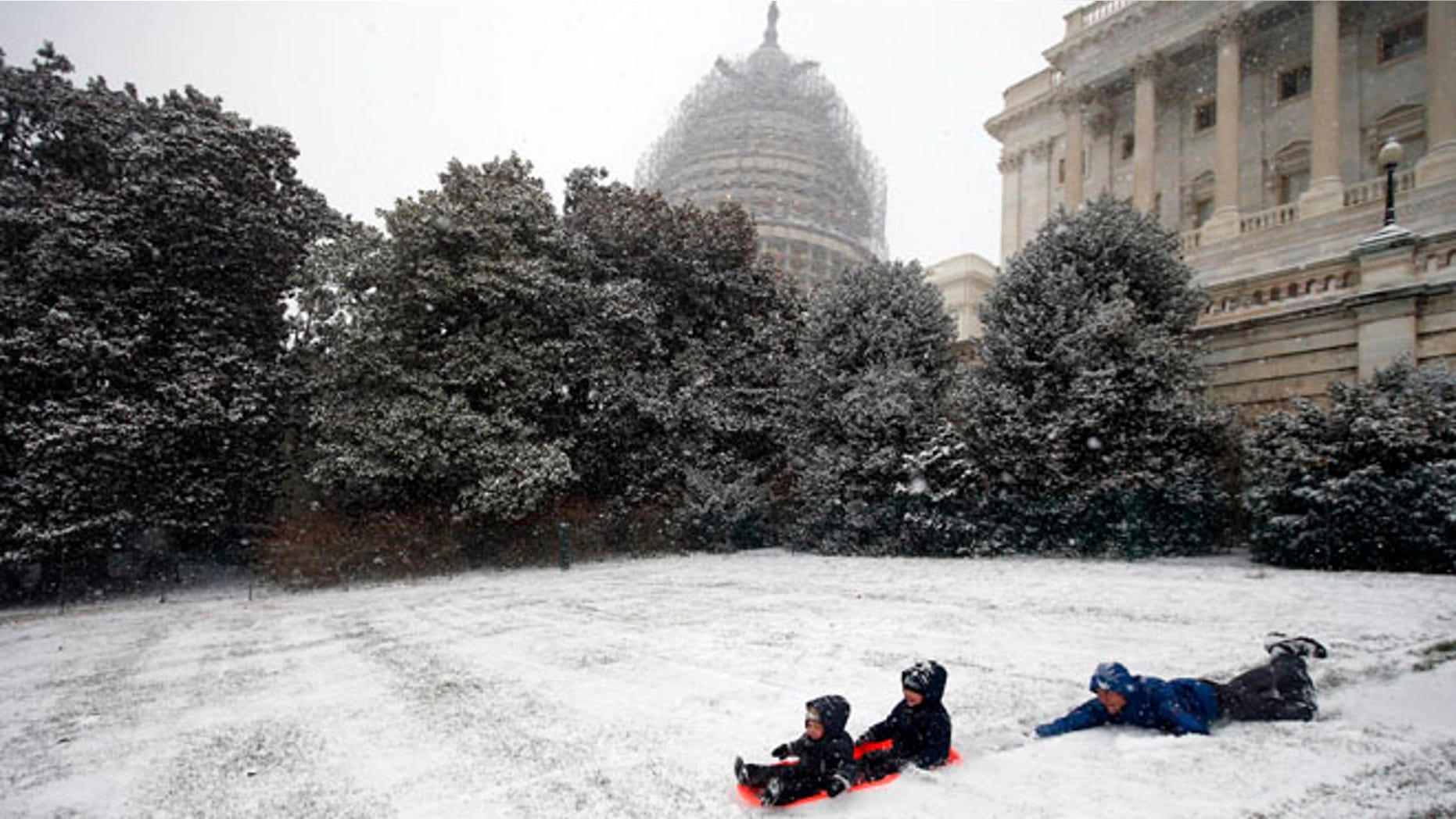 Congress recently restored the Washington tradition of sledding on Capitol Hill, but whether children and others will be permitted to make unfettered runs will likely remain unclear until the snowflakes settle.
Congress effectively lifted the ban as part of the $1.1 trillion spending bill passed before the Christmas holiday break, instructing the U.S. Capitol Police in the legislation to "forebear enforcement" of the decades-old sledding ban.
However, the police board indicated Thursday that officers will limit the sledding "if the conditions are unsafe for the public and/or the congressional community."
The sledding situation led to a showdown last winter when officers reluctantly stopped sledding sessions.
Families, with support from Congresswoman Eleanor Holmes Norton and widespread interest from the media, returned for a "sled-in."
Nobody was arrested, but officials clearly hoped to avoid another potentially embarrassing situation and hard feelings with the families in the close-knit Capitol Hill community.
"Capitol Hill is this city's iconic snow sledding hill, and Congress got out of the way, allowing our kids to freely enjoy what promises to be one of the best snowfalls in years," Norton, a Democrat and the District of Columbia's non-voting House member, said Thursday.
On Saturday, only a handful of sledders, snowboarders and others were hardy enough to slide down the hill amid the blowing snow and sub-freezing temperatures. With big crowds expected when the weather breaks.
The ban was ordered to protect the Capitol grounds, including the long, fast run on the House side.
The effort to lift the ban was led in part by Norton and the House Appropriations Committee, whose chairman has an office overlooking a prime sledding spot.
The committee added the language to the omnibus spending bill that Congress passed last month.
Norton on Thursday also lauded the efforts to lift the ban and asked sledders to exercise caution and good judgement.
"Last year ... D.C. families came together with strong community support," she said. "All families need to worry about now is picking the best time to go sledding."
Norton also said she knows her constituents will take the necessary precautions this weekend, considering the possible blizzard-like conditions on Saturday.