ACLU fighting Trump administration over illegal immigrants' abortion access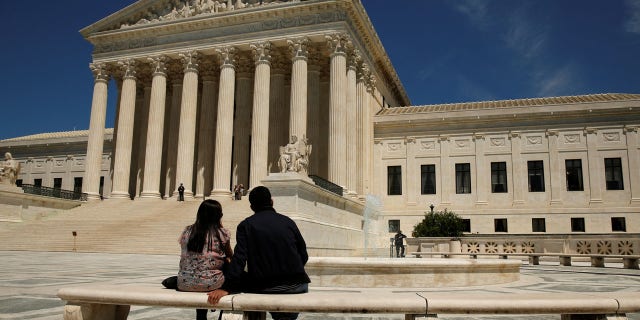 NEWYou can now listen to Fox News articles!
The Trump administration is preventing two illegal immigrants from having an abortion, the American Civil Liberties Union said Friday.
The two women, both 17, arrived in the U.S. from Central America as unaccompanied minors, the ACLU said. They are being held at an undisclosed federal shelter.
The ACLU represented a pregnant seventeen-year-old earlier this year in Texas and helped her obtain an abortion. That case – Garza v. Hargan – is pending before the Supreme Court. The Justice Department hopes to have the ruling in the earlier case vacated to prevent others from obtaining the procedure.
The ACLU filed court papers to update the lawsuit filed in Garza v. Hargan suit to include the two additional seventeen-year-olds.
"Both minors have asked their respective doctors and their shelters for an abortion, but to date," the government has "not allowed them to access abortion," the ACLU wrote.
The judge overseeing the case has set a hearing for Monday. The same judge ruled in favor of the ACLU's first plaintiff, referred to as Jane Doe.
The Department of Health and Human Services, which is responsible for sheltering children who illegally enter the country unaccompanied, has said the department has a policy of "refusing to facilitate" abortions.
The ACLU referred to the two new teens as Jane Roe and Jane Poe. It says Jane Roe learned in late November that she was pregnant during a medical examination while in federal custody.
The teen wanted to end her pregnancy by taking medication that causes a miscarriage. She is about 10 weeks pregnant, a court document read.
The ACLU's earlier case involving Jane Doe concerned a 17-year-old who entered the U.S. illegally in September and was being held in a federal facility in Texas. After learning she was pregnant, she obtained a state court order permitting her to have an abortion.
Federal officials refused to transport her or temporarily release her so that others could take her to get the procedure. She was ultimately able to obtain an abortion one day after federal courts sided with her, but the Trump administration has accused ACLU lawyers of misleading the government during the case.
The Trump administration says ACLU attorneys' actions deprived administration lawyers of the chance to ask the Supreme Court to block the procedure.
The Associated Press contributed to this report