88 Days to Decide:Romanoff Accuses Bennet of Gambling With Children's Future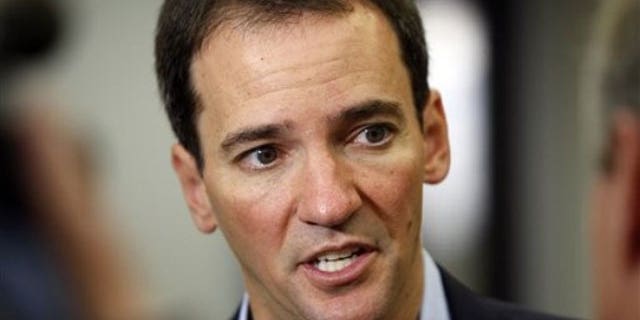 Colorado Senate candidate Andrew Romanoff sharply criticized his Democratic opponent, incumbent Sen. Michael Bennet, for his role in reportedly miring the Denver school system in millions of dollars in extra interest and fees because of a pension financing deal Bennet recommended while he served as schools superintendent.
"As a taxpayer, I'm very troubled," Romanoff, the former Colorado House speaker, told Fox News. "I believe my opponent's got some questions to answer here. Why did you engage in this risky deal? Why did you think you were smarter than Wall Street? How much are we going to have to pay for that mistake and why would you gamble with our children's future?"
The New York Times reported Friday that the deal has cost Denver at least an extra $25 million so far, although that amount could decline depending on future market conditions. The school system would like to renegotiate the deal, the Times said, but it would cost $81 million in bank termination fees, which is about 19 percent of the district's $420 million payroll.
The Times report comes in the closing days of a fierce Democratic primary battle between Bennet and Romanoff. But it wasn't clear what effect the story would have on the contest because Colorado's primary is mostly mail-in, and ballots went out July 19.
Bennet spokesman Trevor Kincaid told Fox News that the article is "b******t" and suggested the reporter didn't fully understand the issue.
Romanoff, though, didn't pull his punches when reacting to the report.
"My opponent's running in part on his…experience as a financial expert and he's made much of the fact that in his view I don't have the same real world experience," he told Fox News. "It's true. I don't have a lot of experience cutting deals with JP Morgan or other big Wall Street investment banks, but that's part of the problem in America today. Too much of our economy has been sabotaged in this fashion. Wall Street treats our economy like a casino and we're paying the bill."
Bennet and Thomas Boasberg, who was chief operating officer of Denver schools at the time and is now superintendent, defended the complex deal. They insist it saved the district from having to pay $20 million to cover a pension shortfall, and they say no one could have predicted the turmoil in credit markets that ended up making it so expensive.
In a written statement Friday, Bennet said Denver's pension fund "is in better financial shape than the rest of the state's pension system. Put simply, we left the district's pension in better shape than any other district in Colorado."
Boasberg, who disputed the Times' account, said savings from the deal have helped avoid the teacher layoffs that other districts have been forced to make.
The financing deal was arranged to cover a $400 million gap in the school system's pension fund. The Denver school board unanimously approved it.
The deal aimed to save the district millions of dollars in annual debt costs. But, much like an adjustable-rate mortgage, the deal's interest rate was subject to change depending on market conditions, the Times reported.
The district offered pension certificates with a derivative attached, which carried a lower interest rate than a simpler transaction would have at the time. But as the mortgage crisis grew and investors' appetite for debt disappeared, the school system was on the hook to pay more.
School board members told the Times that Bennet and Boasberg persuaded them to approve the plan. The $20 million in savings the pair touted didn't take into account hefty termination fees that come with such complex deals, the Times said.
In March, three school board members, including Andrea Merida, who was a paid staffer for Romanoff at the time, raised questions about the deal and asked for information about it. Boasberg told The Denver Post then that the query was aimed at creating a political controversy.
Merida didn't immediately return a call seeking comment Friday.
Henry Roman, head of the Denver Classroom Teacher's Association and a Romanoff supporter, said the consequences of the deal, and whether teachers will lose their jobs as a result, is unclear.
"I think it's something that needs to be investigated and looked at very closely," said Roman, whose union represents about 4,500 teachers. "There's no good information about the cost, the different costs that we will have because of the moving target" of the interest rate, he said.
Denver Mayor John Hickenlooper, a Democrat who appointed Bennet as superintendent and is now running for governor, declined to comment.
The Denver school system isn't the only government entity dealing with fallout from such financing.
The Los Angeles City Council told officials to renegotiate such deals back in March. Some school systems in Pennsylvania have also unwound such arrangements and the state's auditor general, Jack Wagner, issued a statement in February urging others to join them.
Romanoff told Fox News that he won't "celebrate the fact it looks like we could be on the hook, because to me, our kids' future matters more than a political campaign."
The Associated Press contributed to this report.