5 primary races to watch Tuesday that aren't in California
NEWYou can now listen to Fox News articles!
Tuesday kicks off primary elections in multiple states across the country, including Alabama, California, Iowa, Mississippi, Montana, New Jersey, New Mexico and South Dakota.
From close primary races to districts Democrats hope to turn blue in the midterms, read on for a look at five races to watch -- that aren't in California.
New Mexico governor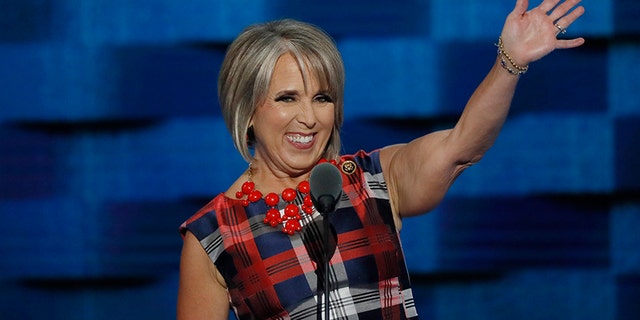 Democrats are hoping to turn New Mexico blue with the gubernatorial race this year with an electorate that has been tilting progressive. Susana Martinez, the current Republican governor, cannot seek re-election due to term limits.
For the Democrats, Rep. Michelle Lujan Grisham, state Sen. Joseph Cervantes and entrepreneur Jeff Apodaca are contending for their party's nomination. Both Lujan Grisham and Apodaca come from political families in the Land of Enchantment state.
Lujan Grisham, seen as the frontrunner among Democrats, has already secured endorsements from Planned Parenthood, EMILY's List and a bevy of local labor unions, according to her campaign website. She's also been endorsed by state Attorney General Hector Balderas.
Lonna Atkeson, a University of New Mexico political science professor, told the Albuquerque Journal that Grisham could have an "edge," as she's the only woman in the race.
For Republicans, Rep. Steve Pearce is running unopposed. Pearce is known in Congress as a reserved, "low word-count guy." He's voted about 85 percent of time in agreement with President Trump -- although he's publicly opposed the border wall.
Pearce's campaign has placed an emphasis on job creation as New Mexico has the second-highest unemployment rate in the nation.
Democrats already control much of New Mexico politics, including the legislature and other statewide offices. A win for Democrats in this race could shut out Republicans from redistricting decisions made in 2021.
Clinton took New Mexico with 48 percent of the vote, compared to Trump's 40 percent.
Montana Senate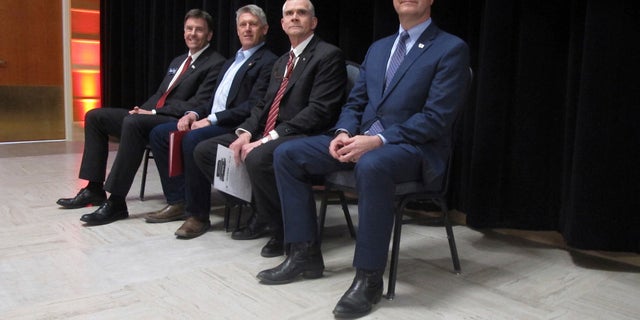 Although incumbent Sen. Jon Tester, a Democrat, has emphasized his record of voting for more than a dozen bills signed into law by Trump, November's general election is considered a toss-up by Fox News.
Four Republicans are vying for the Republican nomination to take on Tester in the fall: combat veteran Troy Downing, Judge Russ Fagg, state Sen. Albert Olszewski and state auditor Matt Rosendale.
All four GOP candidates, even Fagg, who is considered to be a favorite among the more establishment-type Republicans, have aligned themselves with the president.
"It's all been a competition to see who can be the most aligned with Trump. It's a reflection of where these candidates think the Republican Party is in Montana," Dr. Robert Saldin, a University of Montana political science professor, told Fox News.
Trump won Montana with about 56 percent of the vote in 2016. In comparison, 2008 Republican nominee John McCain garnered about 50 percent.
Although none of the four Republican candidates have star name recognition, Saldin said a Tester loss shouldn't be ruled out.
"Anytime you're running as a Republican in Montana statewide, you've got a shot," he said.
With endorsements from Sens. Mike Lee, Ted Cruz and Rand Paul, Rosendale has emerged as a frontrunner in the primary, Dr. David C.W. Parker, a Montana State University political science professor told Fox News.
South Dakota governor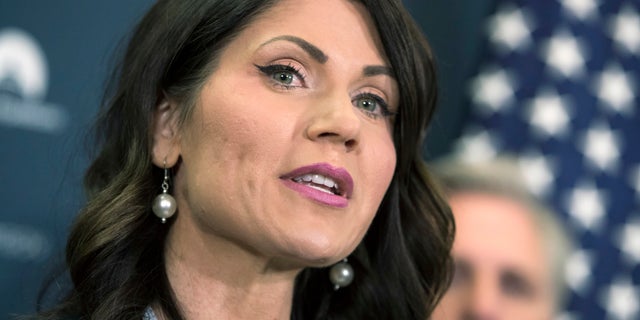 Rep. Kristi Noem and state Attorney Gen. Marty Jackley are facing off in the Republican gubernatorial primary in South Dakota.
Although it started off cordial, the Republican primary has turned a bit volatile, The Argus Leader reported -- especially in campaign ads and a recent debate. Jackley has painted Noem as a Washington insider, while Noem has touted her relationship with Trump.
The primary is a close one: a recent poll from The Argus Leader and KELO-TV has Noem ahead by only one percentage point.
Whoever wins the GOP primary will likely face state Sen. Billie Sutton, a Democrat who is running unopposed. The seat is currently held by Republican Gov. Dennis Daugaard, who is term-limited.
In the presidential election, Trump won 62 percent of the vote, compared to Hillary Clinton, who won 32 percent.
Iowa congressional race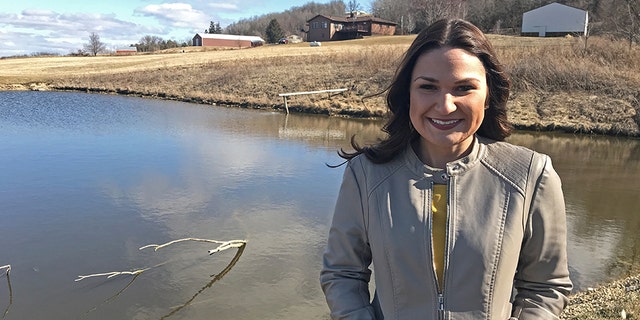 One of several competitive races where Democrats are hoping to flip a seat is the 1st congressional district in Iowa.
Rep. Rod Blum, a Republican, faces a tough re-election campaign in what Fox News' has labeled a toss-up election. He's running unopposed in the primary, but a group of energized Democrats are vying to take him on in the general election. His seat is one targeted by the Democratic Congressional Campaign Committee.
For Democrats, state Rep. Abby Finkenauer, Thomas Heckroth, Army veteran George Ramsey and aerospace engineer Courtney Rowe will face off in Tuesday's primary election.
Seen as the frontrunner among Democrats, Finkenauer has already gotten the endorsements of EMILY's List, NARAL and several state lawmakers. She has also raised the most money with nearly $1.3 million, the Des Moines Register reported. Finkenauer, 28, would be the youngest woman elected to Congress if she wins. (Rep. Elise Stefanik, R-N.Y., became the youngest woman to be elected in 2014 at the age of 30.)
The Democratic Party is ready and welcoming a challenging race in November, especially after Trump's election. Linn County Democratic Party Chairman Bret Nilles previously told Fox News that he's seen "more enthusiasm since the election results than we had prior to" the presidential election.
Nilles also said he hopes Blum's support for Trump will help Democrats in November. Trump won about 51 percent of the vote in Iowa in the 2016 election -- compared to Clinton's 42 percent -- but according to the Des Moines Register, "no party" voters make up a huge difference in the 1st congressional district. About 32 percent of voters in the district are registered Democrats, 29 percent are Republicans and the rest aren't affiliated with a party, the newspaper reported.
"No Party" voters hold the secret to understanding why incumbents do well in the district and why a conservative Republican continues to win a district in which Democrats outnumber Republicans," Christopher Larimer, a University of Northern Iowa political scientist, wrote in a book about the district, according to the Des Moines Register.
Blum, 63, was first elected to the seat in 2014.
New Jersey Senate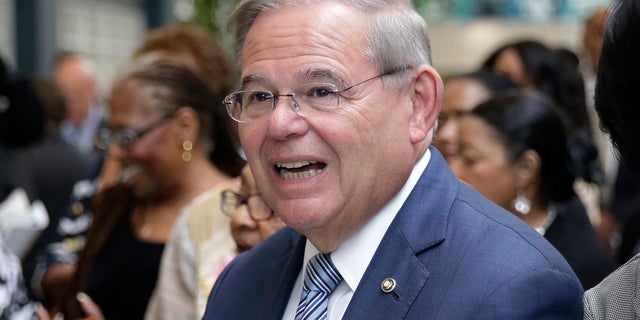 This Senate seat is almost sure to remain safely in the hands of Democrats -- but expect Sen. Bob Menendez's corruption and bribery case to play a big role.
Fox News' ranks the New Jersey Senate race as "likely Democrat."
Brian Goldberg, a business owner, and Bob Hugin, a former pharmaceutical executive, are facing off in the Republican primary Tuesday in an effort to take on Menendez. Hugin, who is expected to win the primary, has distanced himself from Trump. Goldberg, who unsuccessfully ran for Senate in 2014, has embraced Trump, on the other hand -- even holding a "Supporters of President Trump Rally" in April.
Clinton took New Jersey with 55 percent of the vote; Trump won 41 percent.
Whoever Menendez faces in the general, it's sure to be a "nasty" election cycle, Peter Woolley, a Fairleigh Dickinson University politics professor, told The Morning Call newspaper.
"When the candidates go negative before the primary is even held, you can look forward to more of the same in the general election," he said.
Menendez faces a primary challenger in publisher Lisa McCormick who has said she's running just to give New Jersey Democrats another option. He is expected to beat her in the primary.
Menendez was accused of accepting a plethora of donations and gifts from a wealthy friend in exchange for political influence. His case ended in a mistrial last year after a jury failed to deliver a verdict. He was formally admonished by the Senate Ethics Committee earlier this year.
The Associated Press contributed to this report.