Rick Sanchez: Close the gun show loophole now!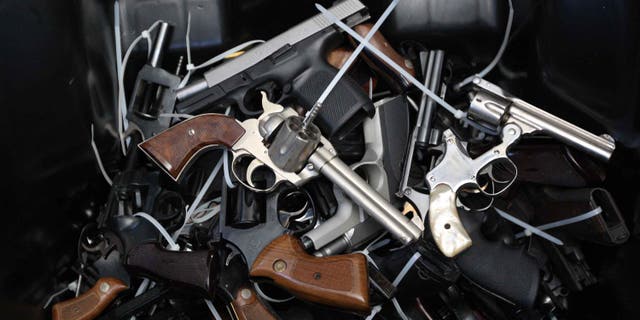 Of course we should get rid of the gun show loophole. What are we, stupid? Do we want somebody to be able to sell a gun to a person with a violent criminal record? How about a person with a lifelong history of psychotic episodes? What the hell, how about a terrorist? Really? Who would defend not wanting to come up with a way of getting at least a cursory check on a gun buyer?
We shouldn't care who, what or how the gun violence epidemic in America is brought under control. We'd like it to be part of a bipartisan compromise hammered out by Democrats and Republicans alike, from both chambers and both branches of government.
The answer is pretty simple: Eight percent of all Americans and 13 percent of all Republicans — that's who.
That's right, according to the latest poll conducted by CBS News and the New York Times, the vast majority of Americans want background checks for anyone buying a gun. Ninety-two percent say yes and 87 percent of Republicans concur.
So when the White House announces that it's seeking to expand background checks for all buyers, you would think the reaction would be that "it's about time," right? The measure simply clarifies that anyone "in the business of selling firearms" must register as licensed gun dealers, effectively narrowing the so-called "gun show loophole," which exempts most small sellers from keeping formal sales records.
Don't believe the naysayers who maintain that reality isn't real. The gun show loophole – also known as the private sales loophole – is real! In fact, at least one study conducted by Harvard University has found that as many 40 percent of guns sold or transferred in America are conducted without a background check.
Problem? Of course! Should we be looking for a solution? Of course! But today in America, problems don't require solutions. It simply requires political posturing.
Even Republicans – like House Speaker Paul Ryan, who is on the record on many occasions stating that "we should find a way to close the gun show loophole" – is now doing an about-face. His reaction to President Obama's suggestion to close the loophole sounds, at least on its face, like a complete capitulation of his earlier position. Ryan accuses the president of "undermining liberty."
If Ryan's suggestion is that both branches of government should make a decision this monumental, then I say he's right. We don't want the president issuing this type of executive action, which smacks of one-sided bullying. But you know what else we don't want? We don't want a congress that agrees we have a gun violence problem in America, but doesn't have the guts to do anything about it.
Frankly, we shouldn't care who, what or how the gun violence epidemic in America is brought under control. We'd like it to be part of a bipartisan compromise hammered out by Democrats and Republicans alike from both chambers and both branches of government. However, short of that — like the Nike campaign says, "Just do it."