Sandy Hook Students Welcomed with Open House at New School Campus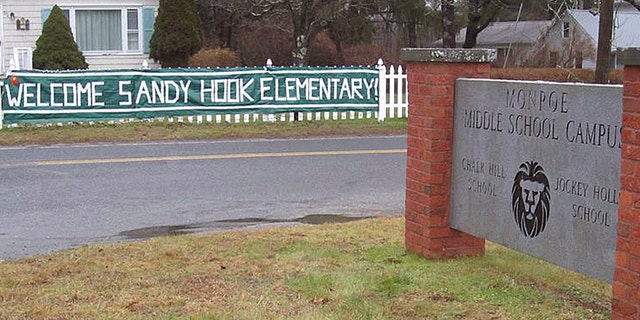 MONROE, Conn. – With a banner welcoming their arrival, the children who escaped last month's shooting at Sandy Hook Elementary School in Newtown have found a new home at a a school in a neighboring town that was overhauled specially for them.
On Wednesday a open house was held at the former Chalk Hill School in Monroe, marking the students' first time in a formal classroom setting since the massacre on Dec. 14, when a gunman killed 20 of their fellow classmates and six educators. Classes are starting for the Sandy Hook students on Thursday.
The road leading to the school in a rural, largely residential neighborhood was lined with signs greeting the students, saying "Welcome Sandy Hook Elementary School" and "Welcome. You are in our prayers." Several police cars were parked outside the school.
Teams of workers, many of them volunteers, prepared the former Chalk Hill middle school with fresh paint and new furniture and even raised bathroom floors so the smaller elementary school students can reach the toilets. The students' desks, backpacks and other belongings that were left behind following the shooting were taken to the new school to make them feel at home.
Counselors say it's important for children to get back to a normal routine and for teachers and parents to offer sensitive reassurances.
One parent, Robert Bazuro, said he is pleased his second- and fourth-graders are going back to school on Thursday.
"We're very happy the kids are going back and we're very thankful for Monroe for everything they've done for us," said Bazuro, who was with his children at a Newtown barbershop.
When classes start, schools Superintendent Janet Robinson said teachers will try to make it as normal a school day as possible for the children.
"We want to get back to teaching and learning," she said. "We will obviously take time out from the academics for any conversations that need to take place, and there will be a lot of support there. All in all, we want the kids to reconnect with their friends and classroom teachers, and I think that's going to be the healthiest thing."
Based on reporting by The Associated Press.
Follow us on twitter.com/foxnewslatino
Like us at facebook.com/foxnewslatino