Woman runs 18 miles of London Marathon on broken ankle
After four months of training to run 26.2 miles, Siobhan O'Keeffe wasn't going to let a broken ankle at mile 8 stop her from completing the London Marathon. For 18 miles, 25-year-old O'Keeffe said she battled tears and pain to complete the race in 6 hours, 14 minutes.
"It started hurting after about four miles but it just got worse and worse," O'Keeffe told SWNS. "I had to stop after eight miles. It felt bruised and really heavy, I thought it was sprained. I didn't think it'd be possible to run on a broken ankle."
FISH MUCUS SHOWS PROMISE AS ANTIBIOTIC, EVEN AGAINST SUPERBUGS
O'Keeffe stopped at a medic tent where her ankle was wrapped and she was reportedly advised to stop, but she said her adrenaline kicked in and "all I wanted to do was finish." She changed her race strategy and had to walk a bit to complete the race, and ended up running with a pacer for a few miles.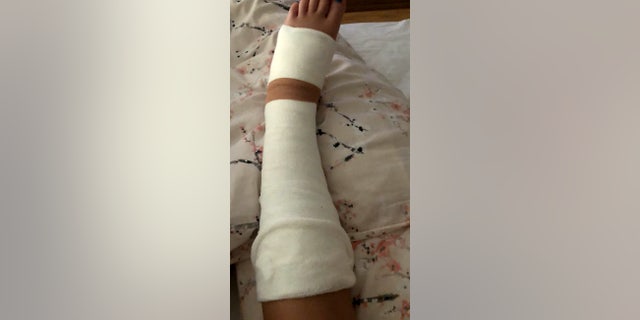 "Running was just agony," O'Keeffe, who had raised nearly $80,000 for charity with a co-worker, told SWNS. "I can't explain how much it hurt. I joked with another runner that it felt as though I was running on a broken ankle."
After crossing the finish line and collecting her medal, O'Keeffe celebrated her accomplishment with family and friends before heading to the emergency room the next morning. An X-ray showed an obvious break in her fibula bone.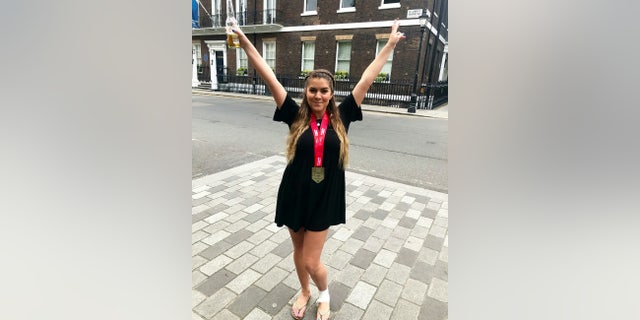 "The orthopedic surgeon said he had no idea how I ran with it," she told SWNS. "He said it was a trauma break. He couldn't believe it."
CLICK HERE TO GET THE FOX NEWS APP
O'Keeffe was casted and will be evaluated for potential surgery, but said the experience has left her with "unfinished business."
"I did say never again when I finished but I'll never say never," she told SWNS.