Wisconsin boy with rare disease sworn in as police officer in New Jersey beach town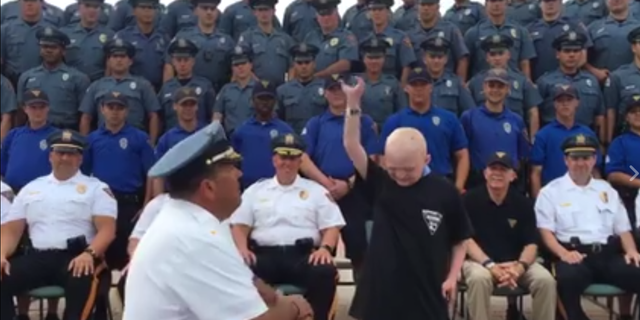 When members of the Wildwood, N.J., community heard that Ethan Kranig, a sick 9-year-old boy from Wisconsin who always wanted to be a police officer was planning on visiting their beach town, locals pulled out all the stops.
Kranig, who was diagnosed with the rare disease ectrodactyly ectodermal dysplasia, was officially sworn-in Monday as an honorary police officer with the Wildwood Police Department.
Police Chief Robert Regalbuto gave Kranig the oath of office and was touched by the emotional event.
Regalbuto said he's seen "nothing like this before... and I've been with the department for 28 years."
A Wildwood resident, Christine Six Brown, helped to coordinate Kranig's trip, but it was John Lynch — a local who works with the city's tourism department and is known for giving back to the community — who spearheaded the event.
GIRL SCOUT WHO SAVED GRANDMOTHER FROM CHOKING ON POTATO HONORED WITH AWARD
When he heard that Kranig, who planned to be in the area for follow-up treatments at John Hopkins Hospital in Baltimore, wanted to be a police officer, he called up the Wildwood Police Department to see how they could help.
In addition to becoming a police officer, Kranig's one wish was to visit the ocean for the first time.
The nearby Middle Police Department also wanted to help, so they gave Kranig and his family a police escort straight to the beach, which made Kranig "ecstatic," according to Lynch.
And when other local residents heard what was going on, they, too, wanted to help. A sightseeing helicopter business called up looking to give the Kranigs a free ride. The boardwalk's iconic Sightseers Tramcars offered Kranig's family free tram rides.
FATHER AND SON KAYAK DOWN MISSISSIPPI RIVER TO RAISE AWARENESS FOR VETERANS
"When we as a community can do that, can do something so special, it's incredible," Lynch said of the city coming together for Kranig. "With so much discord going on … this is what America is all about."
The Wildwood Police Department concluded the ceremony by including Kranig in the force's yearly staff photograph.
Ethan Kranig is collecting police department patches. Departments interested in sending him a police patch to add to his collection can visit LunchWithLynch.com.