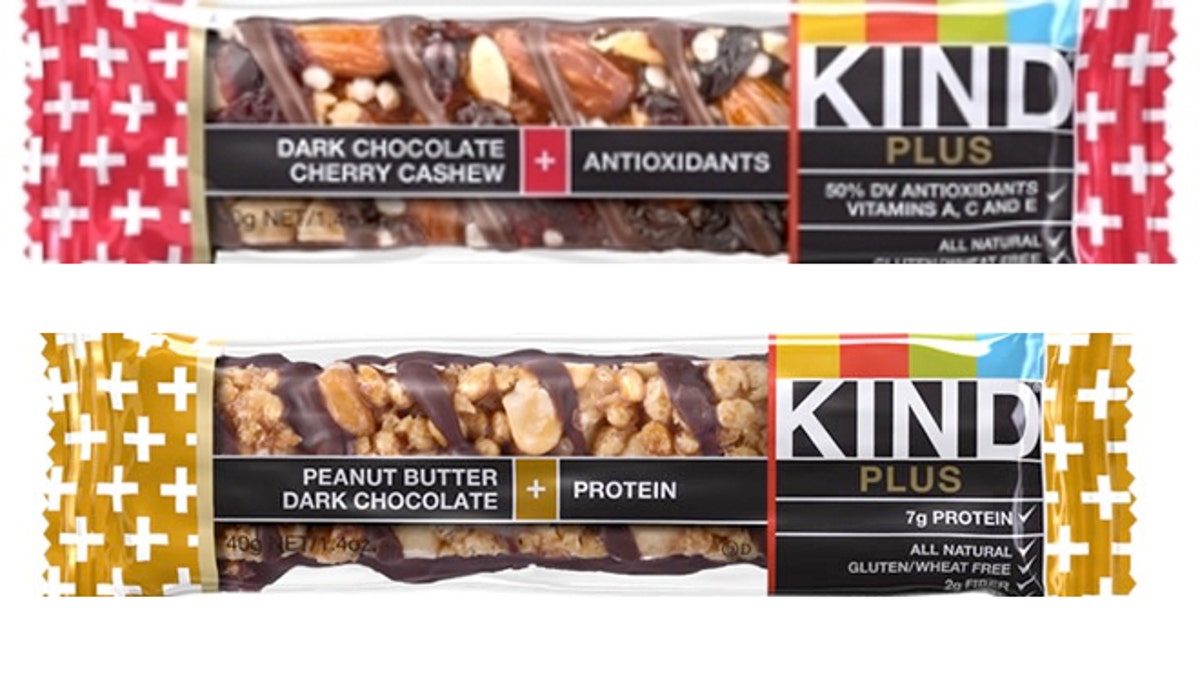 When it comes to the ultimate grab-and-go food, snack bars reign—just take a peek in our purses and gym bags. Whether fruit and nut or chocolate and peanut butter (even savory flavors, like lamb and currant), we've all got our favorites.
So naturally, we were on high alert when we heard that the FDA had issued a warning letter to KIND, LLC, (published online this week but dated March 17). Among the issues at hand? The company was accused of "misbranding" in its use of the word "healthy" on its packaging for four specific flavors (Fruit & Nut Almond & Apricot, Fruit & Nut Almond & Coconut, KIND Plus Peanut Butter Dark Chocolate + Protein, and KIND Plus Dark Chocolate Cherry Cashew + Antioxidants). Also in dispute: the use of a "+" (plus) sign to denote added nutrients.
MORE: The One Food Nutritionists Eat Every Single Day
The FDA's Warning Letter
First and foremost, this is as much a conversation about marketing as it is about nutrition. The FDA has such strict definitions for nutrient content claims so that not just any food can slap it on their label for marketing purposes. We think that's totally fair—and necessary, to avoid masses of confused consumers. If a label says an item is a good source of fiber, we should be able to trust it, right?
And according to the FDA, for a food to be labeled "healthy," it must have no more than 1 gram of saturated fat, no more than 15 percent of calories coming from saturated fat, no more than 480 mg sodium and contain at least 10 percent of the daily value for vitamins A, C, calcium, iron, protein or fiber. Each of the four flavors called out contain between 2.5-5 grams saturated fat. (As a reference point, the American Heart Association recommends consuming no more than 13 grams of saturated fat per day.)
MORE: Up Your Metabolism With These 10 Superstar Foods
And as for the "+", the FDA has specific regulations about using the symbol on a food label (who knew?). The symbol may be used to denote when a product has at least 10 percent more of the daily reference value of certain levels of vitamins, minerals, and other nutrients in a food or when it's fortified with nutrients. (Think: orange juice fortified with calcium vs. regular orange juice or cereal fortified with 10 percent more iron vs. the average cereal.) The KIND Plus Peanut Butter Dark Chocolate + Protein and the Dark Chocolate Cherry Cashew + Antioxidants bars break the rules here because neither are fortified or claim to outrank an average snack bar in nutrients.
The Response from KIND
So what's KIND's response? They issued a letter on their site standing by their bars as a "safe and nutritious choice," also stating that "labeling adjustments" are in process in compliance with the FDA. They singled out nuts, a key ingredient in all their bars, as the source of "nutritious fats that exceed the amount allowed under the FDA's standard." (However, according to Sarah-Jane Bedwell, R.D., nuts are higher in beneficial unsaturated fat than they are in saturated fat, and KIND bars also contain dark chocolate, coconut oil and palm oil, which would likely contribute to the saturated fat content.)
MORE: The 10 Best Stretches For Better Flexibility
Experts Weigh In
Dr. Walter Willett, Chair of the Department of Nutrition at Harvard T.H. Chan School of Public Health, has described the FDA warning as "well-intentioned but absurd." "It's a bit ridiculous that saturated fat from nuts should be counted against a product, because nuts are about one of the healthiest choices you could possibly make," he said, while also acknowledging the complexity of the FDA's responsibility in regulating nutrition. Not only that, it's tough for the FDA to determine how much saturated fat comes from nuts versus added oils (such as the palm oil also in KIND bars), according to Willett.
So does all the fuss mean KIND bars are unhealthy?
Let's look at it this way. By the FDA regulations, any food with more than 3 grams of total fat (unsaturated and saturated) couldn't be labeled as "healthy"— including avocados and salmon. (That is, if they were part of a prepared dish, as the labeling rules only apply to packaged, processed foods.) And we now know that the monounsaturated fats in the nuts they contain are heart healthy.
Many of the organization's regulations may need to be updated to keep up with current science," says Bedwell. "We'll hopefully soon see those changes with the complete 2015 dietary guidelines soon to be finalized." The Dietary Guidelines Advisory Committee's report recommended eating "healthy sources of fats," such as nuts, and also dropped a suggestion from the previous guideline advising us to keep our total fat intake to 35 percent of calories eaten.
"As a dietitian, I'll always support the need for the FDA to regulate the safety of our food and how it's marketed," says Bedwell. "But always keep in mind that it's important to look at nutrients and product labels in the context of your daily diet." One food alone does not make your diet healthy or unhealthy. It really comes down to balance, variety, and moderation—none of which you will find on a food label.