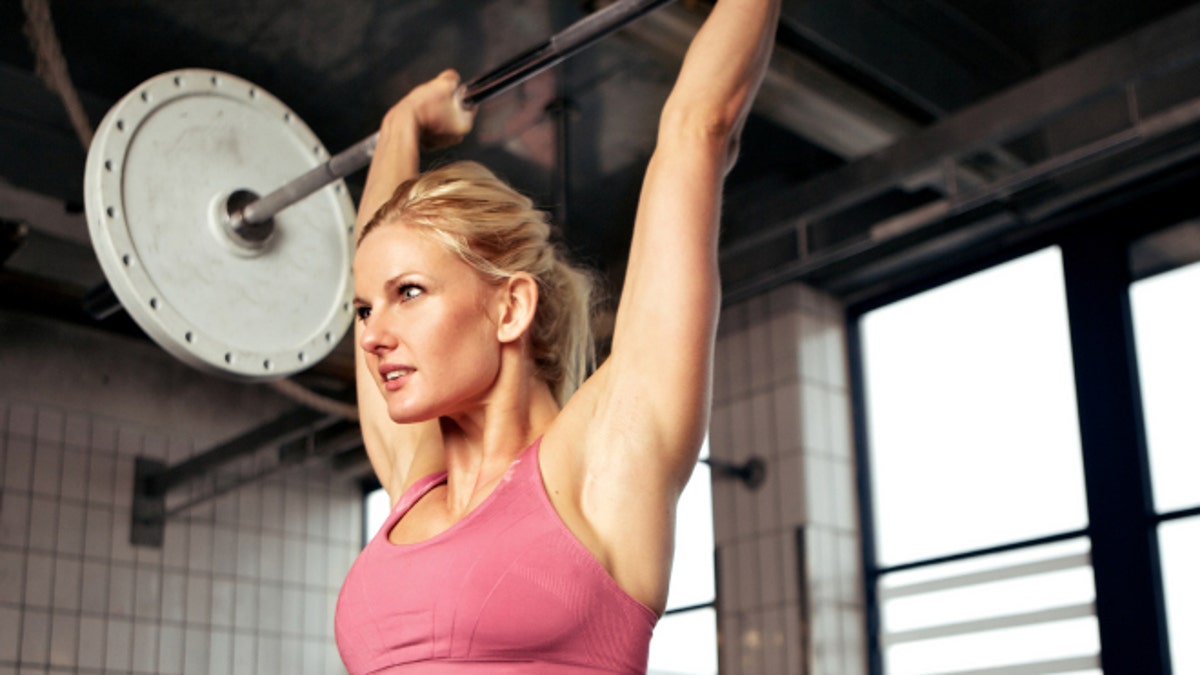 Hitting the treadmill, weight room or spin class for the first time in...a while? Follow these rules and avoid being that person.
Put down your cell phone
"There is no better way to show you're a newbie than to be on a piece of equipment talking or texting; it will annoy the other members around you," said Pete McCall, San Diego-based ACE-certified personal trainer. "Think of your exercise time as a chance to "disconnect" and be device-free for an hour or so."
Listening to music? That's a go. Need to take a call? Most health clubs have dedicated "cell phone" spots you can use. If the temptation is too much to bear, opt for a music-only device, like an iPod shuffle, so you won't be tempted to message while you work out. Side note: Texting and running is really hard.
Related: 20 Superfoods For Weight Loss
Max out your benefits
Many gym memberships come with additional perks, especially if you sign up around the first of the year, when they're hyper-competing in the local market. Most health clubs provide one or two complimentary personal training sessions, and some offer spa and gear discounts.
"This is a good opportunity to learn about everything the facility has to offer and meet a member of the fitness staff who can be a good resource for your fitness needs," McCall said.
If your gym doesn't provide extras, try to negotiate something like one free personal training session if you sign up that day. Smaller gyms will be more likely to work with you.
Avoid wardrobe malfunction
Well-fitted clothing will boost your confidence and make you less self-conscious. And, of course, ensure you avoid this-that-and-the-other slip.
"You may not end up pulling a Janet Jackson, but there are plenty of ways your old, ill-fitting gym clothes can let you down," said Jessi Kneeland, a certified personal trainer at Peak Performance NYC. "As tempting as it is to just throw on some old rags—and, yes, I'm talking about that T-shirt you've had since the ninth grade—it's worth investing in a few key gym pieces."
Kneeland also warns about trying to pass off your regular bra as a sports bra. Trust us, not a good idea. Support your girls!
Related: 6 Moves To Resize Your Butt and Thighs
Don't get burned out
Setting your goals high and committing to getting fit is great—but going to the gym every single day until your legs give out or lifting too-heavy weights isn't the way to start your new regimen.

"It's not a competition," Kneeland said. "It's your life."
Getting into great shape takes time, consistency and patience.
"It will require you staying committed to your goals even during your less-motivating-but-equally-important rest days. And it will definitely require a lifestyle shift to make fitness, recovery, and healthy eating a regular part of your life. You can't speed that process up, so embrace it."
Ask for help
As with anything new, it takes some time to acquaint yourself with the gym and those weird pieces of equipment. Instead of avoiding them, ask the front desk if there is a trainer that can show you how to use the equipment and machines. That's what they are there for. It's better to learn how to do it right than become injured by trying it on your own!
Related: Slim Down in 14 Days!
Think 'use and move'
Circuit workouts are incredibly effective. When you can dash between the rowing machine, a kettlebell station, the treadmill and a medicine ball you can do an efficient workout. But Gunnar Peterson, a Beverly Hills-based personal trainer, said that gym members should avoid monopolizing multiple stations or pieces of equipment all at once. It's a courtesy to other gym members and you'll be thankful when others do the same.
Be spatially aware
Think that just because you're only staking claim to one spot on the gym floor that you're not bugging anyone else? Not necessarily. Don't do big movements in tight spaces, said Peterson. Jump roping and big kicking or stretching movements should be reserved for less populated areas of the floor.
Don't neglect the hidden gems
Maybe you're stuck in line for a treadmill, or over set after set of hand weights. Talk to a trainer and you'll find there are plenty of other machines in the gym that can get you a killer workout, whether you're looking to strength train or sculpt muscle. Some may take a few tries to master, but once you do, this type of cross-training will do you good.
Get with the group
Many classes are complimentary with your membership. However, make sure you are aware of the rules before you go. Are sign-ups required? Do you need to wear any special clothing? Then, arrive early so you can speak with the instructor if it's your first time.
And finally...
Cover up. No, seriously.
Don't prance around the locker room naked sans towel, said Jennifer Oppenheimer, group fitness instructor at New York Sports Clubs. You don't have to keep every inch covered, but keep in mind that the locker room is not your own personal bathroom and no one needs a full frontal.
This article originally appeared on Self.com.