Video of Down syndrome couple's proposal goes viral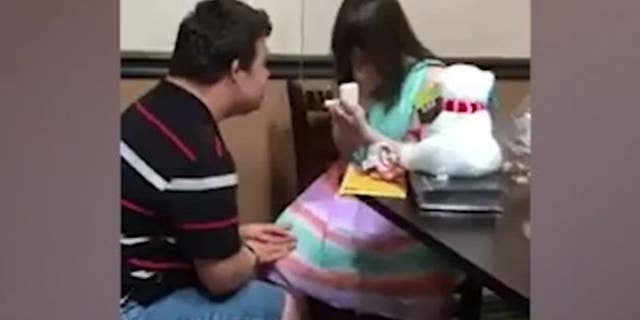 NEWYou can now listen to Fox News articles!
One New Jersey woman's day of celebrations— a birthday and a graduation— got even bigger when her boyfriend of two years, who also has Down syndrome, gave her a diamond promise ring. The video, posted to Facebook, had over 845,000 views as of Monday morning.
At a party on June 25, friends and family celebrated Ashley's 21st birthday and high school graduation. In it, she's shown opening gifts from her boyfriend, Danny. The couple's last names were not disclosed.
"Oh my God, Danny!" Ashley declared after reading the message in one of two cards he wrote for her.
Gifts included a stuffed polar bear she immediately hugged tightly, but the biggest one was the smallest item— a diamond promise ring. Danny then kneels down and helps her put the ring on her finger.
"Will you be my girlfriend?" he asked her. "Will you marry me?"
In the video, Ashley stands and yells, "Yes!" to the applause of friends and family.
Courtney Greenhalgh, Ashley's sister, posted the video.
"They both have each other's best interests at heart," Greenhalgh, of New Jersey, wrote in the Facebook caption. "Danny and Ashley talk about getting married in the future; while they know that the timing isn't right just yet, Danny wanted to go out of his way to let my sister know that he will always be there for her and that he only has eyes for her."