Special Olympian with Down syndrome named face of new beauty line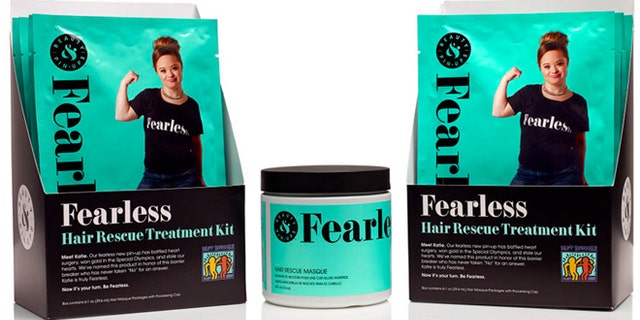 NEWYou can now listen to Fox News articles!
A haircare line achieved an industry first this week when it introduced the face of its latest launch, Fearless Hair Rescue Treatment. Beauty & Pin-Ups announced that they've selected 32-year-old Katie Meade, who has Down syndrome, as their newest rep, People.com reported.
"It's pretty cool because I love being a part of the Beauty & Pin-Ups family, and I love being a part of Best Buddies and interacting with people," Meade told People. "I'm really excited to be on the packaging of the new treatment."
Meade credits her sisters with helping her develop her love of all things cosmetic.
"They have taught me how to fix my hair and make a bun," she told People.com. "They have taught me so much about beauty and fashion and I learn from them about makeup, shoes, jewelry, etc. I love them and they inspire me to look really good."
Meade is a global ambassador for Best Buddies, a nonprofit dedicated to creating opportunities for people with intellectual and developmental disabilities. It was through the organization that Meade met Beauty & Pin-Ups CEO Kenny Kahn.
"The Beauty & Pin-Ups brand is a celebration of the empowerment of a woman and what it took to be a pin-up in 1935, and carrying that message in a modern sense," Kahn told People.com. "So as we were launching this product, in our mind it could have been the next traditional pin-up— but as soon as we came up with the name "Fearless' it was really easy, we were like, 'Well Katie's fearless.'"
"She just owns it," Kahn told People.com. "She just has fun, she's comfortable within herself she really is excited to be our brand ambassador."
Meade is also the Office Generalist in her county's treasury office and is a former Special Olympics athlete.
"People see me for who I am and they see me not as someone with a disability, but I have ability," Meade told People.com. "And I like to try new different things, and I inspire women to do that. Beauty belongs to everybody."