Video captures moment soldier brother surprises sister battling cancer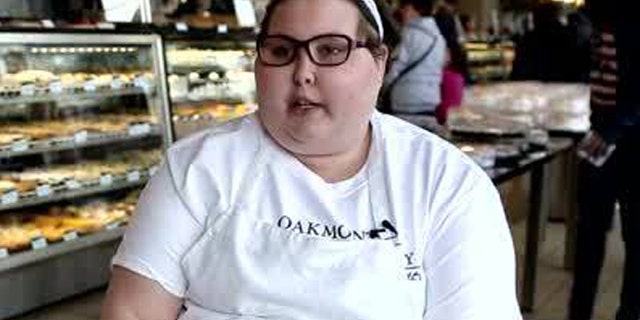 A woman battling cancer for the third time thought she was being interviewed about baking a birthday cake for a 6-year-old girl facing a cancer diagnosis of her own, but now a video of her actual surprise has reached more than 90,000 views.
Mary Pat Seiss was 6 years old when she was diagnosed with cancer for the first time, Fox 29 reported. She was treated at Children's Hospital of Philadelphia (CHOP) when it returned at age 9 and again when she relapsed in 2009.
Now 26, she works at Oakmont Bakery in Pittsburgh, which is where Jamie's Dream Team, a Pennsylvania nonprofit organization, arranged for her brother— who is in the U.S. Army and stationed in Fort Bragg, North Carolina— to surprise her with tickets to Disneyland.
A sister fighting for her life and a brother fighting for our countryThe biggest surprise of all! Meet Mary PatOakmont Bakery, Inc

Posted by Jamie's Dream Team on Saturday, April 2, 2016

In a video interview before the surprise, Mary Pat said she wouldn't be able to get through her illnesses without the support of her two brothers.
"We grew up together our whole lives, she's my best friend," Robert Seiss, her brother in the Army, said in a video. "March or April when they called me and told me she got diagnosed again, it was probably the hardest thing I've ever heard. Being thousands of miles away and just not being able to do anything but sit there and listen to a phone call."
In the video, Robert can be seen walking through the store's front door to a shocked Mary, Pat who immediately begins crying. He then presents her with the plane tickets and the store erupts in applause.