Veteran takes ailing service dog on cross-country road trip for life-saving surgery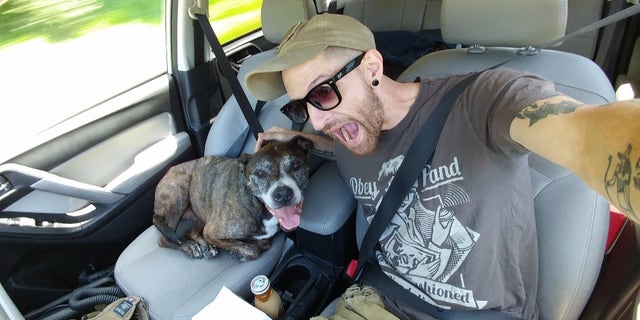 An Army veteran from California and his service dog "Bones" recently embarked on a cross-country roadtrip to Philadelphia for what is hoped to be a life-saving surgery for the pooch. David Broido, who said Bones helps him cope with post-traumatic stress disorder (PTSD), was devastated to learn his loyal companion was suffering from osteosarcoma.
"Pretty much every dog owner's worst nightmare and bad reaction," Broido told Fox 29 of the diagnosis. "I turned into a faucet of course and became a mess on the floor."
BLACKHAWKS STAR MARIAN HOSSA TO MISS NEXT SEASON DUE TO SKIN DISORDER
Unable to afford a recommended amputation based on his limited budget, Broido's two friends started a GoFundMe page in hopes of sending the pair to Philadelphia, where a veterinarian estimated the cost of the procedure to be much lower.
The duo crammed into a caravan for the four-day trek and stopped along the way to create lasting memories during the four-day trek.
"In case the worst news was delivered when I got here, I wanted to make sure that we got some really cool adventures so we stopped some places. We saw some people. We had a great time," Broido told Fox 29.
RUNNER WITH AUTISM BREAKS BARRIERS -- AND HURDLES THEM
An update on the GoFundMe page reported that Tuesday's procedure went well for Bones and that he was recovering. The fundraising efforts reached $6,200, surpassing the initial goal.
"It's very nice to see how many people have really, it's like thousands at this point, have come together to make things happen for all of this," Broido said.