This guy walks humans for $7 a mile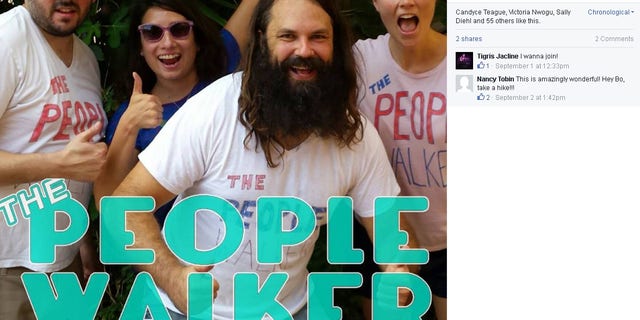 For aspiring LA-based actor Chuck McCarthy, poop was the hurdle. He was considering becoming a dog walker to help make ends meet, but decided he just couldn't stomach the idea of dealing with all the doo-doo, reports KABC.
So he began to joke about walking people instead, with no leashes involved. As the idea percolated, he began to wonder if he might actually be onto something entirely new and, however quirky, useful.
"The more I thought about it, the less crazy it seemed," he tells the Guardian. So McCarthy threw together the "People Walker" Facebook page (with posts starting in April), put up some fliers, and began charging $7 a mile.
A Q&A on the Facebook page kicks off with "Why should I hire you? I can walk my own damn self." "Can you?" is the quippy answer, but the fliers dig in a little more.
Maybe you're looking for some motivation to get off the couch, or want a walking buddy for safety, or "don't like listening to music or podcasts but can't walk alone in silence, forced to face thoughts of the unknown future," they explain.
He's kept his approach light-hearted, and while he says most of the chit chat is light as well, "I try to listen more than talk." He's had so much success LAist reports he's already hired at least five employees to help walk people and he's even lost weight from all the work.
Up next, perhaps: Crowdfunding cash for an Uber-esque app that would let both walking parties rate each other's pace and personality. After a walk with McCarthy, Rory Carroll of the Guardian tweeted, "If an uber I'd give him 5 stars." (These guys will wait in line for you.)
This article originally appeared on Newser: This Guy's Job Is to Walk People, Not Dogs
More From Newser