This dog is at the forefront of cancer research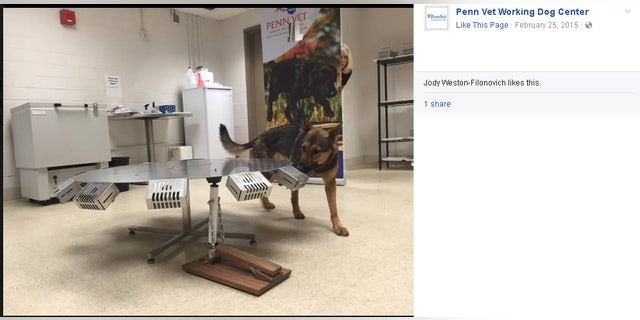 NEWYou can now listen to Fox News articles!
Three to four days a week, Philadelphia veterinarian Clint Kuban drops off his 3-year-old German shepherd, Tsunami, at the Penn Vet Working Dog Center for her eight-hour shift.
But the pooch isn't just participating in agility, obedience and search training — she's also on the front lines of cancer research.
Kuban is one of six fourth-year students at the University of Pennsylvania School of Veterinary Medicine followed in the new Animal Planet series "Life at Vet U," premiering Saturday at 10 p.m. Tsunami has worked on the center's ovarian-cancer-detection research projectsince it launched in 2013 to study whether odors emanating from ovarian tissue can provide a reliable method for early detection.
Using a "scent wheel" — a circular device with 12 ports used to introduce multiple sources of scent (blood-plasma samples from cancer patients, benign growths and healthy controls, as well as other "distractor" scents) — researchers can isolate the exact volatile organic compounds that the dogs can smell. In these 10- to 15-minute smelling sessions, Tsunami's nose is more than 90 percent accurate in identifying malignancies.
Click for more from The New York Post.