There's probably pee in your swimming pool — what's the health risk?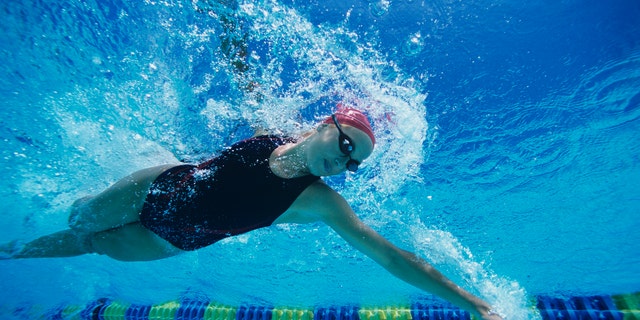 NEWYou can now listen to Fox News articles!
If you've ever been to a public swimming pool, you're familiar with the stinging sensation of chlorine hitting your nostrils when you approach the water. Except that's not just chlorine — it's also urine, a new study suggests.
The research, from the University of Alberta, Edmonton, found that the average swimming pool contains 75 liters of human pee — proving true the commonly held belief that people relieve themselves underwater.
"Our study provides additional evidence that people are indeed urinating in public pools and hot tubs," said lead study author Lindsay Blackstock, a graduate student at the university, according to the Guardian.
WHY YOU'RE GOING BALD — AND HOW TO GET YOUR HAIR BACK
Study authors sampled 31 pools and hot tubs in two Canadian cities, and measured the concentration of the artificial sweetener acesulframe potassium (ACE), which is commonly added in processed food and goes through the body unchanged. They found ACE present in 100 percent of the samples, the Guardian reported, with concentrations that reached up to 570 times the underlying level in tap water samples. Study authors used those concentrations to approximate the volume of urine in the average swimming pool.
"We did not monitor the number of pool users over the three-week time period ... so there is no way we could estimate the number of individual urination events per day," Blackstock told the news website.
WHAT YOUR PAST HABITS MAY MEAN FOR YOUR FUTURE HEALTH
Before the 2012 Olympics in London, U.S. Olympic swimmers Ryan Lochte and Michael Phelps admitted that peeing in the pool is acceptable behavior.
"I think everybody pees in the pool," Phelps said. "Chlorine kills it, so it's not bad."
Lochte said, "I think there's just something about getting into chlorine water that you just automatically go."
FOLLOW US ON FACEBOOK FOR MORE FOX LIFESTYLE NEWS
Common or not, peeing in the pool isn't so harmless, research suggests.
A study published in 2014 in Environmental Science & Technology, for example, found that when uric acid in human urine mixes with chlorine, a toxic compound called cyanogen chloride (CNCI) and trichloramine (NCl3) is formed, TIME reported. CNCI can harm the central nervous system, the lungs and the heart, while NCI3 has been associated with acute lung injury.
LIVING WITH CHILDREN REALLY CAN AFFECT YOUR SLEEP — IF YOU'RE A WOMAN
Other research has found that compounds in urine can react with disinfectants to form byproducts called DBPs, which can cause irritation to the eyes and respiratory system, the Guardian reported. Chronic exposure to the compounds also has been associated with asthma in pool workers and professional swimmers, according to the website.
"We want to use this study to promote public education on appropriate swimming hygiene practices," said Blackstock, according to the Guardian. "We should all be considerate of others and make sure to exit the pool to use the restroom when nature calls."