Texas couple stung by hundreds of bees outside home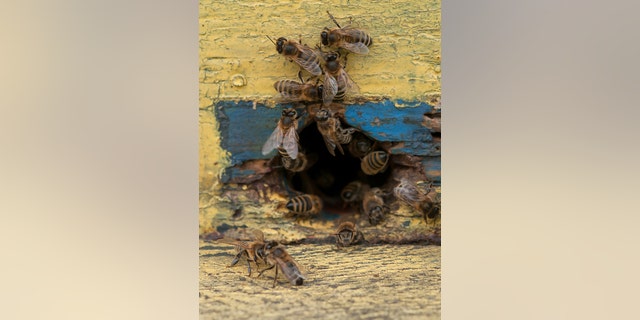 A Texas man is recovering after spending three days in the intensive care unit after he was stung by about 600 Africanized bees outside of his home.
Vern Roberts, who was mowing his lawn at the time of the attack, said the bees even managed to sting him in his mouth and throat, KHOU.com reported.
"I tried to get away," Roberts, whose wife suffered more than 40 stings while trying to help, told the news outlet. "I tried to 'stop, drop and roll,' did all kinds of 'protect me things,' but it kept overwhelming and basically knocking me down. I would stagger and fall and flop around, all sorts of things."
4 LITTLE GIRLS WHO BEAT CANCER REUNITE AT HOSPITAL FOR TOUCHING PHOTO
Mary Roberts, who called for paramedics and wound up hospitalized herself, has been sharing updates on Facebook.
"After about 500 to 600 bee stings on Vern and only 42 stings on me," she posted, alongside photos of their injuries on Sept. 15. "Long 3 days. We are in amazement that God chose to rescue us from certain death. He must have a plan to use us more yet! For God's glory! We don't look like ourselves. Great to be home!"
CALIFORNIA BOY, 1, BITTEN BY RATTLESNAKE AT DAYCARE, DAD CLAIMS
The couple told KHOU that once paramedics arrived, Roberts had to walk out of the house and into the swarm of bees to get to the ambulance.