Teen with cerebral palsy gets helping hand from 'Modern Family' star Eric Stonestreet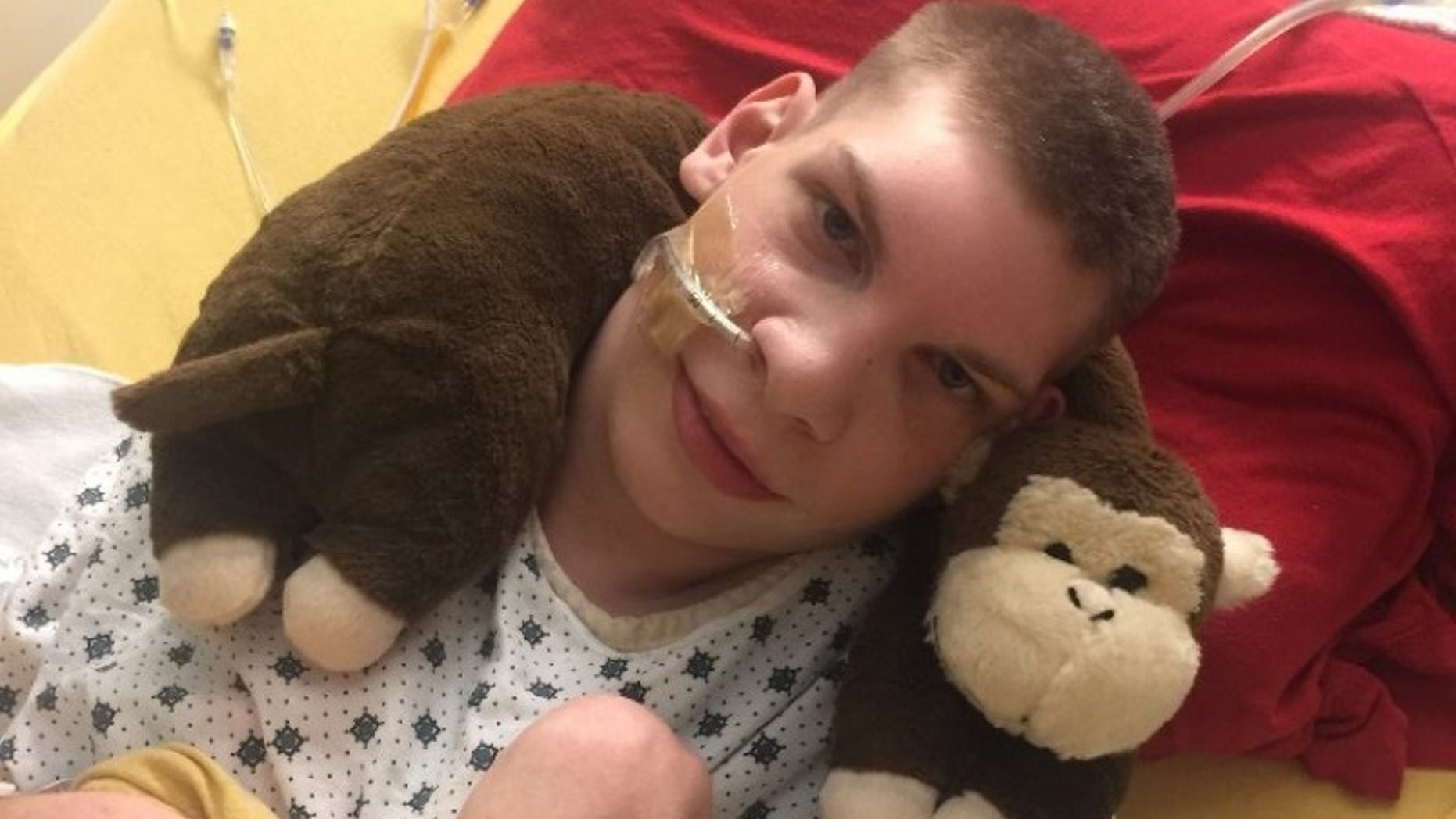 A 19-year-old man with cerebral palsy has traveled to Boston from his Kansas City home in search of a medical miracle thanks in part to the efforts of "Modern Family" star Eric Stonestreet and the founder of Jimmy John's sandwich chain. Tristan Wiesing, who cannot speak or walk, is suffering from severe gastrointestinal issues that are preventing him from receiving treatment for his limbs, The Kansas City Star reported.
On Monday, Stonestreet shared a photo of Wiesing and his father, David, and his grandfather aboard Jimmy John Liautaud's private plane en route to Boston Children's Hospital for an appointment with Dr. Samuel Nurko.
6-YEAR-OLD DANCER LOSES LEG AFTER STREP THROAT SPIRALS INTO SPREADING INFECTION
"This is my pal Tristan, his dad and his grandpa. I met him last year @bigslickkc [Big Slick Kansas City] in Kansas City and we've stayed in touch. He needed to get to Boston for some appointment this week and flying commercial, for him, with all of his medical tubes/machines is very difficult," Stonestreet posted. "I mentioned that to my friend Jimmy John Liautaud. He's the owner of @jimmyjohns. Without missing a beat, Jimmy offered up his jet to take Tristan and his family to Boston from KC and back."
Big Slick Kansas City is an annual fundraiser sponsored by Rob Riggle, Paul Rudd, Jason Sudeikis, Stonestreet and David Koechner to benefit Children's Mercy in Kansas City. Wiesing has been in and out of Children's Mercy for his gastrointestinal issues, The Kansas City Star reported. He has been fed intravenously for the past three years and is unable to have tendon-corrective surgery because of his issues.
COURT TO DECIDE WHETHER SEVERELY ILL TOT IN UK CAN TRAVEL TO US FOR PIONEERING TREATMENT
Weising's father told The Kansas City Star that Children's Mercy encouraged the family to seek a second opinion, and were inspired to contact Nurko after seeing the movie "Miracles from Heaven," in which he was featured.
"If anybody can cure Tristian I think Dr. Nurko will be the one," David told The Kansas City Star.
David told the news outlet that Stonestreet helped get them in touch with Nurko for the appointment, and has had a history of surprising his son with special messages. Stonestreet played "Chandelier" by Sia on an iPad and danced along with Tristian, later sending him an email with a surprise message from the singer herself.
RARE CONDITION CAUSES FAMILY'S 2 DAUGHTERS TO SUFFER MULTIPLE SEIZURES EVERY HOUR
"Tristan knows no strangers, but it was just amazing to see the smile on his face when Eric was in there," David told The Kansas City Star.
The Wiesings hope Nurko will have a solution for Tristan's stomach issues and have set up a GoFundMe page to help cover their expenses while in Boston.
"There are still good people out there who aren't in it for themselves," David Wiesing told the news outlet of Stonestreet. "There are good people out there who see the need in others and put their hand out there to help them."