'So many miracles': Surviving siblings of car crash that killed parents, baby begin road to recovery
The great-aunt of four Texas siblings who lost their 2-month-old sister and both parents in a horrific car crash earlier this month said they have made some improvements, but it's going to be a long road to recovery.
Teresa Burrell, whose sister is the children's grandmother, said 8-year-old Angela Clemens has two broken legs and suffered a brain injury, while 5-year-old Zachary suffered a broken back and 4-year-old Wyatt also suffered brain trauma and a series of strokes. The siblings' 2-year-old brother, Nicholas, was already released from the hospital.
"A week ago we didn't even know if Angela would wake up, and we didn't know what would happen to Wyatt," Burrell told Fox News.
She said that Angela has undergone a series of surgeries to place pins and rods in both of her broken legs, which are casted from the hip down to her feet, while Wyatt was paralyzed on his left side.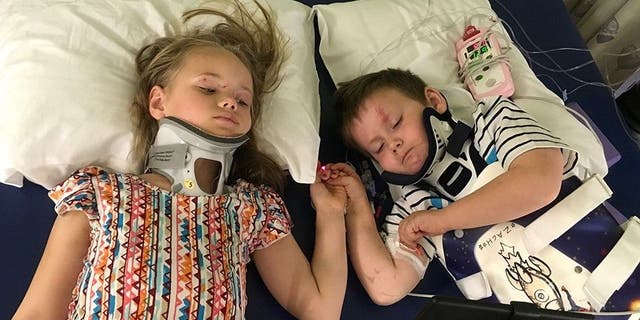 "We just didn't know what would be involved," Burrell said. "But over the last nine days we have just seen so many miracles. Wyatt can now put his hands above his head, he can walk, they're having to slow him down from running."
Burrell added that Angela, who hadn't spoken since the accident, is now reading paragraphs out loud. She said that the two older siblings, who were pictured reuniting for the first time since the accident last week, are aware that their parents, Jim and Karissa, and their baby sister, Julieanna, were killed in the accident.
"It's going to be a long road," Burrell said, adding that her sister is going to raise the four surviving siblings.
"We are going to keep these four children together," she said.
The crash occurred on April 7 as the family was returning from an outing at church. A driver of a Tahoe, who Burrell identified as a mother of two, allegedly lost control of her vehicle, veered into oncoming traffic and hit the Clemens' Suburban head on. Burrell said Jim, Karissa and Julieanna were killed instantly.
She added that the family has been overwhelmed by the support they have received both through prayer and fundraising efforts. Burrell is also keeping supporters updated through a fundraising Facebook page. There, she said that all three hospitalized children were able to spend time together this weekend.
"We feel that support and that love, and the reach out," Burrell said. "We have been so humbled and grateful for that and the prayers from others."