'Saving Eliza': Family raising money for Sanfilippo Syndrome drug $530K away from goal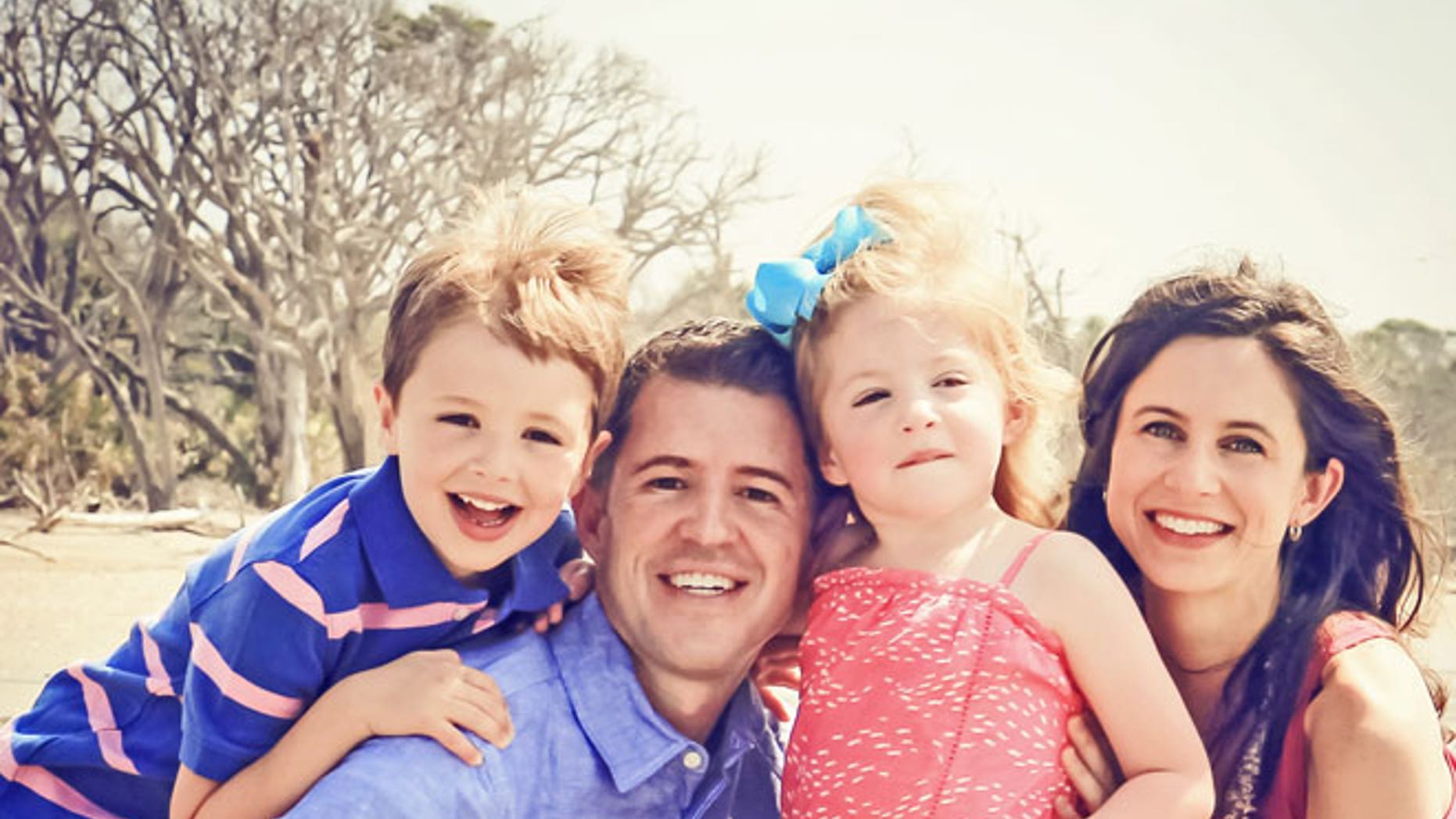 When Glenn O'Neill and his wife, Cara, learned about a gene therapy treatment that could save their daughter's life, they started a foundation and set off to raise the $2.3 million it would take to fund the manufacturing and clinical trial costs for the drug.
Today, thanks to about 26,000 donors from 70 different countries, they're just $530,000 away from their goal.
Their daughter, 4-year-old Eliza O'Neill, suffers from Sanfilippo Syndrome-Type A, a disease that causes children to lack an enzyme necessary for normal cellular function. The disease eventually causes a lethal buildup of a toxic material called heparin sulfate, leading to learning disabilities and behavioral problems. The disease is seen in 1 in 70,000 births, and most children born with Sanfillipo Syndrome-Type A die by the time they are teenagers.
While there is currently no cure or treatment for the disease, researchers at Nationwide Children's Hospital in Columbus, Ohio have found a potential gene therapy that, in a study, successfully rid mice of heparin sulfate buildup.
When Cara spoke to lead researcher Dr. Haiyan Fu, principal investigator at the Center for Gene Therapy at Nationwide, and learned about the potential treatment, the family began raising money to fund it.
"That was the first glimmer of hope that I got in all of this," Cara O'Neill told FoxNews.com.
A couple of months after the diagnosis in July 2013, they began a slew of traditional fundraising efforts, from bake sales and 5Ks, to parties and a golf tournament. At the end of 2013, they started the Cure Sanfilippo Foundation and have launched SavingEliza.com through the fundraising site GoFundMe.com. In April 2014, a videographer made a free video for the family that went viral, and the family started a social media campaign called "Sing Two Lines," similar to the ALS Ice Bucket Challenge, where people would challenge others to sing two lines of their favorite song. Actress Andie MacDowell and members of the band Gloriana participated.
The O'Neills have raised $1.7 million since December and have been able to fund the manufacturing costs of the drug as well as some of the preclinical work. Their goal is to meet the $2.3 million mark by Eliza's fifth birthday, Nov. 16.
"We've made it a point not to ask previous donors to donate again," Glenn O'Neill told FoxNews.com, "but at some point we knew it was going to come to crunch time. At this point, with [Eliza's] birthday coming up, we really need to spend more time with Eliza, and focusing on her and keeping her learning at the top of the game."
Researchers at Nationwide have proposed what they feel is a sufficient toxicology plan to move forward with the clinical trial, and they are currently waiting for the Food and Drug Administration's (FDA) comments.
"We do think a trial within 2015 is feasible and that certainly is our goal," Kevin Flanigan, MD, professor of pediatrics and neurology at Ohio State University and principal investigator at the Center for Gene Therapy at Nationwide Children's Hospital, told FoxNews.com. "That's really likely to happen, and depending on what toxicology data is finally required, that could be the first half or second half of 2015."
The therapy involves the delivery of a gene within a virus, which is taken up by tissues in the body, resulting in sufficient enzyme expression to get rid of the accumulated cellular products that cause the disease.
Doug McCarty, PhD, associate professor of pediatrics at Ohio State University and principal investigator at Nationwide Children's Hospital, said this approach has the potential to be applied to other diseases that affect the central nervous system, such as Hunter Syndrome and Hurler Syndrome.
"Right now obviously we've done a lot of work in the mouse model, but to translate to humans, we have tried the gene delivery in non-human primates and found that we did get the distribution in the brain that we did expect to get," McCarty told FoxNews.com.
To ensure that Eliza's immune system is strong enough for a potential clinical trial in 2015, the O'Neills made a personal decision to self-quarantine their family about 170 days ago in their Columbia, S.C. home. Cara, who worked with special needs children at the University of South Carolina, has since quit her job to care for Eliza and her son, 7-year-old Beckham, who is now homeschooled and participates in school lessons via Skype.
"We think that keeping Eliza away from people and anything people touch will give her a better chance of staying healthy, number one, and maybe not have the disease progress as fast," Glenn O'Neill said. "If a clinical trial is coming up at 2015, we want her to be at the top of her game."
As for Eliza, her mother said she's still herself.
"She talks, she grows, she still has an imagination and an imaginary play, and she'll pretend she's Little Red Riding Hood and pretend to take chip cookies to grandma's house," Cara said. "She's not gaining a lot of skills, but she is hanging onto the skills she has."
Leading  up to the clinical trial, the family is sticking together and trying to enjoy each other's company. They leave home only to go to open fields or to the beach, which Eliza enjoys.
"There's no guarantee with things like this," Glenn O'Neill said. "These are her best days. We don't know. We want to spend these best days with her."
To learn more about Eliza's story and donate to the O'Neill's cause, visit SavingEliza.com.