Quadruplets released from hospital in time for Fourth of July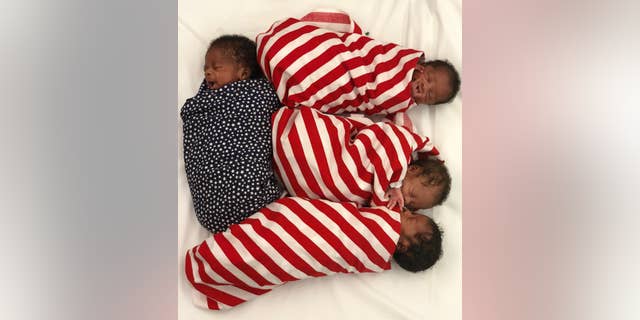 A pair of first-time parents who traveled from their native Nigeria to Houston for prenatal care had an extra reason to celebrate Fourth of July this year, as they were finally able to bring their quadruplets home after spending a month the hospital.
Linda and Thomas Agi had spent the last four weeks watching their babies, three girls and one boy, gain strength at Memorial Hermann Southwest Hospital.
The Agis welcomed their children on June 1, with two of the babies weighling less than 4 pounds, and the other two weighing in at 3 pounds each, according to the hospital.
To celebrate their release, the hospital shared an adorable photo of the babies swaddled in stars and stripes blankets.
Dr. Rachna Bhala, an OB-GYN at the hospital, said on the hospital's website that she could not have asked for a better experience for a high-risk pregnancy patient.
Linda Agi thanked the hospital for their care.
"I am thrilled to be a new, first-time mom and happy to have all four of our babies home from the hospital," she said in a statement on the hospital's website.
DAD 'BREASTFEEDS' BABY AFTER MOM SUFFERS DELIVERY COMPLICATIONS
The Agis were advised by their doctor in Nigeria to travel to the United States to give birth to her babies. According to the Daily Mail, her doctor advised this because Linda was considered a high-risk pregnancy patient. She was afraid there would not be adequate medical care available in her home country to save her or her babies.
They had to stayed with Thomas' sister in Houston.
As Linda's pregnancy developed, she became anemic and was afraid for the health of her babies. She says she is thankful for her Bhala, who "wasn't scared for even a moment."