Paralympian Jerome Singleton doesn't let disability stand in his way of gold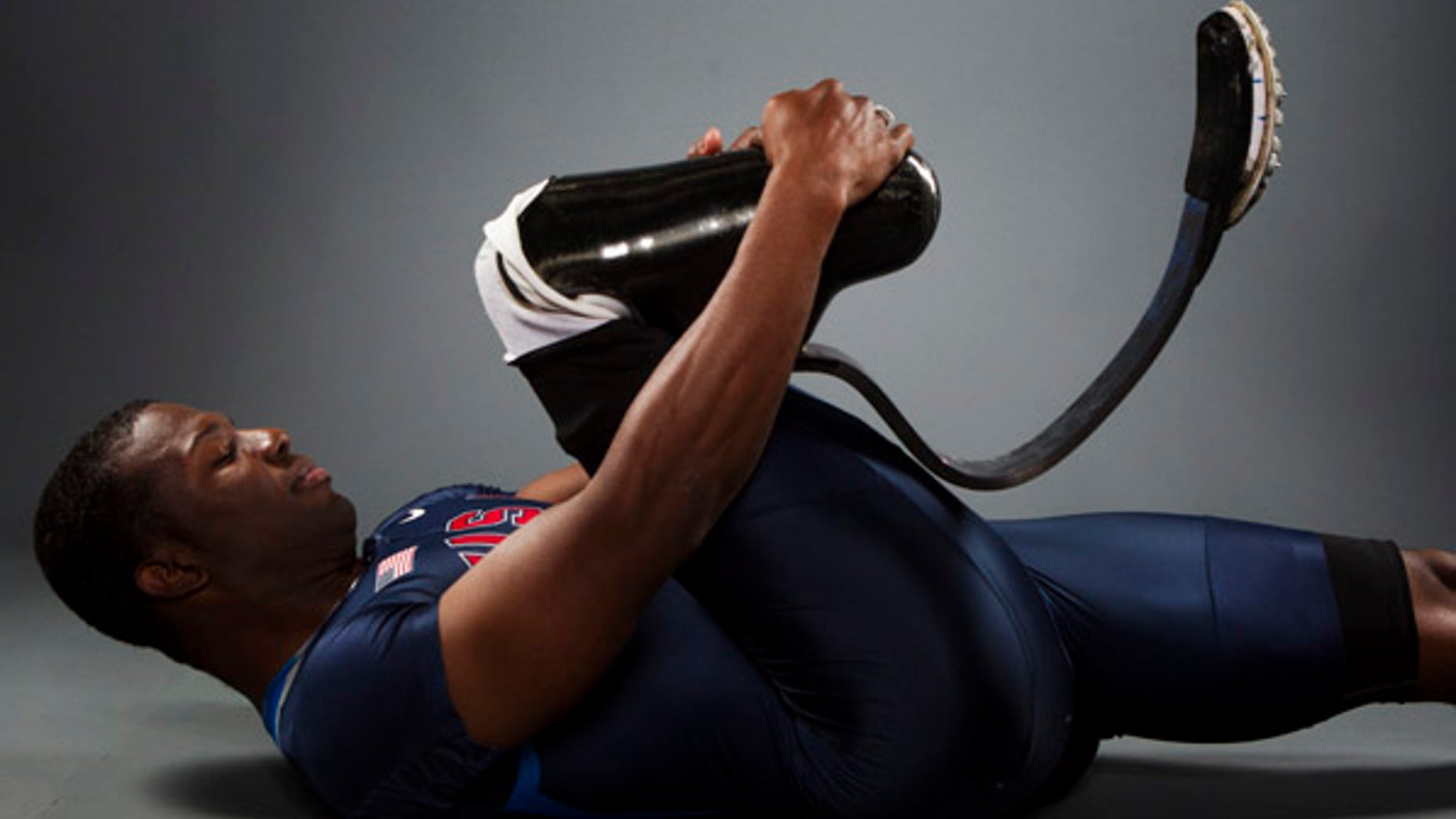 Jerome Singleton Jr. isn't one to shy away from mention of his disability – instead he celebrates it.
Singleton, 26, is one of the world's fastest amputees and plans to compete in the Paralympics this year at the end of August as part of the U.S. track and field team.  He will race in the 100-meter event, the 200-meter event and the 4x100 meter relay.
As a result of a birth defect, Singleton, who is from Irmo, S.C.,  was born without part of his tibia bone in his right leg, forcing doctors to amputate his leg below the knee.  Even at an early age, Singleton didn't allow his disability to hold him back – as a child, he played basketball, football, baseball and soccer.
"I was blessed to be born into a family and a community that didn't treat me any differently," Singleton told FoxNews.com.  "I was the only amputee in the area, but I still played sports with family and friends and really enjoyed it."
When Singleton entered middle school, he decided to join the track team as well.
"I did it to follow my sister," Singleton said.  "She was on the team, so I wanted to do it too."
Singleton ran track on and off for the rest of middle school and high school, ultimate re-joining the team his junior and senior year as training for football. "I ran as punishment," Singleton said.  "I'd punish myself by going out there."
However, upon receiving a full academic scholarship to Morehouse College in Atlanta, Ga., Singleton took a year-long break from sports to focus on his studies.
"It was like, don't bite the hand that feeds you," Singleton said.  "I was studying hard…I thought my days of being an athlete were over."
But Singleton, who readily admits to being indecisive -- majoring in three different subjects and doing extra research at CERN in Geneva and the Park City Mathematics Institute in Utah -- said he still felt he needed to "learn something about himself." Joining the track team gave him a chance to do that, as well as be competitive again.
"In track, I found something that ended up being very influential on me," Singleton explained.
His coach allowed him to skip practices on days before tests, but as Singleton grew increasingly interested in higher levels of competition, he recognized he would have to put more time into the sport.
"I tried out for a national team in 2006 and got cut," Singleton said.  "I knew from that day forward if you want to really do something, you can't just do it sometimes.  I wasn't serious enough about it."
Singleton was inspired by Marlon Shirley, a two-time Paralympic gold medal winner in the 100-meter event in 2000 and 2004. Hearing about Shirley's success, Singleton visited Paralympic.org and called "everybody on the contact list" to learn more.
After graduating college with degrees in math and applied physics, Singleton made the "hard decision" to devote himself fully to track. He made the U.S. team and competed in the Beijing Paralympics in 2008, where he won a gold medal in the 4x100-meter relay and a silver medal in the 100-meter event.  Later this month, he will compete again in London.
As part of his training, Singleton is on the track five days a week doing short sprints and longer runs "to make sure everything's in line," he said.  He lifts weights three times a week for three hours at a time.
He also gets a weekly massage, though he describes the experience as "not a relaxing heat stone massage, but the kind where you're paying someone to beat you up.  It helps you recover better."
Running with a prosthesis, Singleton explained, can put excess strain on the opposite hip and knee.
"You're trying to force two unlike things to do the same thing," he said.  "The prosthetic weighs less, so it moves faster and forces the other side to compensate.  It puts strain on the [left] hip muscle and knee joint…At the end of our careers, a lot of us have bad problems with that."
Nevertheless, Singleton said he is thankful for the way everything has turned out.
"I'm sponsored [by Nike, Gillette, Samsung and BP] so I can pursue this dream, and speak to different people about my disability," Singleton said.  "Sports have helped me grow and become more confident. I've met so many other people with the same desire to excel, who don't allow their disability to affect how they're living."