Not all new mothers in US get advice on breastfeeding, infant care, survey says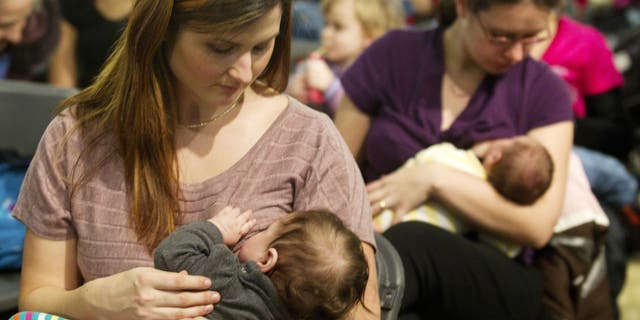 Despite medical evidence showing the benefits of breastfeeding and how to prevent cot deaths, some doctors are not passing on the information to new mothers in the United States, researchers said on Monday.
In a survey of more than 1,000 new mothers funded by the National Institutes of Health, they found that about 20 percent of women did not receive guidance on breastfeeding or on placing infants to sleep on their backs to reduce the risk of sudden infant death syndrome (SIDS).
More than half the women surveyed were also not advised that it is safe to share a room with an infant but not to share a bed.
"As a physician, these findings made me stop and really think about how we communicate important information to new patients," said Dr. Staci R. Eisenberg, a pediatrician at Boston Medical Center and the first author of the study, published in the journal Pediatrics.
"From a public health perspective, there is a real opportunity to engage families and the media to promote infant health," she said in a statement.
For the study, Eisenberg and researchers from Boston Medical Center, Boston University and Yale University enrolled 1,031 mothers who gave birth in 32 hospitals across the country.
The women, whose babies were between two and six months old when they completed the survey, were asked about the infant care advice they received from their doctor, hospital nurses and the media.
The study showed that when physicians gave new mothers advice, it tended to be consistent with recommendations from the American Academy of Pediatrics (AAP).
But in about 10 to 15 percent of cases, the information on breastfeeding and using a pacifier was not in line with guidelines. That number jumped to 25 percent in terms of advice on infant sleeping positions.
The AAP recommends that babies be placed on their back for naps or sleeping during the night.
African American, Hispanic and first-time mothers were more likely to receive advice from their doctor about infant care, compared to white women and mothers with two or more children.
"This survey shows that physicians have an opportunity to provide new mothers with much-needed advice on how to improve infant health and even save infant lives," said Marian Willinger, of the Pregnancy and Perinatolgy Branch of the NIH's Eunice Kennedy Shriver National Institute of Child Health and Human Development.